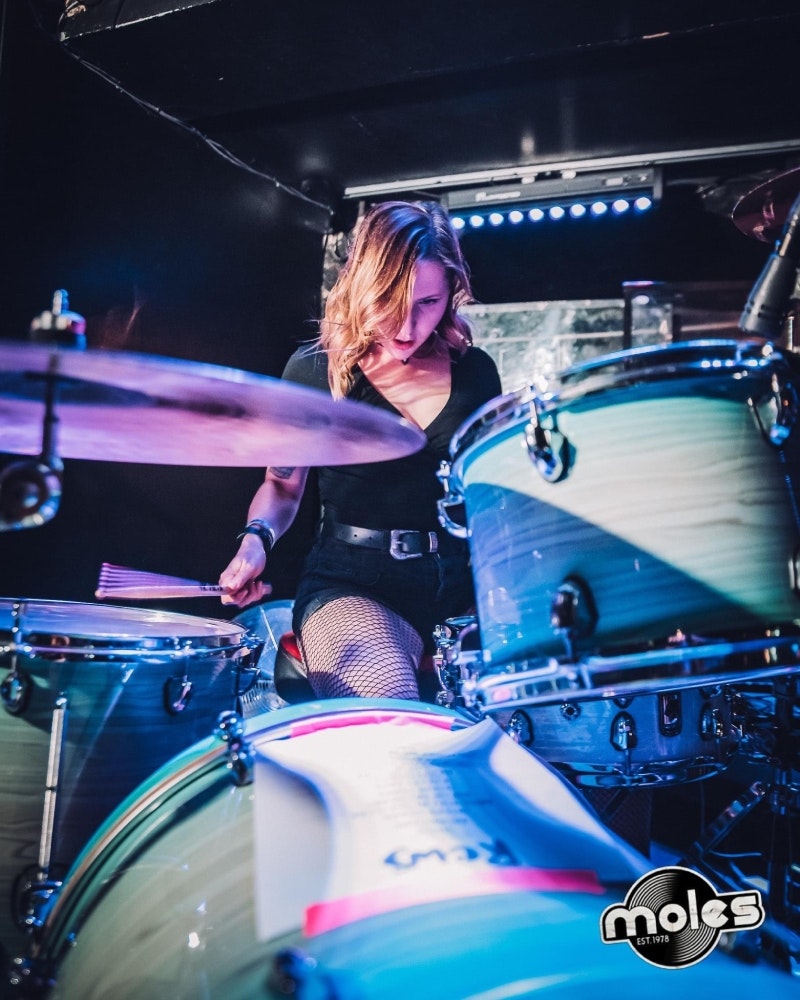 DRUMS
ABOUT THE TEACHER
Sam has been playing drums for 15 years. As an explosive live player specialising in rock and pop, in her experience gained through years of writing, recording and performing music, she has gathered valuable knowledge on the drum kit.
Sharing this knowledge with others and helping them progress at their own pace is a fundamental of Sam's lessons. Learning drums can be challenging and it definitely takes practice and perseverance, but the pay off is so rewarding!
Get in touch if you want to spring-board your drumming!
HOURLY RATE: £36
TEACHING: Online & In-person
PREFERRED LOCATION: Pirate Bristol
LEVELS: Beginner to Intermediate
TEACHING SINCE: +15 years experience
DBS CERTIFIED: Yes
LANGUAGES: English
OTHER LINKS: SB Drum Tuition - Instagram
ABOUT THE LESSON
Lessons are completely tailored to the student's individual needs. From beginner to intermediate, the focus is on where you are now, where you want to be and how we will get you there whilst having fun!
A wide range of styles, techniques and songs will be taught to help you gain confidence on the kit.
Whether you want to learn for fun, play your first gig in a band, study Rock School grades or improve your technique, we will get you there!
You can expect lessons to include an introduction and warm-up, the main lesson body such as learning a song or a technique, and a lesson review with homework to practice.
TESTIMONIALS
"Sam has been teaching my 10-year-old daughter Rosa drums now for almost a year, and she's made amazing progress. Rosa loves her lessons and Sam helps her feel excited and motivated to practice and get better. Rosa loves her lessons and learns fast with Sam. She felt comfortable with Sam from the very beginning. I'd definitely recommend Sam for drum lessons to anyone."
Lucy, Parent of a student
"Sam has a calm and relaxed approach to teaching drums which really works for my son who loves his drum lessons and has really come on over the last year"
John, Parent of a student
"Sam is amazing! Really patient, encouraging and expanding Sena's musical horizon! My daughter really looks forward to her lesson every week!"
Kate, Parent of a student
---
Please note: Pirate Certified Trainers and Pirate Certified Training Centers are private entities or enterprises and neither employees nor agents of Pirate Ltd. They are not administered by Pirate Ltd. The trainers and centers are solely responsible for their own course offerings and curricula. Pirate takes no responsibility or liability for the actions of the trainers or centers.
Click here to view the full 'PIRATE Teachers' Disclaimers.