OUR BEST STUDIOS FOR RAPPING
Flying solo or rolling with the crew, choose your size and setup. Book a rap recording studio with a custom vocal booth or a rehearsal room with a full backline. Book by the hour, with studios for rapping available 24/7 across the US, UK, Germany and Ireland.
Plus, explore networking events and opportunities for development on our Artist Hub — join a community of like-minded artists at a hip hop studio near you.
Recording Pro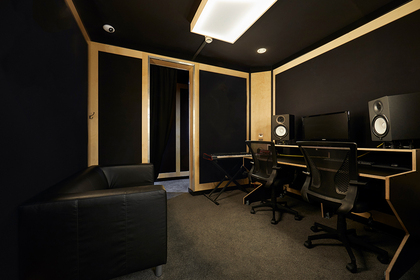 Size:
1-4 people
Best For:
Recording vocals and laying down beats
Audio Interface:
Focusrite Clarett 4Pre USB
Headphones:
2x Pioneer XPRS 10
Microphone:
Audio Techinica AT2020 or SE Electronics SE2300
Monitor Speakers:
Yamaha HS8 or KRK V6S4
Midi Keyboard:
Novation Impulse 61
*Some studios have different but equivalent equipment
Rehearsal Standard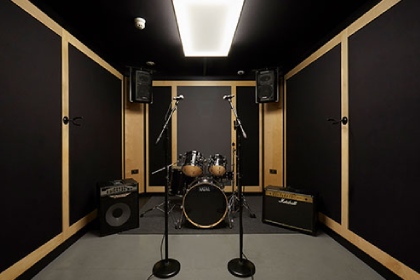 Size:
1-4 people
Best For:
Solo or duo performance practice
Amps (Bass & Guitar):
1 x Bass Amp Combo - Ashdown or Fender / 1x Guitar Amp Combo Marshall or Fender
Drums:
5 Piece Drum Kit - Pearl or Natal
*Cymbals not included
Mixer:
12 Channel Mixer with FX
Speakers:
2x Pioneer XPRS 10
Microphone:
Vocal Microphones + Stands
*Some studios have different but equivalent equipment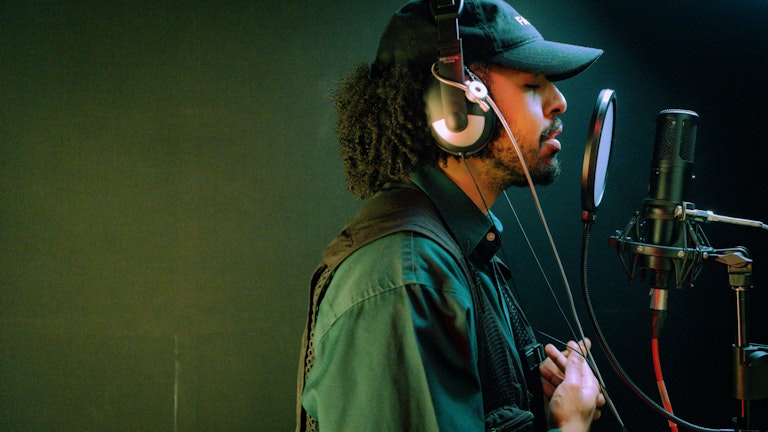 VOCAL RECORDING
Recording vocals? Our professional rap studios are fitted with soundproof vocal booths for clean audio. Bring your hardest bars or settle in for a freestyle.
RAP MUSIC PRODUCTION
Laying down beats? Craft an instrumental from behind a custom music production desk, with industry-standard studio equipment at arms reach.
PERFORMANCE TECHNIQUE
Practicing a performance? Get an on-stage feel with a full backline, speakers, microphones and stands. You don't need an audience to put on a show.
REVIEWS
The whole process was so easy. The studio was amazing. All the gadgets that I needed was available to me. The location was great. Overall my whole experience was amazing.
Have used Pirate in Los Angeles, Silverlake several times to track vocals. A brilliant concept and well executed. Very secure parking and facilities
Great facility, have been here for band rehearsal and podcast recording. Gear is top notch and has always worked perfectly.
HOW MUCH DOES IT COST TO BOOK A RAP STUDIO?
Our rap studio rates vary based on several factors, including studio size, setup and location. In popular cities like New York and Los Angeles, you can book a rap recording studio equipped with a vocal booth for just $22 per hour, with discounts offered for extended sessions. If you're looking for rehearsal studios to perfect your rap performances, they start at just $18.50 per hour in the United States. For detailed pricing information in the UK, Germany and Ireland, please visit the dedicated location page on our website.
HOW TO BOOK THE BEST RAP STUDIO?
You can book hip hop studios for rehearsal and recording directly on the PIRATE.COM website. Browse rap studios near you, select your preferred studio size and setup, choose a time, date and session length, make your payment online, and receive door codes to let yourself in.
CAN I BRING MY OWN EQUIPMENT TO THE STUDIOS?
Our professional rap studios come with industry-standard equipment for rehearsal and recording. Artists are welcome to bring additional equipment to their sessions. However, all personal equipment must be taken with you at the end of your sessions.
WHY BOOK A PROFESSIONAL RAP RECORDING STUDIO INSTEAD OF YOUR HOME SETUP?
Advantages of booking a professional rap recording studio include: more space for collaboration, enhanced privacy, access to professional equipment, and the freedom to make, play or perform music as loud as you want. Additionally, it provides an opportunity to connect with a local hip-hop community of like-minded artists.
CAN I BOOK A RAP STUDIO FOR A LONGER PERIOD OF TIME?
Book a rap studio near you using PIRATE.COM. Studios are bookable by the hour, with discounts on longer sessions. However, we do not offer long-term studio rental, operating on a pay-as-you-go basis only.