Backstage Mix: Reger X AVA Festival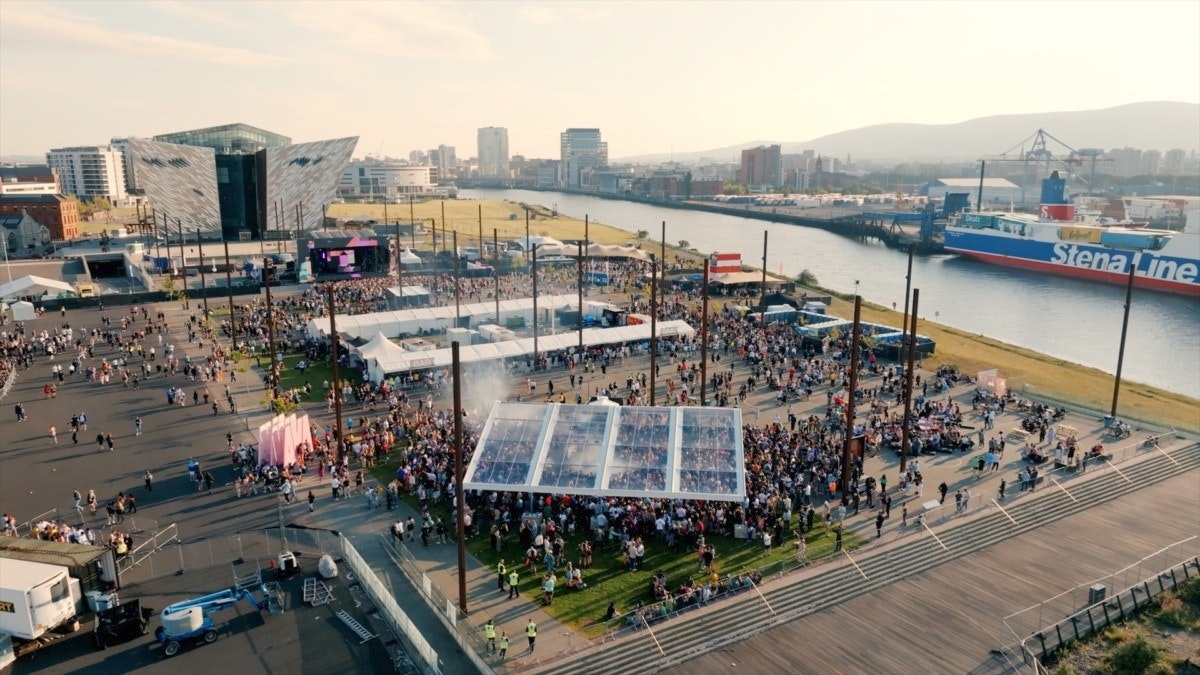 Get to know Belfast golden boy Reger ahead of AVA Festival.
Renowned for championing local talent, AVA Festival is back in Belfast this weekend. We caught up with returning artist Reger ahead of kick-off.
Aged just 21, Reger's impact on the Irish electronic music scene has already been substantial. Inspired by some of the best selectors in the game (Ben UFO, Call Super and Batu to name a few), he's been honing his own style of DJing at Belfast's best night spots (Ulster Sports Club, Banana Block and Thompson's Garage), and been featured on prestigious radio stations like NTS, BBC 6 Music and Radio Ulster.
His mix will give you a taste of what to expect at AVA Festival 2023.
Can you describe your evolution as an artist? How does the music you play now compare to your earlier mixes?
I started recording mixes in 2018. I've departed quite radically from the 'tech-house' sound I was playing then. I'm drawn to deeper and more complex sounds in a lot of the stuff I play out now.

Lockdown was when I really changed things up, getting back into people like Gilles Peterson on 6 Music (I had been listening to him on Radio 1 when I was much younger), Charlie Bones when he was still on NTS, as well as a few other residents on the station. I made a serious habit of collecting a lot of different styles of music – from Pharaoh Sanders and Kassa Overall to Warp favourites Yves Tumor and Oneohtrix Point Never.

In terms of my production, I was really inspired when I was a winner in Special Request's Dubplate Production contest. It was a seal of approval from one of my all-time heroes! During lockdown, I also began producing a lot of ambient music, something that evolved naturally, as it reflected my feelings of sitting in the house for months on end.

By the time festivals were starting up again, I felt like a completely different DJ. My second gig back was AVA Festival 2021 on my 20th birthday. I was just playing anything I wanted to – dub reggae, techno, Brazilian jazz, artists like Hudson Mohawke, Theo Parrish, Eddie Palmieri, absolutely everything. I can't describe how invigorating it was to have the freedom to play such an eclectic selection.
Do you feel like you're part of an electronic music community in Belfast?
Absolutely! There's a 'secret' group of music fans and DJs, "the heads", behind Jerry Jackson, better known as Jerry's Stolen Goods on Facebook. It entails a lot of tune sharing, tips, exclusive gig announcements in Belfast, and just a tight-knit community of good people who go out every weekend to hear killer records in clubs. It's not as active any more, sadly, but it was a really great way to get your name out locally when I was starting out.
If you could change one thing about nightlife in Belfast what would it be?
The licensing here is an absolute atrocity if I'm honest. We have amazing club spaces like Ulster Sports Club, Banana Block and Thompson's Garage which just aren't open late enough.

The maximum we can fit in is about 5 hours of music. This didn't hit me until I went to fabric for the first time for a Continuum party curated by Craig Richards, I was able to stay in the club for over 24 hours if I wanted to. We just don't have that sort of thing here unfortunately.

There's an excellent group of campaigners called Free The Night who are looking to make serious changes to the nightlife in Belfast. They're very switched and able to push the NI government to extend the opening hours of our venues.
What is one thing about Belfast's nightlife that makes it distinctly Belfast?
This might sound a bit clichéd, but the crowds here are definitely unique. I've partied in places like London, Glasgow, Manchester, Sète, to name a few, but Belfast's rowdiness is simply unmatched.

Give somewhere like Ulster Sports Club a red light, smoke machine and a killer Selector and you're probably going to need a new ceiling.

I was too young to experience the Bunatee at Queen's Student Union but I still hear reports of people repeatedly hitting the room and after the last gig, collecting and framing pieces of the ceiling. Where else would you get that!?
Are there any labels you particularly keep up with when you're digging?
For sure. Always loving the stuff coming from Hessle Audio, The Trilogy Tapes, VOAM, Warp Records, Kerrie's Dark Machine Funk, Tresor, Houndstooth, Dublin's First Second Label, Sputnik One's N-Face – there are so many killer labels out there doing it right.

ESP Institute is probably my favourite label right now. Andrew "Lovefingers" recently played for David Holmes' Weatherall Tribute Night and some of the stuff he was playing was just incredible.

Belfast's very own Extended Play is another one, you can expect some of the finest Northern Irish talent to be showcased on there, especially the emerging folks!

Gilles Peterson's Brownswood label is consistently raising the bar with all-things New Jazz and beyond…similarly with First Word Records, shoutout Kaidi Tatham!

WRWTFWW (look up what that means in your own time) are putting out some flawless Japanese stuff which was previously unattainable due to the Discogs sharks.

I've definitely missed out a few, but I've mentioned some really killer imprints there for you to check out if you haven't already.
What can we expect from your upcoming show at AVA Festival?
I've planned a very eclectic set of tracks for my Boiler Room. I've really been honing my structure, flow and pacing to improve the audience's experience.

I think I've learnt from various dancefloors around the UK since my last AVA appearance, so I'm hoping to make this one very memorable for others and myself. It's a real honour to be doing a Boiler Room this year, it's something I've wanted to do for a very long time and I plan on having a lot of fun!
Are there any other acts at AVA Festival that you're excited to see play?
I was really excited to see Cartin but our set times clash. He's easily one of the most talented guys doing it at the moment – a proper experience to see live.

I'm hoping to catch Ben UFO, Blawan, Marion Hawkes, Overmono, Goldie, Timmy Stewart, Kessler, Carlton Doom, Jordan Nocturne, More Gain, Emby, Twitch, Optmst, Efa O'Neill, Inside Moves, Brien, KEM, there are going to be so many phenomenal acts at The Slipways, we're so spoilt!
Lastly, where is your musical home and why? It can be a festival, club or anywhere!
It's not a venue any more, but I would have to say S13 on Boucher Road in Belfast, without a doubt. This warehouse venue for AVA Festival 2019 was where I was properly introduced to all ofthe music I play right now. It was the first time I saw selectors like Call Super, Special Request, Willow, Ben Sims, etc. It was just one of those pivotal, formative experiences: I vividly remember standing at the mainstage after Daniel Avery's closing set, just thinking to myself "I've got to really try to go for this."

fabric would be my second home: on my first outing I saw Nicolas Lutz and Craig Richards, Bobby., Ricardo Villalobos and Neil Landstrum in one 24-hour block. Truly mind-blown.