We Visited 5 London Listening Bars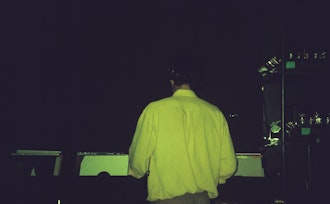 Flourishing in all corners of London's compass, these are the best hi-fi listening bars to check out in 2023.
The listening bar concept comes from 1950s Japan. A glam take on living room decor, marrying small plates with high fidelity listening, these cosy but slick venues – originally developed in the small bars, cafes and record stores of Tokyo – take on the role of club for music aficionados who wish to enjoy music in a more laidback setting.
These intimate spaces have become home to some of music's most experimental parties around the world.
The Best Listening Bars In London
In recent years, London venues have been stepping up to the original blueprint of Tokyo-style listening bars.
Hosting events that range from straight DJ sets to a blend of live music, poetry, artist talks and five-hour long parties, these audiophile bars have a tangible London twist, representative of the city's diverse culture, energy and ever-burgeoning music scene.
Giving artists a platform to celebrate releases, test out new material and support vinyl culture, it's been a pleasure to take a look at what some of these increasingly popular venues have to offer, find out how they achieve their high quality sound and gather hot tips on how to play and join in on the fun…
Peckham, South East London (Bussey Building)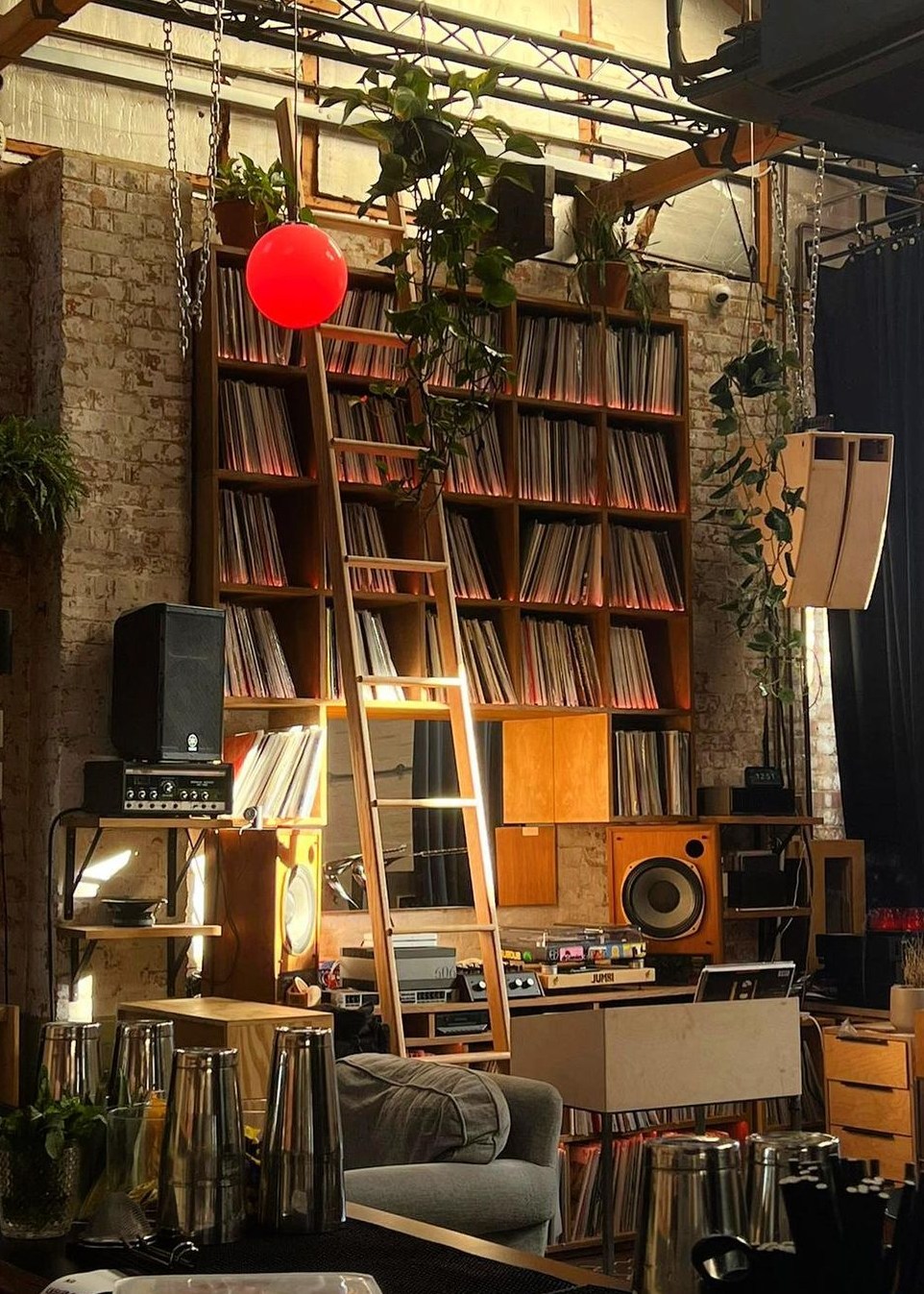 Photo: @jumbipeckham
WHAT TO EXPECT
New on the scene, Jumbi opened in 2022, a joint project between Nathanael T Williams (Colour Factory) and Bradley Zero (Rhythm Section). The Peckham bar is filled with music and food from the founders' Afro-Caribbean roots (housing a collection of Bradley's own vinyl records).
In its short life, Jumbi has hosted a variety of events including album playbacks, instrumental jams and poetry performances. Regular DJs and staff take on stereo duties, alongside an array of notable names who pass through, such as Oscar Jerome, Andrew Ashong, Sally C, Manami and Bradley himself.
Cultural programmer Rudi Minto de Wijs explains Jumbi is on the more casual end of the traditional music listening bar spectrum:
"It's more of a hang spot. The traditional Tokyo, or Japanese listening bars were largely based around sitting in silence. We're not really like that. The music and the people have an equal say in how the night is."
THE SETUP
Like most listening bars, Jumbi has a stripped back kit with only one deck. Rudi explains how Jumbi thrives, without a formal DJ booth:
"Between each track there can be a moment of silence. It's nice that people will go up to the DJs and ask them, you know, 'What is that tune?' or 'Where did you get that from?'. DJs can really tell a story with the records they have and people can connect with whoever is playing."
If you want to spin some vinyl, you can play from your own collection or the collection in-house. The team enjoy seeing people playing from collections they have been gifted by family members or friends – making the whole experience a lot more personal.
For the real audiophiles out there, the team have detailed exactly what their sound system is built from:
"2 Quad 405 amps modified for the LS 5/8s and a Quad 606 powering Tannoy Little Red Montiors.

The LS5/9s are acting as tweeters running through a crossover powered by another Quad 405-2 – all fortified with an active d&b Audiotechnik subwoofer.

The turntable is custom modified by Isonoe London with a Master Sounds external PSU & Grado labs carts running through e&s DJR400, hooked up to a vintage Roland space echo."
…and this is all constantly being worked on!
Having achieved a very high spec system for the space, the Jumbi team are looking to prioritise who's in the space, how they are enjoying the sounds and who is interacting, making it a great venue for artists to play at, whatever their level.
HOW TO GET INVOLVED
A very open door policy, Jumbi's programme is largely built around their extended network, friends, family and recommendations.
If you are a music lover/artist looking to play, you can say hi over on Instagram (@jumbipeckham) or hit them up at jumbipeckham@gmail.com.
Dalston, North East London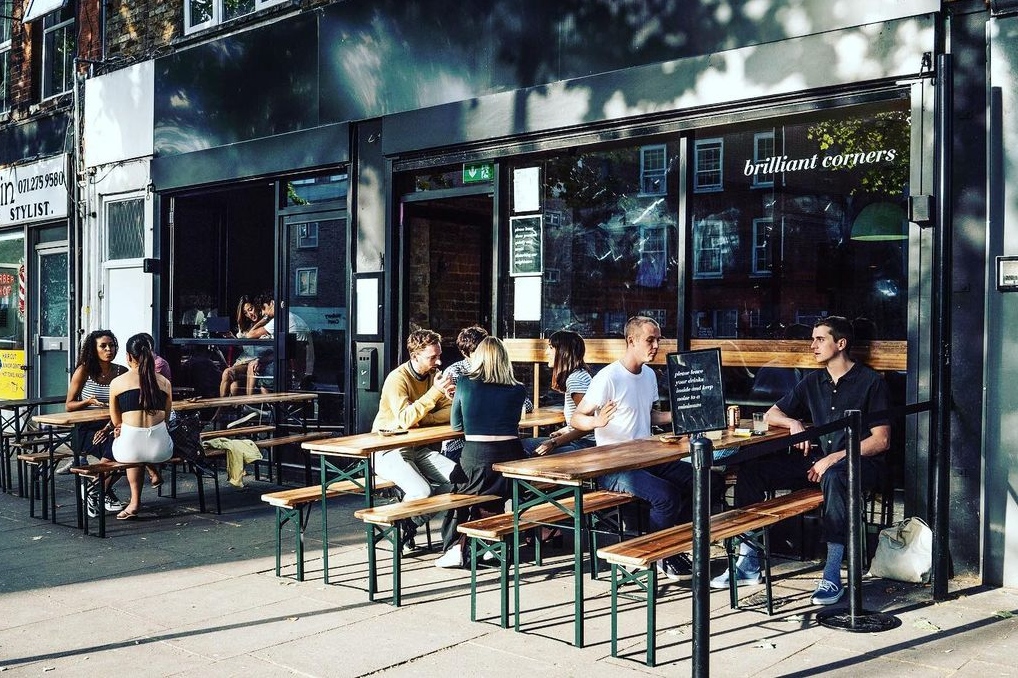 Photo: @brilliant_cnrs
WHAT TO EXPECT
A 7-minute stroll from Pirate Dalston, Brilliant Corners is one of the more established in the game, having been around for a good eight years.
Founded by brothers Aneesh and Amit Patel, BC is run for audiophiles by audiophiles. The team have gone on to develop their notorious travelling soundsystem Giant Steps (as seen at Houghton Festival).
Taking strong inspiration from the original Tokyo listening bars with its delicious set menu of Japanese small plates and low-lit setting (the brilliant giant floating moons), BC's aesthetic and ambience do not disappoint.
If bopping to STR4TA whilst snacking on salted edamame and sipping orange wine is what you are after, then this is the place for you.
THE SETUP
The beauty of BC is its simplicity, but the custom set up makes for a premiere listening space.
DJ/producer and co-founder of labels Control Freak Recordings and Foam On A Wave, Will Bradbury shares what it's like behind the decks at Brilliant Corners:
"At BC you get two turntables to 'blend' though. Apparently these are an old BBC Technics console which they run through a funny rotary mixer.

Then there are these four floor-to-ceiling freestanding custom speakers: TAD Bass speakers with Klipschs on top, the same audio-phile brand owned by David Mancuso, used at his legendary Loft parties. They have this amazing clarity and depth. I haven't tested out any jungle on them yet."
Playing for the first time to launch a new record with his label, Will has continued to DJ at BC occasionally, and the team always appreciate new people reaching out:
"I would definitely recommend playing there. All of the duff duff of the clubs can get a bit tiring, it's nice to offset it with some sweeter stuff. You don't get to play those new-age records in clubs really. You also get a great meal and cocktails this way."
HOW TO GET INVOLVED
Newington Green, North London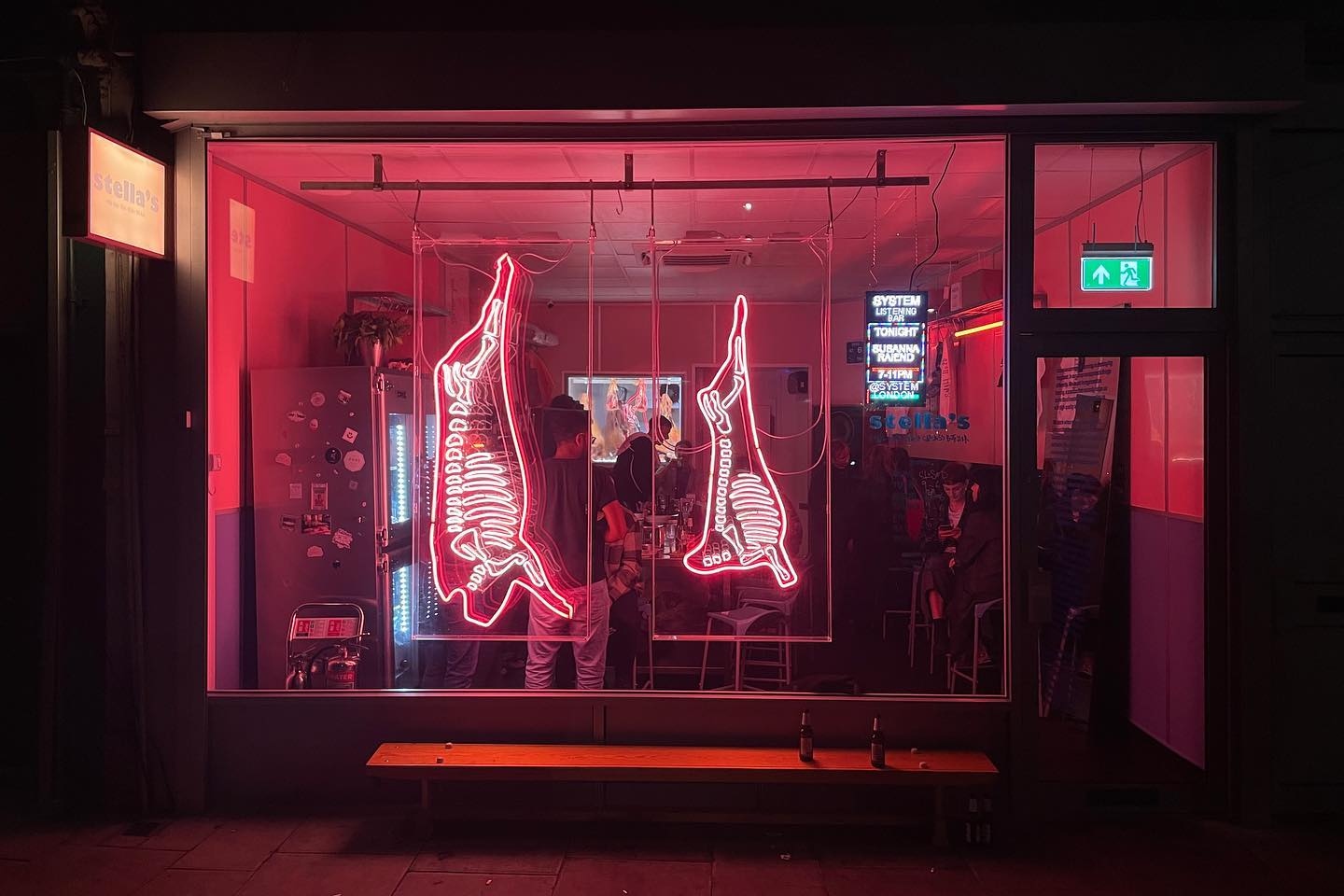 Photo: @systemlondon
WHAT TO EXPECT
Another new kid on the block, System is one of the most unique of London's hi-fi bars. Set up inside the Newington Green Road butcher shop Stella's, System currently only runs Thursdays and Fridays, with no reservations and high demand – get down early to secure a seat.
The decks are behind the counter, and the signage, decor and wicked neon carcass art, all act to remind you of the venues daytime occupation. It feels like a relaxed after-hours party, a meeting of two minds and a reminder that there's a place for music everywhere.
Stella's is run by Luca Mathiszig-Lee, one of the founders of Broadway Market's famed Hill & Szrok (butchers by day, wine bar/restaurant by night). With Stella's/System, the idea of transformation is replicated, this time led by the audiophile background of System boss, Mathiszig's brother Jojo (Kindred London).
Open for business between 7pm and 11pm, one DJ plays an extended set each night. Mathiszig explains this gives you "room to really dive into your record collection and play things you might not draw for on a radio set or a club".
Keeping the selection diverse is encouraged at System:
"You can sometimes forget about these corners of your record collection that are perfect for spaces like this. We want to keep it pretty fun at Stella's so people can draw for anything really."
Something of a regular at the burgeoning venue, Rinse FM resident and DJ Mr Redley describes the intimacy of somewhere like System:
"People are close up, they can see what you're doing. They can even come up to you and ask you about the last track you played.

I'd also say playing in a listening bar allows you to be more experimental… I definitely dig out some of my weirder records when I'm playing at somewhere like System or Brilliant Corners. People want to hear something different and unique – and that's what's provided.

Playing in a listening bar is a chance to reconnect with yourself and your collection whilst creating a listening experience for the people around you. You can also actually see people, see the faces that you're taking on this musical journey."
THE SETUP
System is powered by Tannoy Ardens, using the 15" drivers of a 1976 vintage Tannoy Dual Concetric sound system, long sought after by Mathiszig.
As mentioned, the decks are set up behind an island/counter, where people visiting are very close to the DJs, as they sit to eat or drink.
"We use a full Tannoy setup for the speakers, both the monitors we use and the main speakers come from a range dating back to 1976, both using the well regarded Tannoy hpd drivers. On the playback side we keep it familiar with a pair of Technics 1200s."
HOW TO GET INVOLVED
At the moment, the DJs at System have been friends and family but they are looking to expand next year – DMs on instagram (@systemlondon) would be the best way to reach out.
Hackney Wick, East London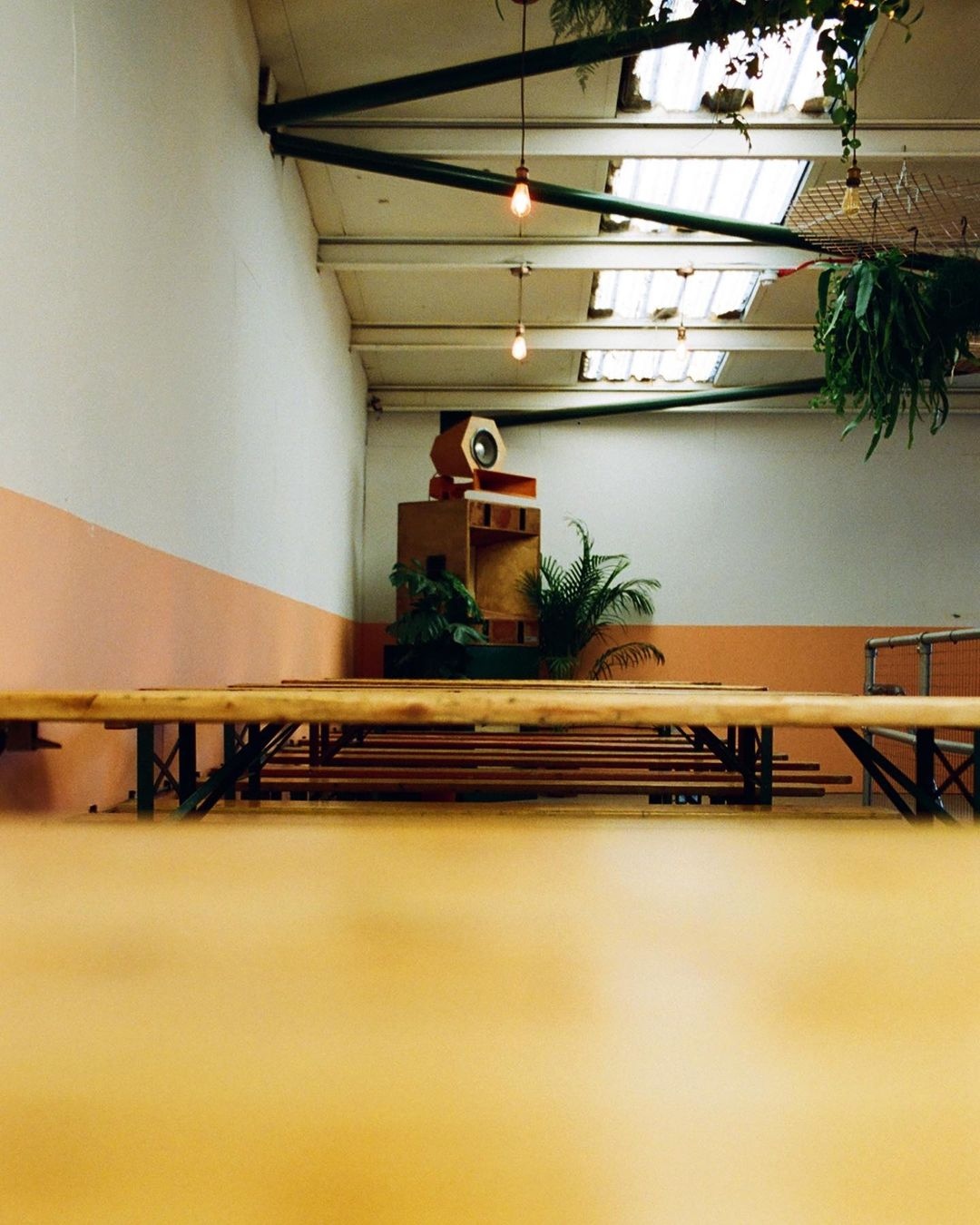 Photo: @allmyfriends.uk
WHAT TO EXPECT
Taking it's name from the classic LCD Soundsystem track, this is definitely a place you should see all of your friends, on any night of the week.
Picture a True Craft sourdough pizza van upon entering, large benches, a pool table, upholstered stools, a small terrace overlooking the Olympic park, and a good set up for watching the footie. All My Friends achieves a cosy 'hang out' vibe, whilst having a serious set up and slick retro/art deco look inside, reminiscent of the Japanese/Tokyo bars.
The echoes of the original Japanese listening bars continue with the tasty Japanese small plates menu Sho Foo Doo and the active record shop on the ground floor. Run by the DIY collective behind The Cause, nights at All My Friends bring back some of the familiar DIY led party energy but 'allowing a break from the typical multiroom raves'.
THE SETUP
With The Cause as its 'mother project', All My Friends operates with a very similar DIY ethos, as Karl Karlson (Promgrammer) explains:
"A far stretch from an 'audiophile' set-up, it's clubbed together with parts including vintage cabinets and horn tweeters alongside custom built boxes and brand new high end drivers."
Their custom hi-fidelity system is taken care of by upcycling studio Concept Object, whose handcrafted hexagon speakers are crafted with timber and reclaimed tweeters. The decks are in the middle of the room allowing the DJs to see the audience. As Karl describes:
"The "no-frills' set up (two Technics & a Condesa Carmen rotary) creates a laidback and unpretentious place for DJs and listeners alike. This also isn't a place just for DJs, it's a place for anyone with records to come and play music for friends."
HOW TO GET INVOLVED
Drop them a line via hello@allmyfriends.uk with as much info about yourself as possible! There is an open decks every Wednesday, welcoming all the rare and curveball records people have.
Also, if you're interested in buying or selling vinyl hit up records@allmyfriends.uk, where they are building a dance focused collection for their on site store – rare grooves, world music, techno/electro and more.
Kings Cross, North London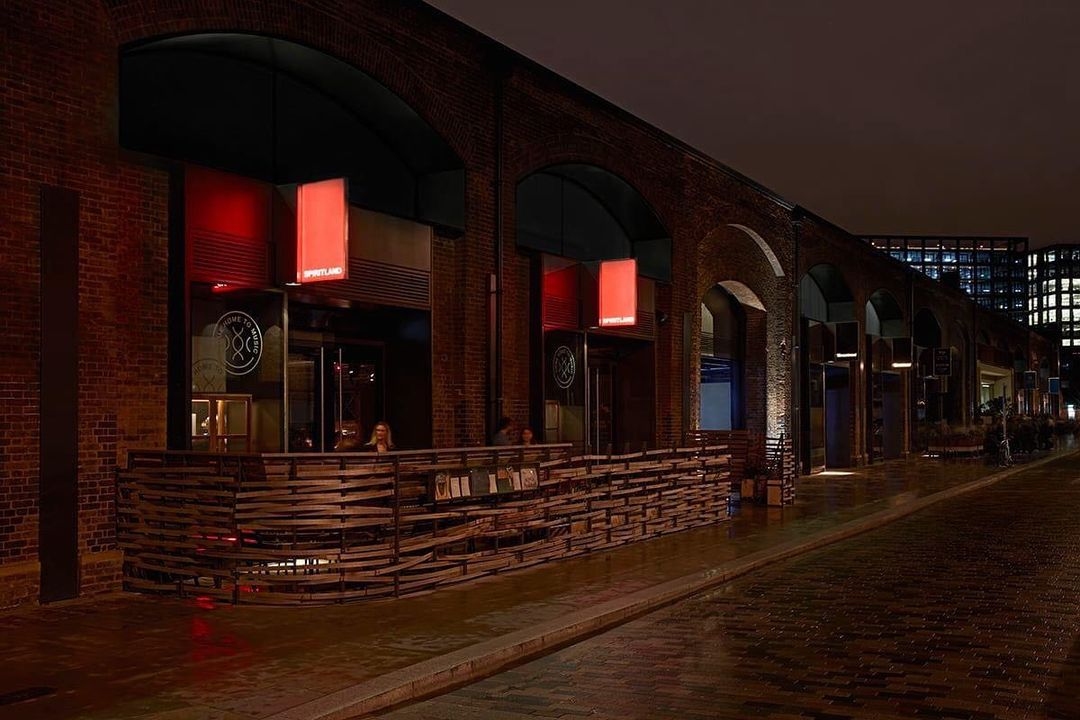 Photo: @spiritland
WHAT TO EXPECT
Spiritland is an established hi-fi listening bar in Kings Cross with a hell of a lot going on – artist talks, a radio studio, brunch sessions, a dance floor for the evenings – a welcoming cafe by day, bar by night.
Wooden panels, disco balls, low lights, the room is filled with the classic Tokyo listening bar atmosphere, but more bustling, with the DJ booth situated in good view of all the dining tables.
A fairly recent addition to their programme are their Sunday 'Deep Listening' nights where you are in for 'electronic, experimental, cosmic journeys on on the Spiritland soundsystem' from 6pm to 10pm, completely free to book.
THE SETUP
Housing a custom rotary Isanoe Mixer, Spiritland resident Meg Paine shares what it's like to play:
"Spiritland has an amazing custom sound system that it's renowned for. It is sonically and visually amazing. Everything sounds so smooth, even if you're not mixing, tracks never seem to clang.

The music can be loud but it's never overbearing as the tunes always sound like butter coming out of the speakers. The highs are never too loud which is something I've noticed in many other places, and a pet peeve of mine."
HOW TO GET INVOLVED
Get in touch with Spiritland at hello@spiritland.com. If your looking to do some recording for radio the studio can be reached at enquiries@spiritlandproductions.com.
Honourable Mentions: More London Listening Bars
Another one fron the Brilliant Corners team, as they bring us new venue Mu in Dalston.
Hackney's lo-fi record bar with hi-fi intentions, Behind This Wall.
Notting Hill's neighbourhood wine bar Caia with a vinyl selection curated by the likes of Stranger Than Paradise, Phonica Records and Honest Jones and impressive soundsystem designed by Living Voice founder Kevin Scott.