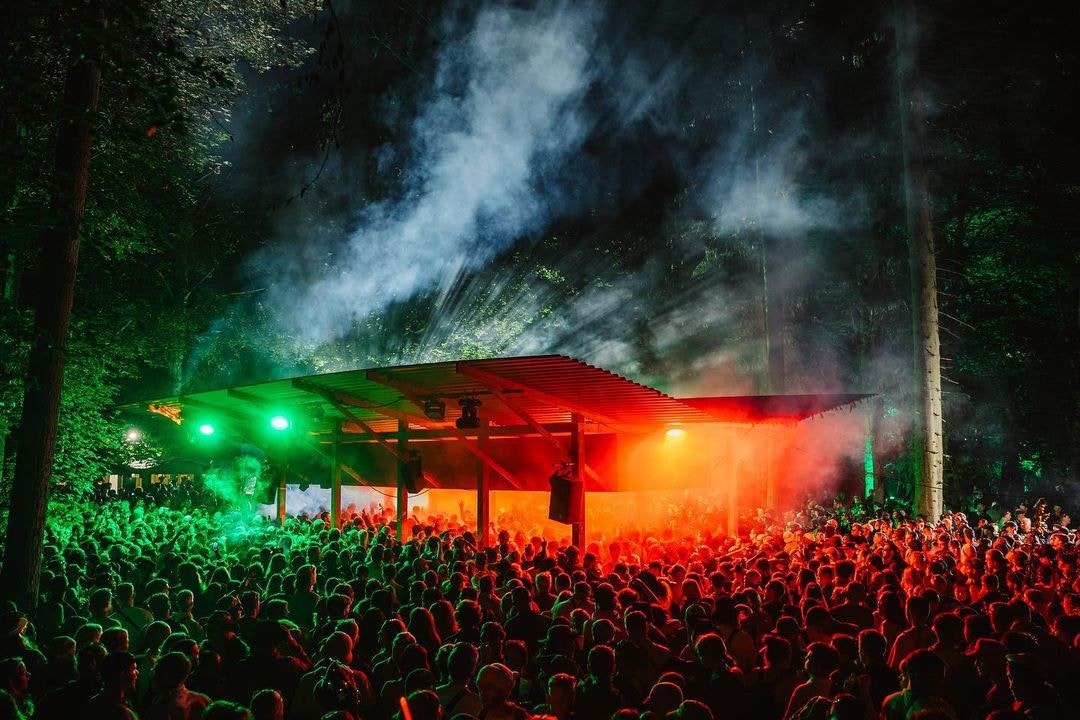 The Craig Richards-curated arts and music festival delivers a serene masterclass for its fourth edition.
Arriving at the green grounds of Houghton Hall on the Friday evening of August 11th, I had high hopes for the weekend ahead, ready to get stuck into what I predicted to be some of the greatest dance spaces I'd get to enjoy this summer.
It's without a doubt that actually, last year's resilient ravers stomping the drought-induced dust bowl woodlands, in their makeshift face coverings and balaclavas, was part of the 2022 magic. But with this year's weather seeming to be on its best behaviour, I had high expectations that my second time at Houghton would be just as, if not more, magical than my debut.
This year, entering the forest felt peaceful from the jump. Friday morning had seen dancers lifted by a healthy dose of reggae at the Pavillion (the festival's largest woodland stage) where Craig Richards himself was followed by legendary dub producer Aba Shanti. The renowned sound system operator unearthed some rare cuts from his heavyweight roots vaults, whilst toasting messages of love and unity on the mic. The sound of Bob Marley and The Wailers' Stand Up For Your Rights reverberating around the woods made for a particularly poignant moment out of the whole weekend.
Friday afternoon onwards saw a lock-in at the Tantrum stage, the programming showcasing some of Uruguay's finest: Z@p, DJ Koolt, Nicolas Lutz and Michelle. One of the more club-like spaces amongst the festival's well thought out stage production, Tantrum's laser-heavy space contained by a stack of shipping containers was perfect for Nicolas Lutz's dark electro and heavyweight acid set. Michelle really stole the show here, with an equally driving set, featuring plenty of clean breaks to keep us stepping.
Into the early hours of Saturday we eagerly queued to enter the Quarry in anticipation of one of my favourite DJs, Evan Baggs. Moving from hypnotic minimal to spacey trance, Baggs' sounds filled the cavernous bowl of the Quarry, standing in a simple raised wooden structure, illuminated in red light and always with a calm smile on his face. It was hard to leave this masterclass, but Saoirse at the Pavillion was calling — a must-see after her fantastic closing set at Earthling last year.
Arriving half an hour into Saoirse's set, we found the Pavillion packed out, a sea of heads bobbing energetically in the warmly lit and expansive space. The Body Movements co-founder played another blistering Houghton set, maintaining her usual thumping pace throughout with R&B edits (Ginuwine, My Pony), hard house and bouncy percussive cuts. The veteran DJ really set the crowd going with Jorja Smith's latest summer garage heater Little Things, a welcome outburst of high energy, Jorja's honeyed voice sounding unreal on the world-class sound system.
One of the last highlights of the Friday/Saturday shift was Optimo, commanding the slightly secluded Outburst stage, a smaller rounded clearing deep in the woodlands. In many ways, you know what the expect from the Scottish DJ duo, but their outrageously miscellaneous sets will always nestle up a surprise. This time, a warped electro edit of Plastic Bertrand's 1978 new wave punk hit Ça plane pour moi really pushed the boundaries of their genre-hopping style.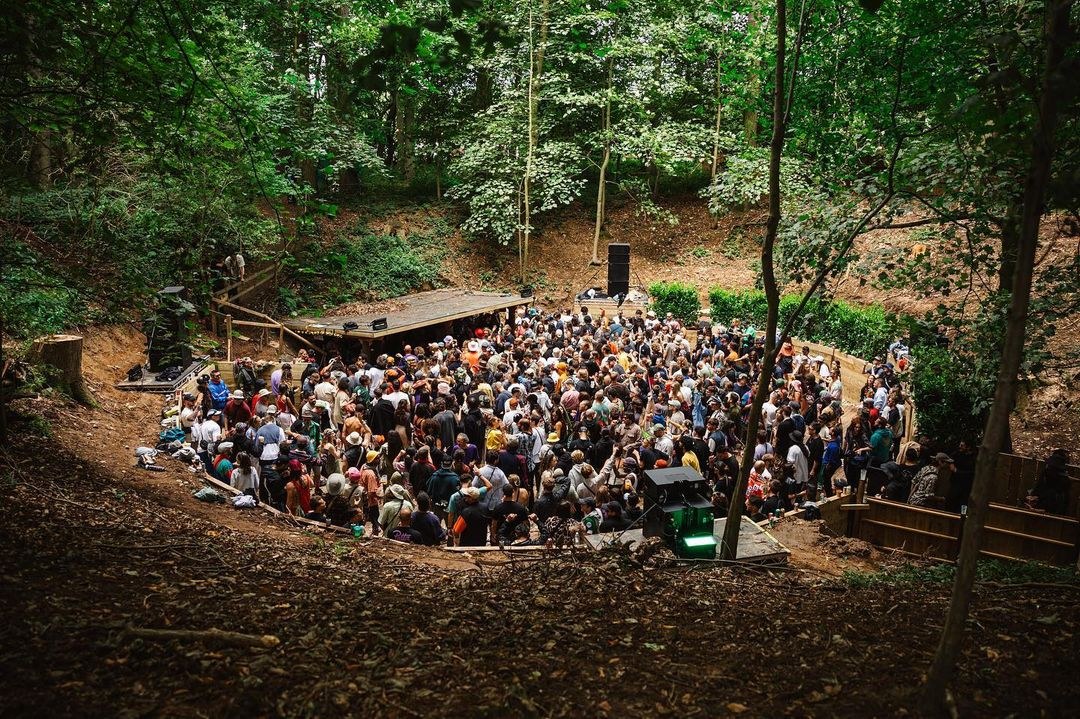 With a few hours kip needed before checking out the daytime slots on Saturday, we woke up fresh enough and keen to see what else the festival had to offer. If you didn't feel like going straight into it, the wellness centre at the Orchard was on hand for more wholesome activities with reggae yoga, sound baths and massages. Or, you could pick from a range of complimentary classes including life drawing and plastic recycling talks. Tucked away from the main stages on the other side of the lake, the area's hammocks alone made it worth a visit — a comfy and quiet option for some rest between dancing.
We actually kicked off our day in a similarly secluded spot not too far away from the Orchard, checking out the Aphex Twin x Weirdcore collaboration piece, a visual installation set to Aphex Twin's new music. The screen seemed to dive into an endless, twisting room, lights animated by the music, the usual pumping space of the warehouse was now cinematic, a reminder that alongside the musical curation that Houghton is a showcase of art, a passion which Craig combines with his love for music and nightlife.
Switching up the pace and ready to dance again, the next destination was Derren Smart, where the reliably exceptional Voigtmann had the field properly moving with an energetic and undeniably groovy set. At this point, the weather had decided not to stick to the script of sun all weekend. As much as we were enjoying Derren Smart, we decided to make a dash for the woodland area as the heavens opened with a short but heavy shower. We locked in at Stallions, the woozy, disco-dominated tent in the woods, for some spacey moog music from Kem, the sexy sounds of German Euro group Orlando Riva Sound filling the now steamy tent.
After catching a bit of The Ghost at the Pavillion, Craig at Derren Smart and some funky machine noises from Radioactive Man, it was on to Omar at the quarry, in order to not miss another favourite from last year. Next on the agenda was braving the secret stage Terminus queue, which may as well have been Berhgain at this point, although with a lot more friendly chatter to get you through. The queue, as always promised, is worth it. The trip into the pit leaves you in trusted hands, with some of the festival's best DJs bringing their best after hours sets. Bouncing around to Chi legend DJ Rush's Motherfucking Bass and other acidy 90s techno tracks. Willow was a big highlight of mine here, delivering another one of her diverse, all-killer-no-filler, vinyl-only sets. Staying through for Omar (again!) and also catching Binh on top form as ever with a zippy, pulsing set, we were reminded that a fresh whole day (Sunday) was about to begin.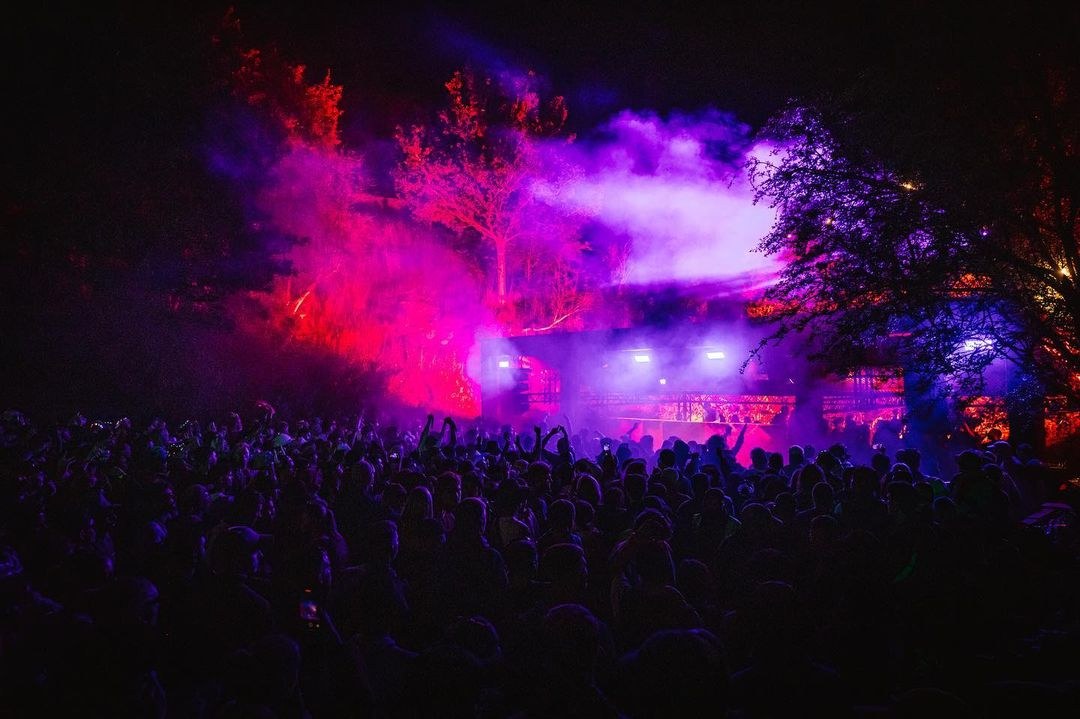 With the final day upon us, we again went for a gentle ease in, heading to Pinters for US comedian, actor, beatboxer and musician, Reggie Watts, one of the more leftfield picks on an already very leftfield lineup. Improvising a spoken word piece inspired by his time at the festival, the comedian and musician is a great example of Craig's ear for ingenuity and commitment to showcasing all dimensions of creativity in music.
Moving through to the Pavillion for the last daytime sets of the festival, we caught Peach playing warm grooves in the sunset, followed by a percussion heavy set back at Derren Smart with Pangea. We could have locked into this for hours but we heard a rumour that someone was playing speed garage at Tantrum so went to investigate, only to get pulled into one of my favourite sets of the festival — Icelandic DJ Bjarki playing relentless techno, hardcore and electro, including his own recent track Rave Daddy and wild edits of Basement Jaxx and Lil Wayne. The set also showcased Icelandic talent with Reykjavík DJ Young Nazareth's rowdy remix of Icelandic rapper Krabba Mane's Slæmir Ávanar, and an absolute heater of an edit of 90s dance pop hit Release Me by Angelina.
Jane Fitz was also on the must-see list and as expected did not disappoint — rare 90s, sample heavy acid house (Bleep, A Byte of AMC) and plenty of warped, hypnotic sounds which we really got stuck into. Closing the festival this year, we witnessed an incredibly eclectic set from John Talobot, chuggy video game electro, clattering percussion and plenty of breakbeat, to finally officially close with Tracey Chapman sampling track Keep The Peace by the rather underground Miami bass wizard Versa-Style (need to dig out more tunes like this!).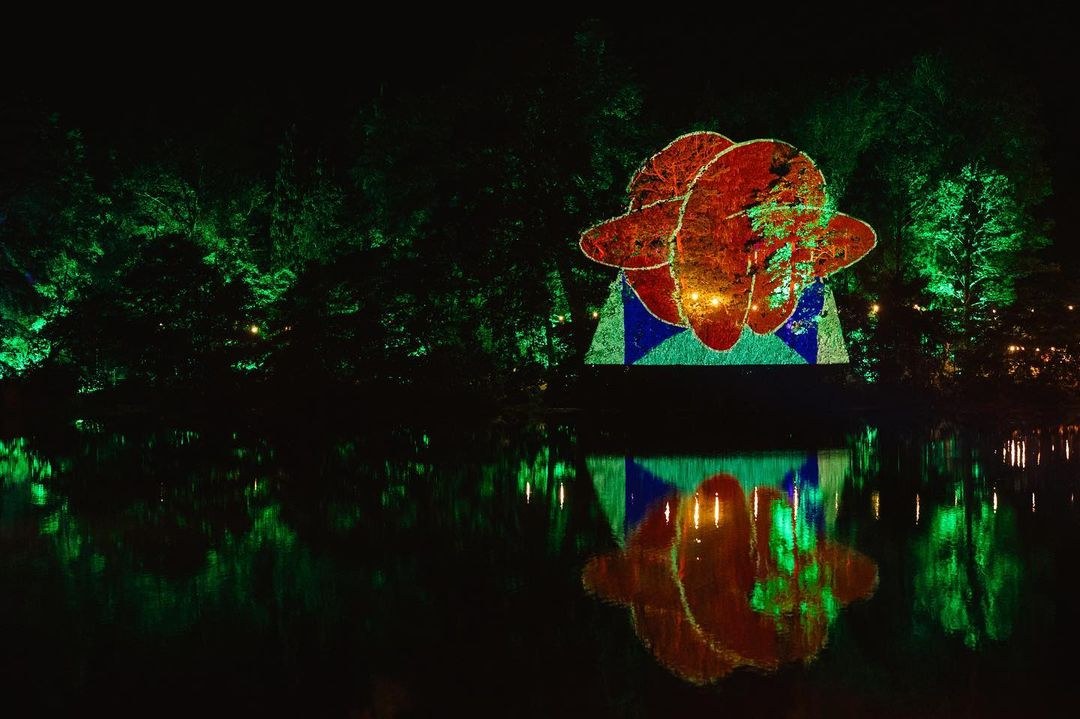 Just like that and the festival was over and on final reflection, this did feel like it could have been the halcyon days of its successful debut back in 2017. Growing through all the challenges and obstacles thrown at it over the past few years, Houghton remains a mythical festival, mastering the art of serious production but with an intimate, detailed feel. Of course it's carried by the music and this year's lineup and highlights really cemented that, with a range of DJs excited to return to a space they can really experiment with the most inspiring music. Houghton continues to take the crown, musically and beyond.