Amplify & Pirate Announce "Into The Metaverse" competition
Pirate has just teamed up with the non-profit Web3 Foundation Amplify to present an exciting new opportunity for artists with their "Amplify Into The Metaverse" competition.
The "Into The Metaverse" competition empowers artists to take their first steps into the realm of VR concerts — and put their name in the hat to win a metaverse concert of their own hosted and promoted by Amplify, as well as an all-inclusive trip, $500 of free studio time, and much more.
Here's what you need to know about this innovative new technology and how to enter the competition.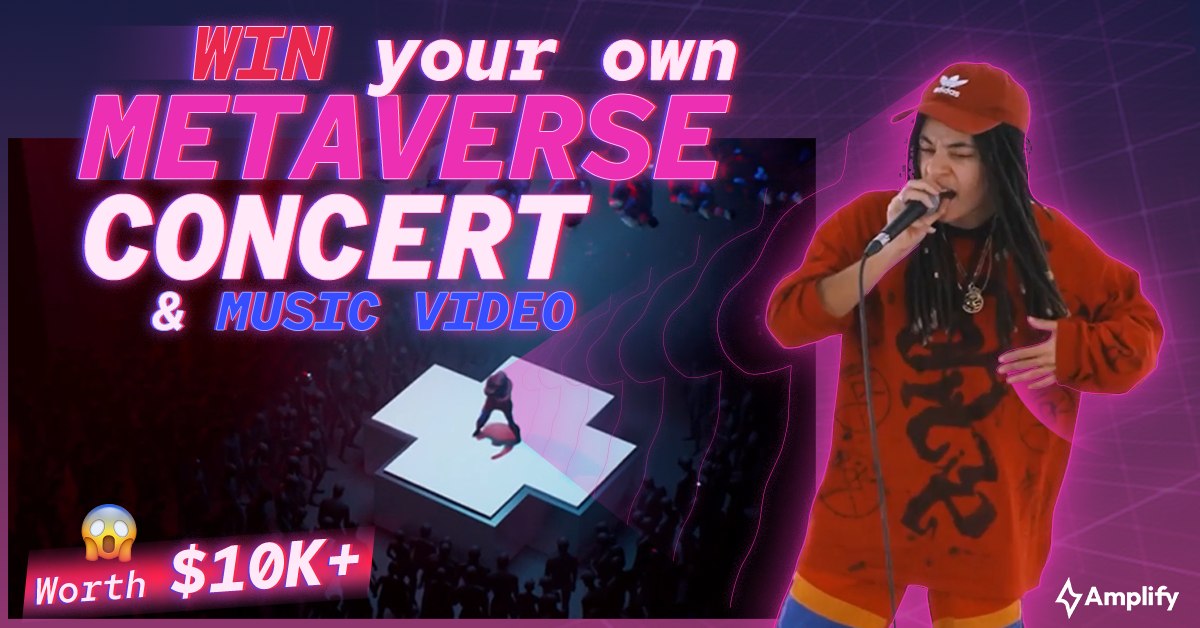 What is Amplify?
First things first — Amplify is a non-profit foundation with a vision to build a new music economy that brings artists, technicians, promoters and fans to the forefront enabling them to earn sustainable income. This model takes advantage of fast-developing Web3 technology and tools, including NFTs, DeFi, and self-custodian wallets.
Longtime friends and collaborators, Irfon Watkins (Chair & Founder DOVU.Earth and partner at Outlier Ventures) and Ian Matthews (Kasabian), came together to found Chapel a Web3 company with the aim of finding a solution to help the live music industry and artists earn more money.
After joining forces with the AmplifyLink team — a forward-thinking SmartLink and music marketing service with more than 90,000 users — they formed Amplify (a not for profit foundation). Via its tools and service — AmplifyLink and AmplifyLive — Amplify is finding innovative solutions to age-old issues in the music industry in helping artists to earn more money and earn at least a living wage.
About the Into The Metaverse Competition
The "Into The Metaverse'' competition empowers artists like yourself to take their first steps into the metaverse. By participating, you'll get the chance to win your very own live metaverse and real-life concert promoted by Amplify — using Condense's groundbreaking volumetric 3D capture technology. This will enable you to play live in front of a crowd, here in Bristol, and be projected in the metaverse at the same exact time.
Best of all, you'll be flown over from anywhere in the world, for an all-expenses paid trip (including accommodation) to Bristol — one of England's music hubs. You'll get the chance to explore the city that kickstarted the careers of artists like Massive Attack, Portishead, Idles, Tricky and more.
In addition, the winner will receive $500 of free studio credit provided by Pirate, for practice, recording and/or volumetric capture — that can be redeemed at any Pirate Studio in any country. You'll also gain access to AmplifyLive's Web3 technology — which will enable you to earn extra revenue from your concert on a recurring basis. This will all be amplified via a coordinated marketing and PR campaign, set to take your career to the next level.
How can I enter the Into The Metaverse competition?
You can enter the competition here, where it will take you about 3 minutes to enter.
Don't forget to share your entry on social media, tagging and following @amplifylink on Instagram or @amplify_link on Twitter, and use the hashtag #AmplifyIntoTheMetaverse.
Learn more about the competition and its partners here.