From Pirate Los Angeles: AIMMIA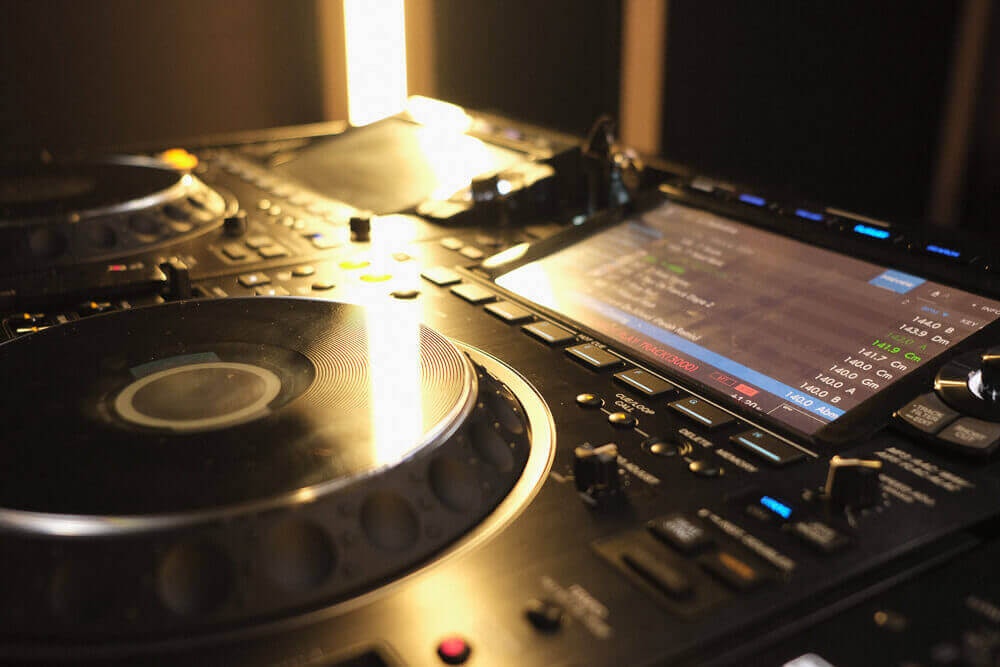 Discover rising DJ/producer AIMMIA, as we explore her musical journey from our DJ studios to international gigs through a new interview and mix.
Emerging from the vibrant Los Angeles electronic music scene, AIMMIA has been diligently crafting her unique sound which centers on house but also flirts with drum and bass, defying genre limitations.
A regular at Pirate Los Angeles, we caught up with AIMMIA to discuss her journey so far – from her time spent at Pirate to gigs, past and future, at clubs and festivals in Los Angeles and internationally.
Plus, listen to a new mix by AIMMIA, recorded at our Los Angeles DJ studios.
Firstly, how did you discover Pirate? Which Pirate locations have you been to?
My good friend Jonah introduced me to Pirate Studios back in 2020, and I've been here ever since! I especially love the Silverlake and West Adams studios, but I'm excited to check out more locations around the world!
What came first, DJing or production?
Production! I started producing in 2019, and then I taught myself how to DJ in 2020. Fun fact: I taught myself how to mix on CDJs at Pirate Studios.
Can you describe your evolution as an artist? How does your sound now compare to when you first started out?
My evolution as an artist has been a wild and exhilarating ride. When I began my journey, bass music was my passion. However, once I was introduced to the underground scene in LA, I fell in love with house music, and that has been my main focus ever since. All of these past experiences have had a huge impact on my production and created my unique sound in the house scene.
What have you been working on in the studio recently?
I've been working on a lot of new music and going live on Instagram, playing out promos that people send to me on Trackstack.

I'm super excited to finally announce that "Group Therapy" will be released at the end of July as my debut single! The support from my fanbase on this track has been incredible. I'm currently working on the next set of tracks to follow it, so stay tuned for those later this year.
What are the benefits of rehearsing/recording at Pirate?
The fact that Pirate is 24/7 is unbeatable! As artists, our creativity sparks at random times, especially at night, so you know you'll always have a studio to go to. Also, renting out studios can get very expensive, but Pirate makes it affordable and has a high-quality sound system that you can't beat!
Do you feel as though you're part of an active music community in Los Angeles? Tell us about it.
The LA music scene is pretty amazing and definitely inspiring. Whether it's at the more local clubs like Blind Tiger or the larger shows like Exchange, there are always great artists to hear, both local and touring.

A lot of producers call LA home, so it's been really cool to be able to collaborate and stay inspired by being immersed in the music community.
What is one thing about LA's nightlife that makes it distinctly LA?
The nightlife scene is unlike anything I've ever seen before. There are so many different parties going on at all times. I can't even begin to describe it – let's just say that I've seen more sunrises than sunsets!
What's been the best gig you've ever played?
I would have to say Day Trip festival was the best so far. The location on the harbor and the energy from the crowd were unmatched!
What gig slot is on your bucket list?
There are so many on my bucket list, but I would have to say Coachella and Printworks 2026.
How do you hold an audience during a performance?
It's all about reading the crowd and having a good selection of music to curate the journey of your set. Stage presence is also really important – even if the crowd doesn't know the track, if they see you vibing, they will match your energy.
Lastly, where is your musical home and why? Could be a festival, club, or anywhere!
Suwanne Hulaween! I grew up going to this festival, and it's truly unlike any other place on earth. This is another one I would love to play one day!

But really, my musical home is wherever I'm able to DJ and share a special moment with the people that support me along my journey. I can't wait to announce this next set of shows we have planned! Stay tuned for sure on IG at @aimmiaofficial – see you all soon!