Review: When To Choose Rehearsal Lite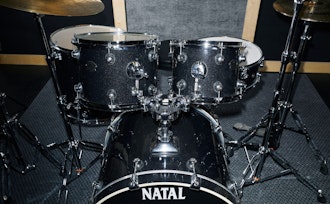 Drummer Maiya Sabapathy tests our new smaller and cheaper Rehearsal Lite studios at Pirate Camden.
When it comes to finding an affordable, comfortable rehearsal space to to let loose and make mistakes, being a drummer in London or any major city is hard. Especially if you don't have bandmates to split studio rental costs with.
Pirate's new Rehearsal Lite studios are a smaller, cheaper alternative to their regular band rehearsal rooms, intended to help drummers and other solo performers and duos facing this very problem.
Invited by the Pirate team to test their new studio offering, I headed to Pirate Camden with my drumsticks to try Rehearsal Lite out.
Having spent a lot of time at Pirate's Rehearsal Pro and Standard studios practising with and without people, the introduction of Rehearsal Lite is a delight.
As a solo drummer, sessions in the Standard and even the Pro studios can feel a little empty when you're alone, almost as if you are performing on a stage with no crowd. On the other hand, the size of the Pro and Standard studios is perfect for a group of 5 or as a place to work out choreography.
The main difference with Rehearsal Lite is the larger drum kit and the absence of amps.
The drum kit is a Pearl Export 5-piece featuring Sabian SBR cymbals, including a splash cymbal and an additional stand for good measure. This is certainly an upgrade in comparison to the other rooms, you're actually getting more for less money here as a drummer.
All it takes is a few quick switches between cymbals and stands to get your perfect set up – and although it's still completely possible to spend an entire hour re-tuning the toms attached to the set, it seems like the other parts of the kit are in relatively good shape.
For those who don't have their own set of cymbals, the SBR range is notoriously crisp and dynamic and acts as an excellent introduction to the depth of sounds cymbals are capable of. The bass drum packs a punch as does the snare, which is the best I've tried in any of Pirate's studios.
It's easy to see the difference between the Lite and its sister spaces. Whereas Pirate's other rehearsal spaces are designed for group sessions – be that for practising tour sets, songwriting sessions or general rehearsal, the Lite space is entirely geared towards the needs of soloists or duos. It caters to these well, a beginner attending their first music lessons or a self-taught pro would feel comfortable in this space.
A good rehearsal makes me want to push myself further as an instrumentalist and in the Lite studios, I've been reminded of the countless hours I put into learning how to drum as a teenager, the community I became a part of by learning an instrument, and getting lost in the drumming styles of those who I aspired to be (Ilan Rubin, I'm looking at you).
My goal as an artist is to participate in a community which is inviting and ever-growing through a mutual connection to music. This is the essence of what Pirate is – a place for artists to connect.
It's safe to say the Rehearsal Lite studio has become my second home and will more than likely see more sweat, anger and tears from me in the foreseeable future.
The Pro and Standard spaces will always be the place to practise with old friends and collaborate with new ones, to work out set lists and harmonies for performances, but this new breed of rooms is the breath of fresh air we drummers desperately needed – I can't wait to book in again.
Rehearsal Lite studios are available to book at the following Pirate studio locations: Bradford, Brighton, Bristol, Camden, Cardiff, Dublin, Glasgow, Gowanus, Greenwich, Hamburg, Leeds, Plymouth, Salford & Tottenham.