The Best DJ Controllers On The Market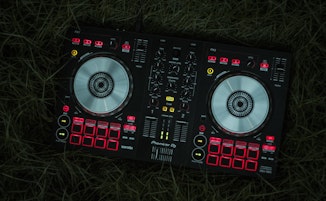 With more and more DJ controllers coming onto the market each year, we've put together a list of the best DJ controller options in 2022, to help you narrow your search.
When it comes to DJ controllers, the options can be a bit overwhelming. They range in price and style but the most important thing is finding the solution that works best for your needs.
A DJ controller is an essential piece of equipment for most beginner DJs. It's a device that allows DJs to manipulate a computer program without using a mouse. This gives them more freedom and mobility during performances.
DJs often move onto DJ controllers as their first piece of hardware once they've mastered how to DJ on a laptop. It's essentially an affordable solution to the much more costly and professional CDJ setup.
Of course, you can learn to DJ on CDJs straight away and skip learning how to DJ on a controller. With Pirate, you can rent a DJ studio by the hour, any time of day and get access to this industry-standard gear. This being said, if you want to practice DJing at home, a DJ controller is probably your best option.
The History Of DJ Controllers
The late 1990s and early 2000s saw the first iteration of the modern DJ controller. At this time, software was developed that would allow DJs to play music from their computers. These new controllers utilized MIDI (Musical Instrument Digital Interface) technology to send commands to their software.
Over time, controllers have become more feature-rich and closely resemble CDJs (a brand of DJ deck produced by Pioneer) and mixers. The modern DJ controller has elements like touch-sensitive platters, performance pads and effects modules.
What You Should Look For In A DJ Controller
When choosing a controller, you should consider what you want to get out of it. The best DJ controllers offer several features including a built-in sound card, multiple decks, and built-in effects. You should also consider how complex the controller is because some are not good for beginners.
The choice of controller depends on your DJ experience. Beginners should choose a simpler model while experts need more complex ones.
You can connect the best DJ controllers to your laptop or computer via USB or MIDI cable. Some controllers come with built-in sound cards. Others require you to purchase them separately.
The Best DJ Controllers On The Market In 2022
DJ controllers are the best way for beginner DJs to start learning how to DJ. However, with so many different control surfaces available, it can be hard to know which one is right for you.
To help you out, we've put together a list of the best DJ controllers on the market in 2022.
This list takes into account price, features, and overall usability. Each DJ controller is suitable for beginners, intermediate DJs and even professionals looking for something to mix on at home, without investing in a full industry standard DJ setup.
It's worth noting at this point that no DJ controllers are industry standard. If you get booked for a DJ gig at a club, festival or booked to play on radio, it's likely that you'll be expected to perform on a pair of CDJs or know how to mix on vinyl.
This being said, controllers are becoming increasingly sophisticated. The best DJ controllers will give you instant access to effects units, looping functions (if applicable), sync buttons, transport controls and cue points. To us, these are the best of the best.
The Best For A CDJ Feel: Pioneer DJ DDJ-1000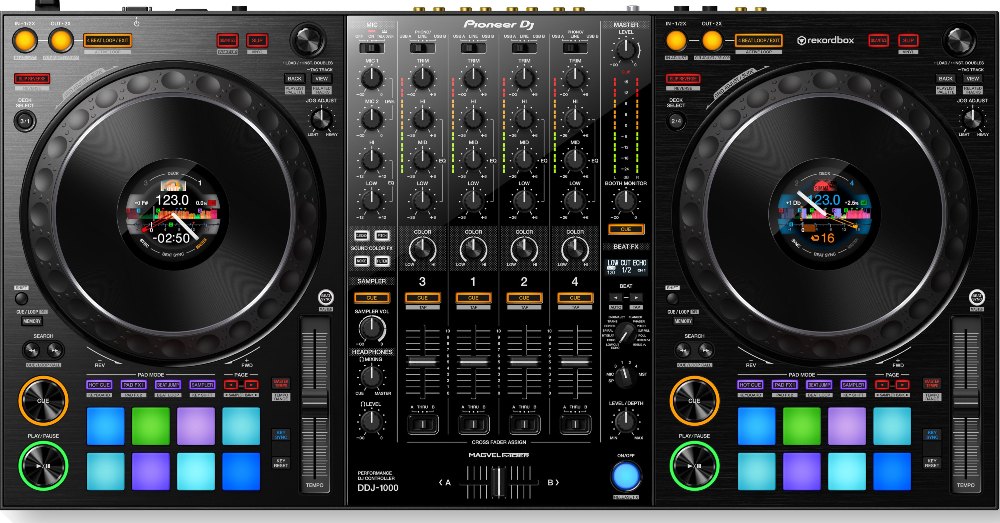 Price: £1,059/$1,199/€1,199
Comes with a full rekordbox Pro DJ licence
If you're a seasoned DJ, the Pioneer DJ DDJ-1000 is a fantastic investment. This 4-channel controller includes the same layout as Pioneer's top-of-the-range CDJs and has all the features of the professional DJM mixer, giving you all the tools you need to play your best.
Even though this model is expensive, it's well worth the price tag if you're looking for a reliable controller that will last through years of gigs. Of course, it's too much for someone who's just starting out, but if you're ready to take your DJing to the next level, this is one of the best options on the market.
The DDJ-1000 has plenty of professional features and is extremely customizable. It can be used with rekordbox and Serato DJ Pro and comes with built-in sound cards for both platforms.
You can connect up to four devices at once using this controller so you can mix from any source. It has two USB ports and two mic inputs so you can connect an MC or vocalist without any trouble.
The Best Controller For Scratch DJs: Pioneer DJ REV-1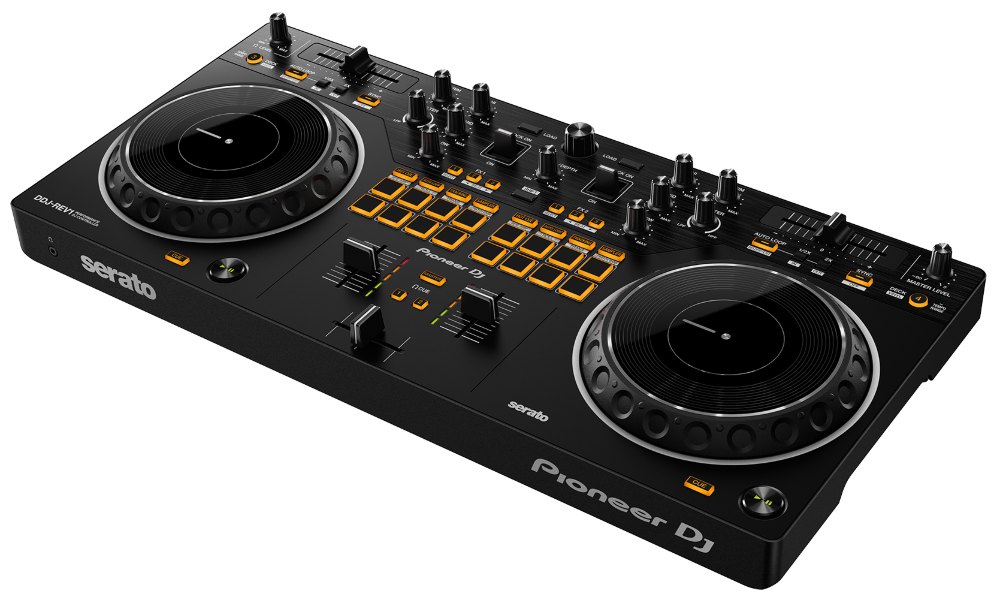 Price: £259/$259/€310
Comes with a free Serato DJ Lite download
The Pioneer DJ REV-1 is a simple, compact and portable controller that allows you to get creative with your DJ sets. It features four-deck control, two large jog wheels, built-in Serato soundcard and a simple mixer section with EQs and filters, while the top of the unit features eight pads with eight modes, including hot cue, roll, slicer, sampler and more.
The larger than average jogwheels of the DJ REV-1 makes it a great budget option for learning how to scratch if you're keen to learn how to mix Hip Hip.
The Pioneer DJ REV-1 is ideal for mobile DJs who want a simple way to add effects to their sets without having to lug around a ton of gear.
The Best IOS And Android Controller: Reloop Mixon 4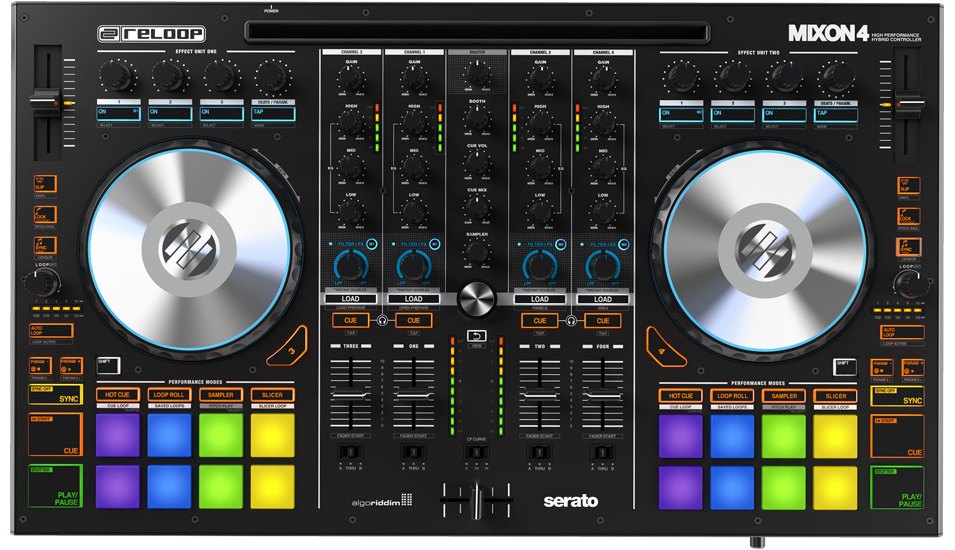 Price: £635/$799/€699
The Reloop Mixon 4 was designed to work with Algoriddim's djay Pro software, as well as being compatible with Serato DJ Pro and Virtual DJ. Algoriddim's djay Pro software has Spotify integration, so if you have a premium subscription, you can select songs straight from the streaming service.
It has a built-in audio interface, so you can plug it directly into your speakers or PA system; or, if you prefer, there are both mini-jack and RCA outputs, should you want to connect it to your own sound system.
It has three-band EQ controls and filter knobs, as well as eight multi-function performance pads per deck. These have a variety of functions depending on the software you're using the Reloop Mixon 4 with, including triggering hot cues and loops. They're also velocity-sensitive and backlit for easy reference in low light conditions.
The Best Compact Controller: Numark DJ2GO2 Touch

Price: £79/$99/€99
Comes with a free Serato DJ Lite download
Numark has a long history of making affordable but functional DJ controllers, and the DJ2GO2 is no exception. It's a very small unit, measuring just over 6 inches wide. This makes it one of the most portable options on the market, and it's great for those who want to take a controller to parties.
The layout is pretty basic, with two touch-sensitive jog wheels, 16 performance pads and a 2-channel mixer section with EQ knobs and faders. You can set your cue points in Serato DJ Lite software, which is included in the package, although you will need to purchase an upgrade if you want to use Serato or Traktor Pro.
The mixer section is pretty flexible too. There are two pairs of master outputs — RCA and 1/8" stereo — so you can connect up to four powered speakers or send signals to an external mixer. It also comes with a power supply that can be used to charge your phone or tablet via USB when it's plugged into the wall.
Best Budget Traktor Controller: Native Instruments Kontrol S2 Mk3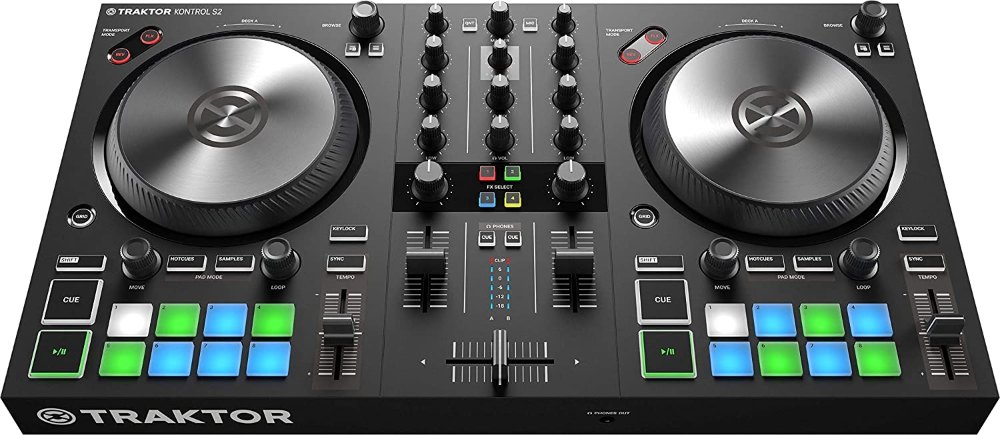 Price: £239/$299/€299
Comes with a full Traktor Pro licence
One of the best DJ controllers on the market today is the Kontrol S2 Mk3 from Native Instruments. This controller is well priced, and it works with Traktor Pro 3 (it comes with a full Traktor Pro 3 licence).
The Native Instruments Traktor Kontrol S2 Mk3 is one of the best all-rounders when it comes to entry level controllers. It includes two channels and high quality pads that work with sample triggers, loops and effects. The jog wheels are also great quality and feel much better than many other models at this price point.
The Best Budget Rekordbox Controller: Pioneer DJ DDJ-400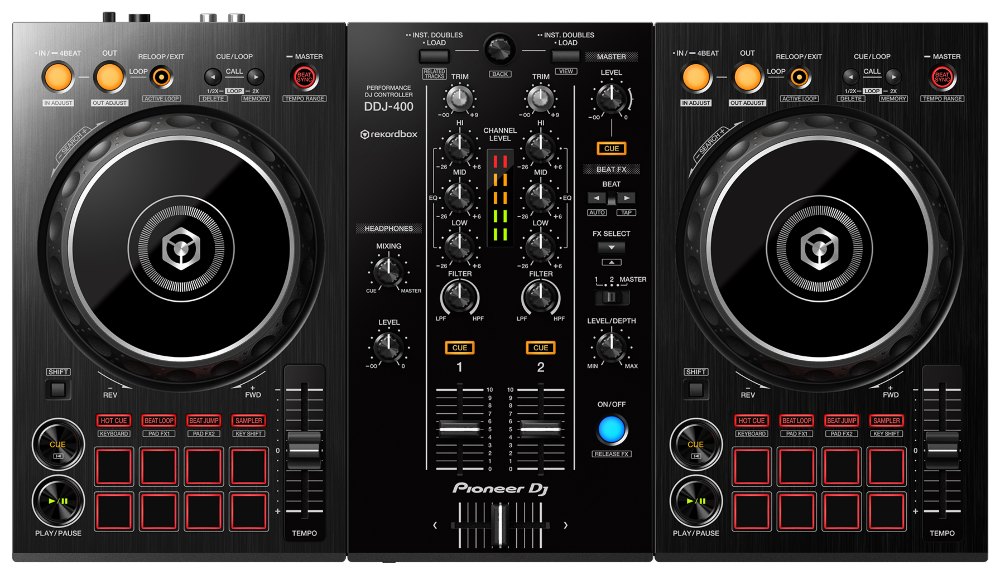 Price: £259/$299/€310
Comes with a full rekordbox Pro licence
The Pioneer DJ DDJ-400 is an excellent choice for beginner DJs looking to learn the basics of mixing and scratching. The controller is compact in size, but large enough to fit everything a beginner needs without being too overwhelming.
There are two jog wheels that are touch-sensitive, which means you can scratch on them using the cue point buttons on either side of the jog wheels. You can also use the jog wheels to search through a song with more precision than you would if you were just using the pitch faders.
The DDJ-400 comes with 2 channel faders, a crossfader, gain knobs for each channel, and EQ knobs for each channel as well. There are also 8 performance pads per deck for triggering hot cues or samples. Each pad also has a function button that lets you change what those pads do, so if you don't want to trigger samples from those pads, you can use them for different functions instead.
The Pioneer DDJ-400 is a supremely portable and reasonably priced DJ controller that's well suited to beginner DJs, with enough features to keep you busy as you work your way up the ranks.
The Best Traktor Controller: Native Instruments Kontrol S4 Mk3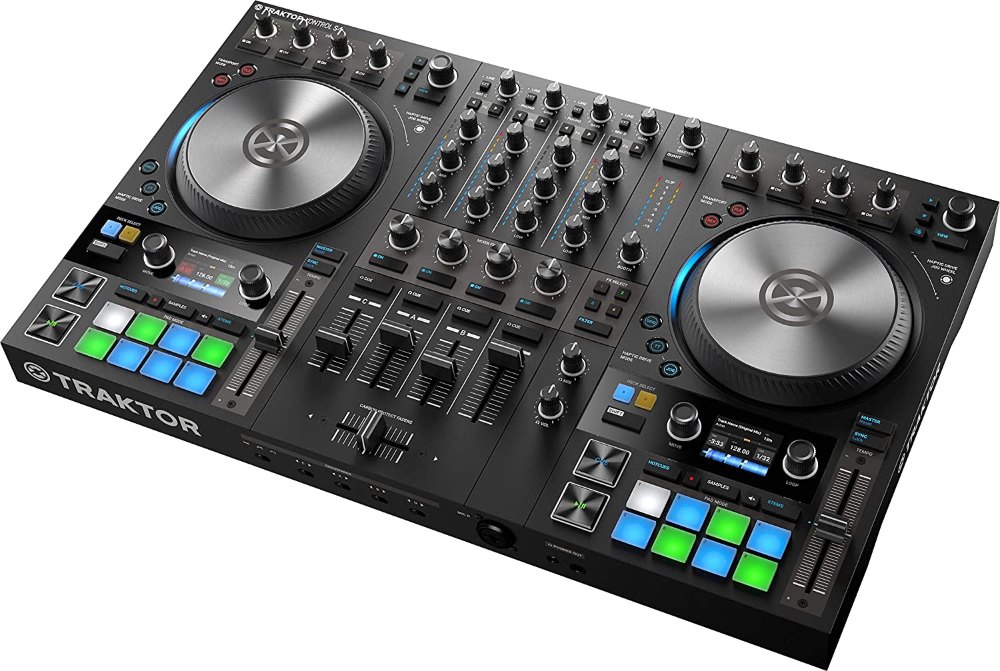 Price: £749/$899/€899
Comes with a full Traktor Pro licence
Native Instruments' Traktor Kontrol S4 Mk3 is the third iteration of this popular all-in-one DJ controller that includes everything you need to get started mixing.
In fact, the Traktor Kontrol S4 Mk3 comes with a copy of Traktor Pro 3, so if you don't already have software, you're ready to go.
The S4 Mk3 is also designed for comfortable and familiar mixing. It's based on the classic 2-channel mixer setup, with faders, EQs, and filters for each channel. Each deck has its own looping controls and remix deck access. You also have tempo faders on each side for manual beatmatching.
The Best Serato Controller: Roland DJ-505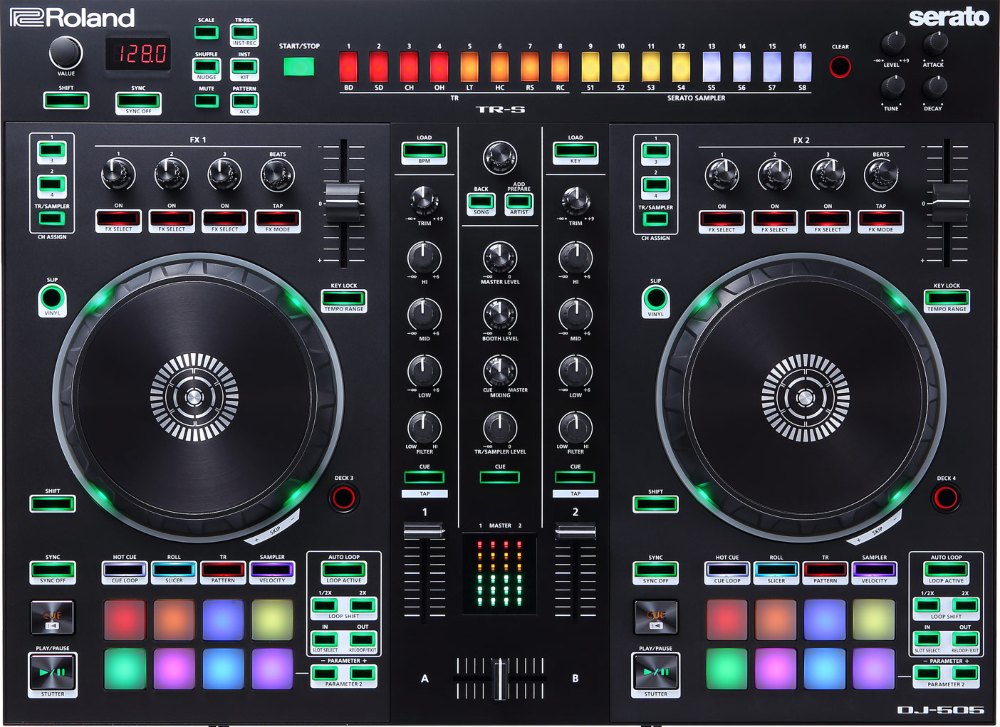 Price: £570/$599/€539
Comes with a full Serato Pro licence
The Roland DJ-505 is a two-channel, four-deck Serato DJ controller that builds on the success of its predecessor, the Roland DJ-808. A compact and portable controller with a rugged metal casing, the Roland DJ-505 is ideal for professional mobile DJs as well as club and event venue installations.
It includes a built-in drum machine with TR-style sounds and sequencer controls, plus two low-latency platters and a FX section with hands-on knobs for intuitive performance with Serato. Plus it comes bundled with Serato Pitch 'n Time DJ expansion pack for advanced key-shifting and time-stretching.
The Roland DJ-505 has many of the functions of its big brother, the Roland DJ-808, but in a more compact form factor. As such it's also around half the price of its sibling — making it an attractive option for those starting out with Serato or who need a compact controller for gigs or events.
If you're looking for a good all rounder that offers great value for money then the Roland DJ-505 could be right up your street!
In Summary...
With so many types of DJ controllers out there, it's best to stick to the most popular DJ controller options from respected brands like Pioneer DJ, Native Instruments, Roland and Numark when looking to buy. These companies are experts when it comes to DJ equipment.
There's a big difference between a DJ controller and a mixer/two decks setup. As you progress as a DJ, you'll want to learn how to beatmatch on CDJs, and maybe even how to mix vinyl. If you're more of a bedroom/house party DJ, a DJ controller is all that's necessary but if you want to play bigger stages or further hone your craft, it's worth getting to grips with more professional equipment as well.