The Best DJ Mixers On The Market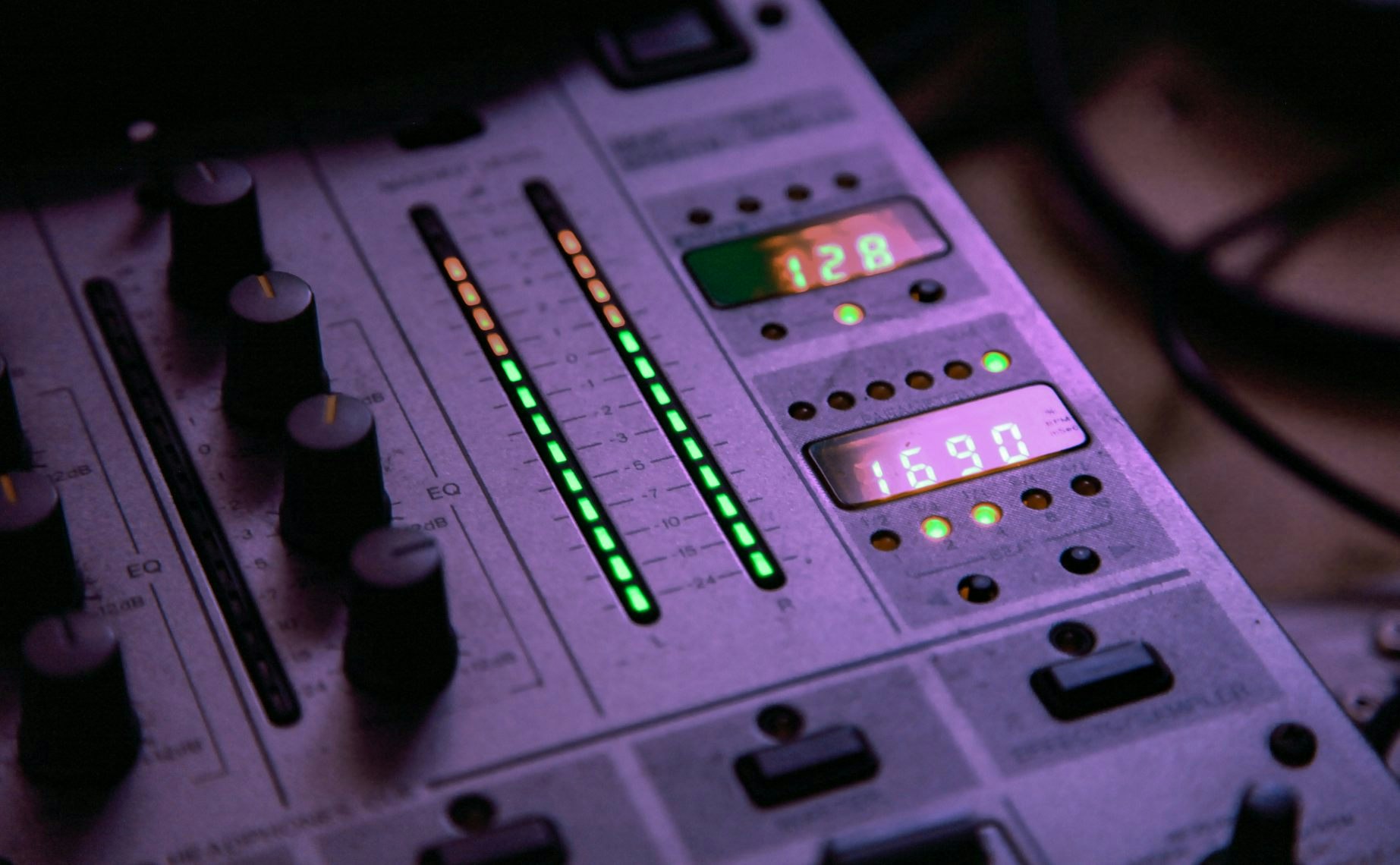 DJ Mixers are the cornerstone of the DJing process. We've put together a full guide to help you find the perfect solution for your decks.
DJ mixers are specialised audio equipment designed for DJing. The name 'mixer' comes from its ability to mix, blend or transition between two or more sound sources. This can be any combination of microphones, turntables, tape machines, and auxiliary devices such as CD players and computer drives.
Though they all perform the same function, there is a huge variety of DJ mixer types out there and when it comes to what the best mixers on market are, it really depends on the types of DJs using it and the style of music they're playing.
The History Of DJ Mixers
Mixers are an essential part of the DJ's arsenal. They allow DJs to play audio from a variety of sources, like CDs, turntables and digital files.
As with any technology that evolves, there have been several notable changes in mixer technology over the years. The following gives an overview of some of the significant developments in this area:
The first mixers were all analogue, using spring-operated switches instead of digital ones. These were expensive and fragile, but they were also highly flexible.
The mid-1970s saw the introduction of the first true digital mixer — a system that was more stable and had more features than their analog counterparts. These were faster and cheaper to produce than traditional analogue units, so it quickly became a standard component in professional studios around the world.
What Mixers Do
When it comes to what DJs do with a mixer, it's quite simple - DJs need mixers to control the output of multiple sources of recorded music. In most cases - two decks (either vinyl or CDJs).
The DJ mixer is connected to each music source and allows the DJ to adjust the volumes and fade between different tracks.
The DJ will use headphones connected to the mixer to listen to what they want to play next while they play a track on one turntable. They can set up this next track on the second turntable so that it's ready to go when it's time for it to be played.
The Best Digital Mixers On The Market
There are plenty of digital mixers on the market right now to help create your perfect mix. However, how do you know which one to choose? Based on my personal experience, these are the 5 top choices that I recommend to help you select the best digital mixer for your needs.
PIONEER DJM-V10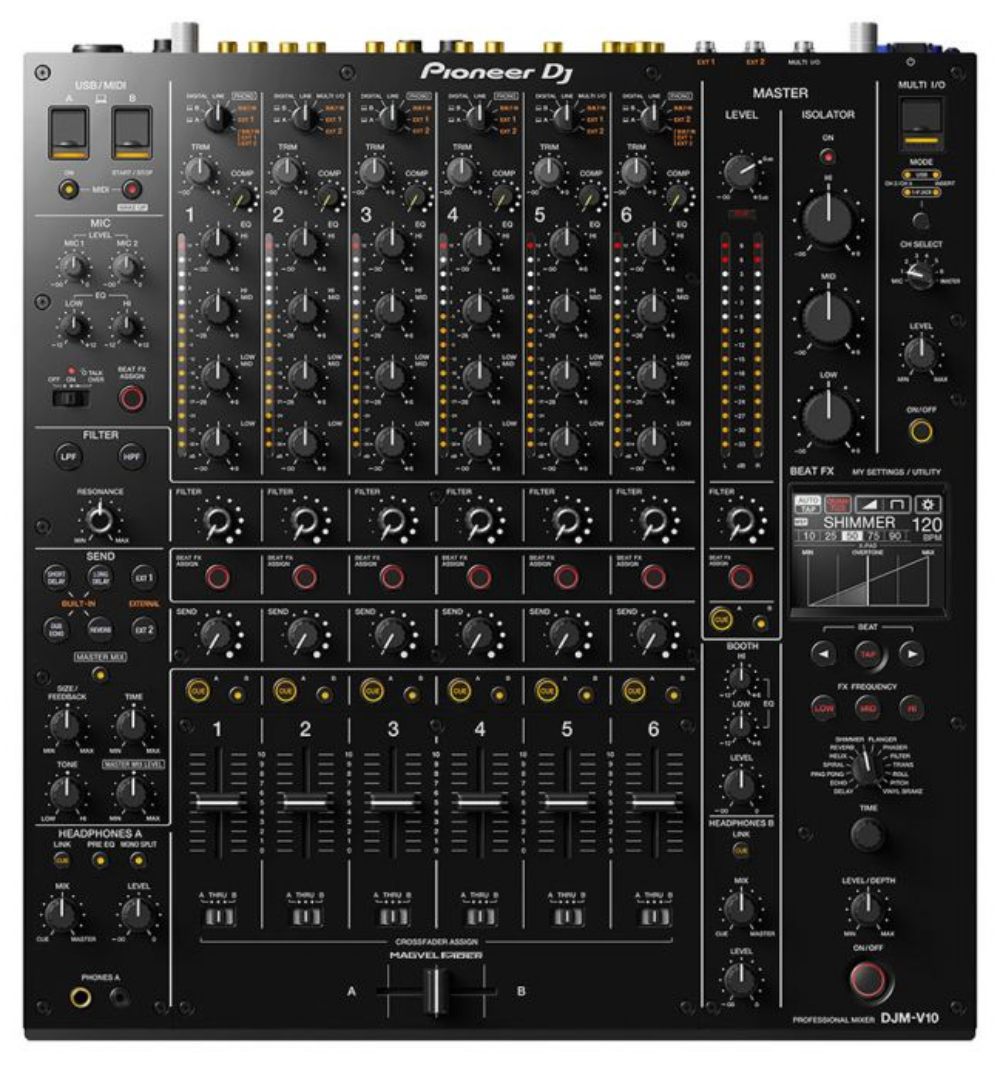 Pioneer introduced the new DJM-V10 in 2010 as their latest flagship model and it's about as high-end as they come.
The 6-channel DJM-V10 represents a shift in the brands approach towards more performance-based DJing - there are redesigned filters, four-band channel EQs, a master isolator and single-knob compressors.
This is not a DJ mixer for beginner DJs. It's designed for complex, professional multi-deck mixes. Its only drawback is it's hugely expensive - it'll set you back about £2.7K or $3.5.
PIONEER DJM-900NXS2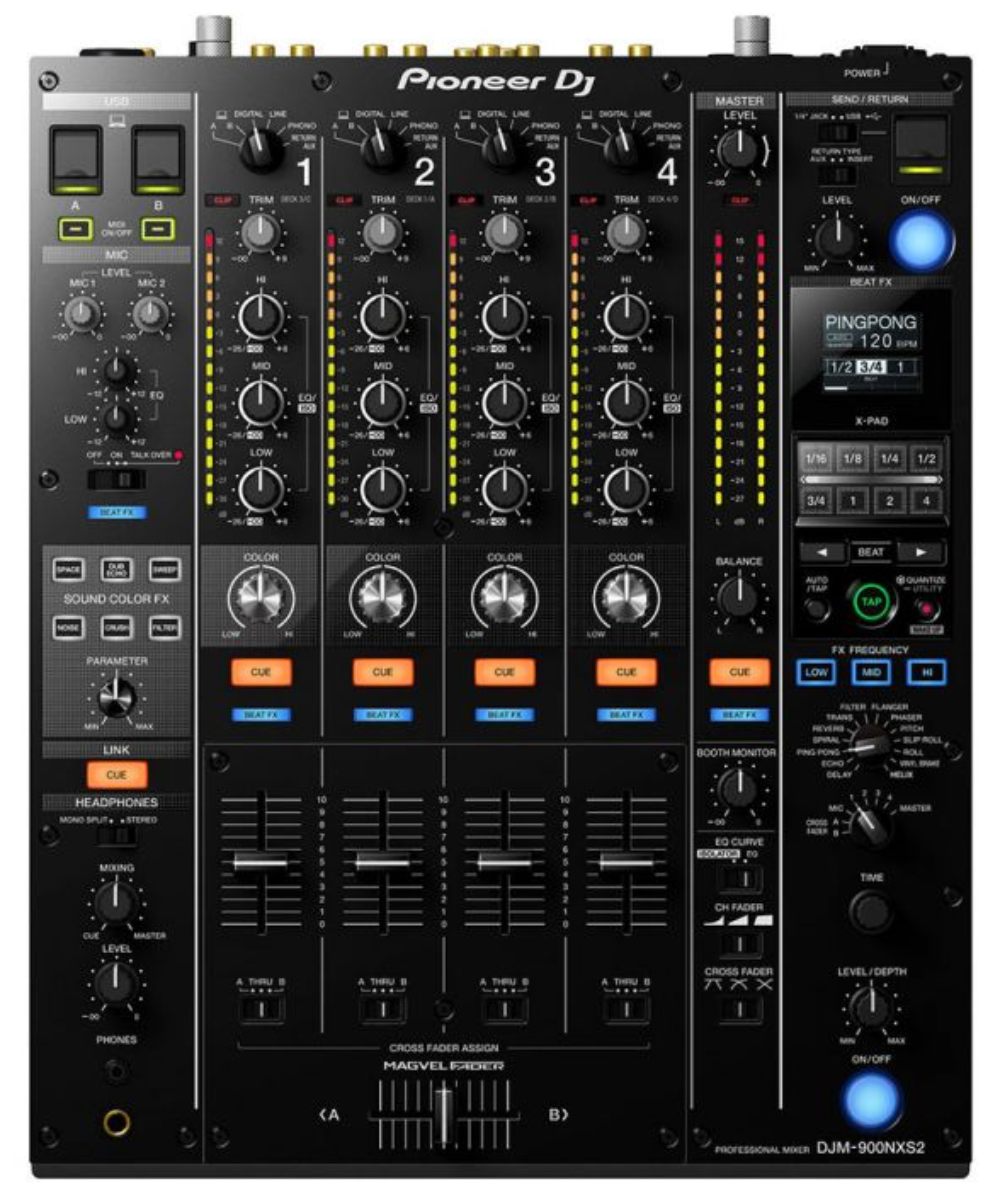 Probably second to Pioneer's DJM-V10 when it comes to the best, the DJM-900NXS2 is still the club-standard player, used by professional DJs at the best clubs across the world - an old firm favourite.
A 4-channel mixer, the DJM-900NXS2 might have been designed with CDJs in mind but is also compatible with any other analogue or digital audio source.
Pioneer's DJM-900NXS2 is what you can expect to find at Pirate's DJ studios across the UK, US and Germany. You can book any time of day, per hour and give it a go.
PIONEER DJM-TOUR1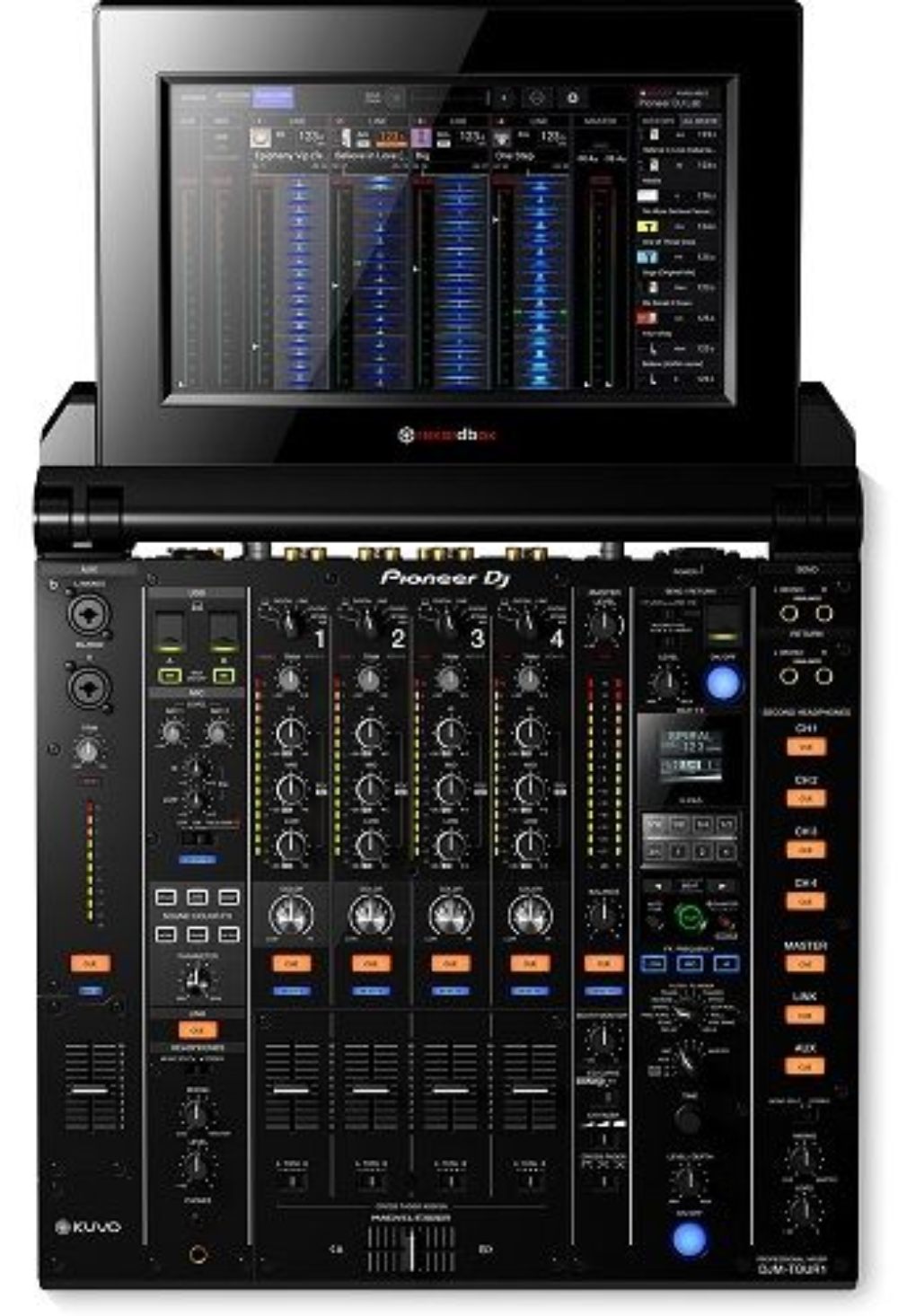 Visually, the Pioneer DJM-Tour1 has the same layout and features as the DJM-900NXS2 but with an added large fold-out screen. However, it's designed for the world's biggest stages - think arenas and festivals rather than clubs. Hence, for this model Pioneer have added a whole range of pro-grade audio components as well.
You can connect up to 5 channels, making it perfect for complex DJ sets, with lots of sound sources. This mixer also supports a wide range of audio devices for live sets such as drum machines, FX units, synths and samplers using XLR/TRS combination Aux-in.
RELOOP KUT
Reloop's 2-channel KUT is probably the best on the market for scratch DJs or DJs learning how to mix Hip Hop or learning how to scratch.
Scratch mixers are one of the main cases of style determining the hardware you want or need. Reloop have created something similar to the classic Vestax scratch hardware that was common in the 90s.
However, the hardware makers have managed to make something simultaneously classic and innovative. It's durable, based around a non-contact innoFADER for this reason. It features adjustable crossfader curves and a 'hamster' reverse switch in-line with classic scratch mixers. However, in a modern twist, the KUT has a built-in USB audio interface for digital DJing and adjustable channel fader curves. The hybrid model is a masterpiece in versatility.
The Best Analogue Mixers On The Market
When comparing analogue mixers for spinning, it's important to evaluate factors like hardware and drivers. Whether you're looking for a 2-channel or 4-channel mixer, this comparison of rotary mixers will be helpful in your search.
ALLEN & HEATH XONE:96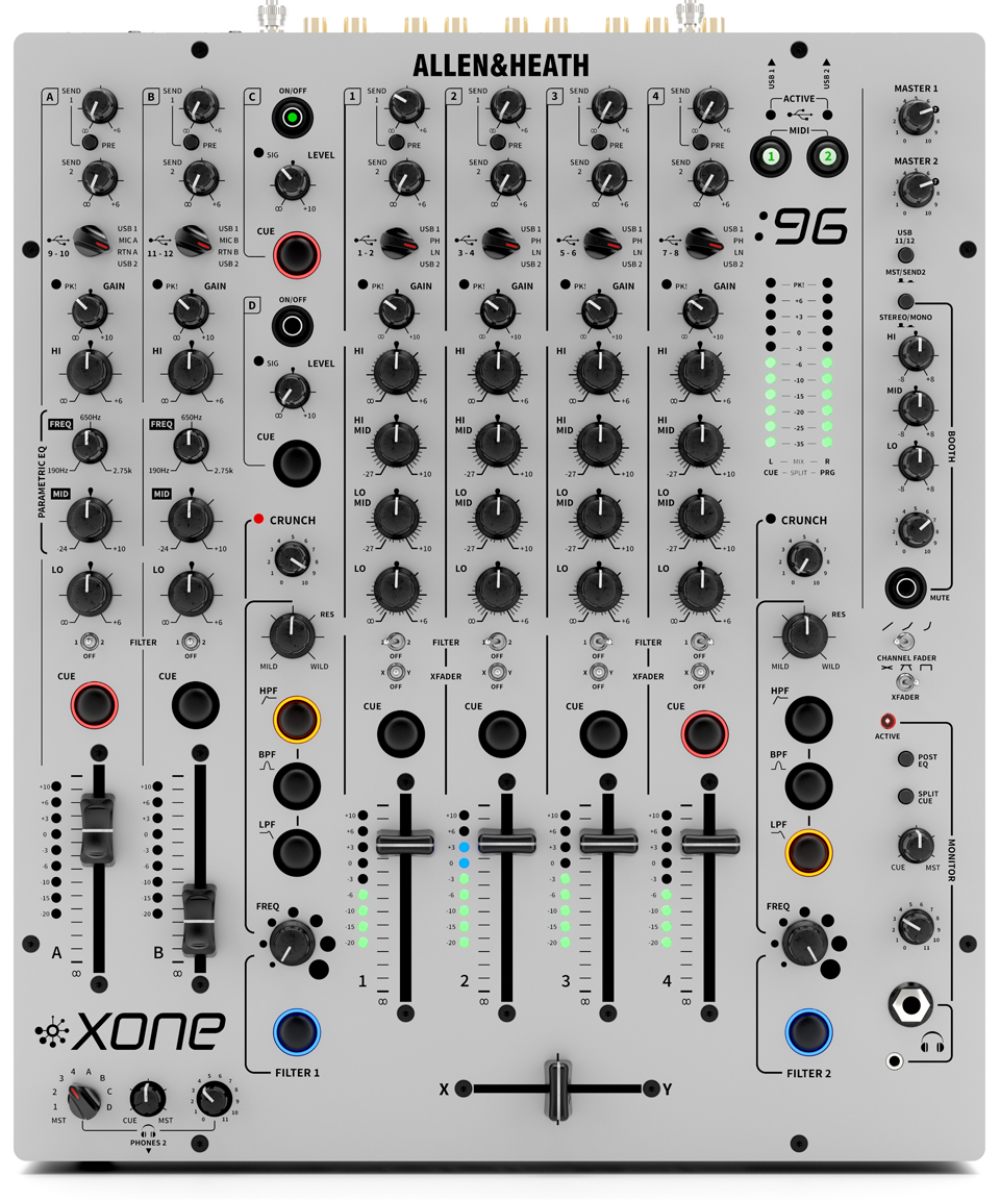 Allen & Heath are probably the market leaders in analogue DJ equipment, specialising in analogue rather than digital. The Xone:96 is Allen & Heath's enduring flagship model since 2018 and is loved by DJs across the globe.
The Xone:96 has 4-channels but also features two additional simpler channels. The main features that DJs love about this mixer are the four-band EQ per channel, analogue summing and the two analogue filters - an Allen & Heath trademark.
ALLEN & HEATH XONE:23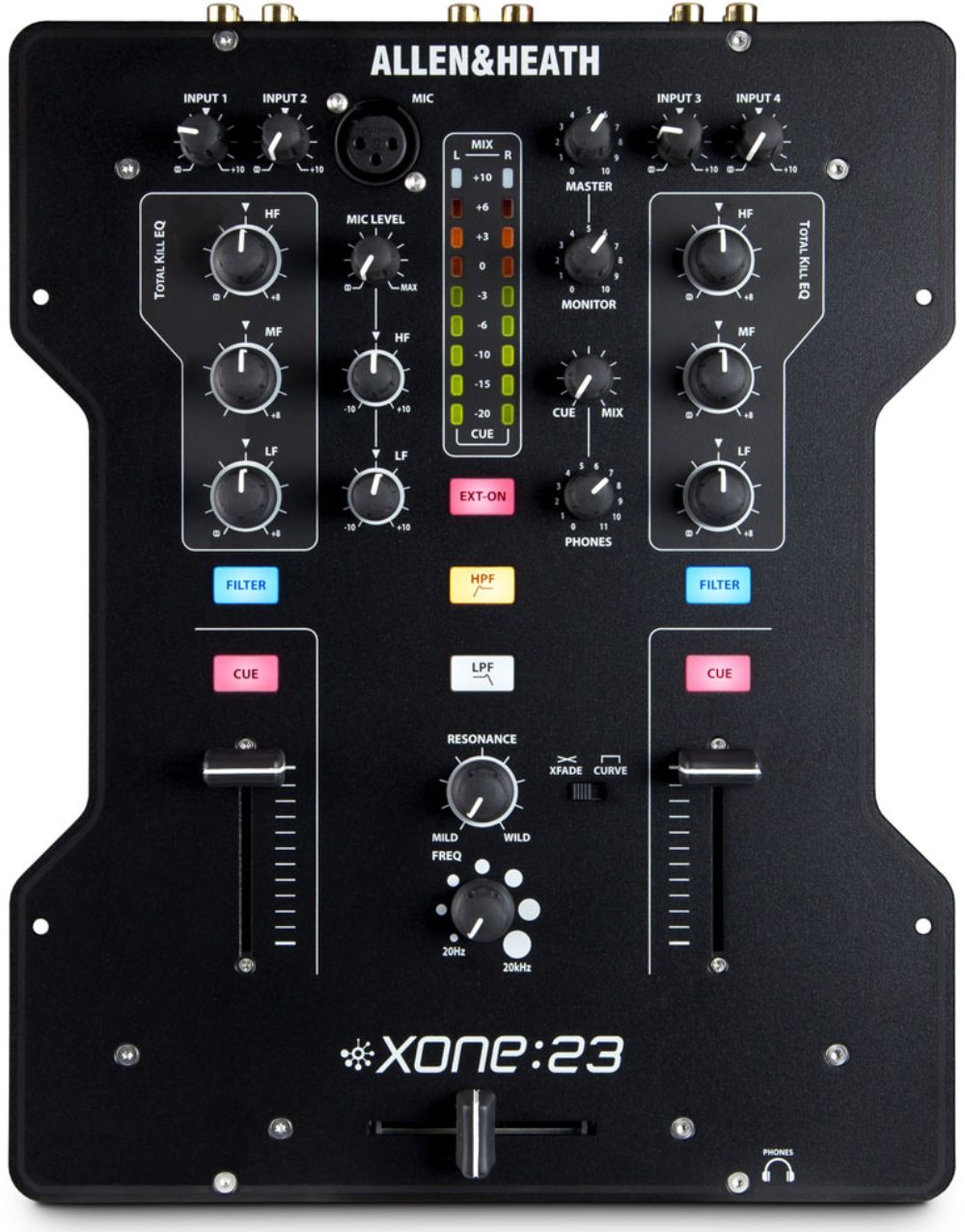 Unfortunately, given its price tag, Allen & Heath's flagship model - the Xone:96 - is simply out of reach for most DJs. The Xone:23 on the other hand is like its semi-affordable super-popular little brother.
That's not to say that the Xone:23 isn't great in its own right. In fact, it's amazing, especially for beginners.
The Xone:23 has 2 channels but each channel has a phono and line input which can run through the channel simultaneously - most mixers force you to pick between the two inputs. This is why the Xone:23 is really more of a 2+2 channel setup rather than a simple 2-channel.
Each channel has a three-band EQ (one less than Allen & Heath's flagship model). You can also assign a resonant high-pass/low-pass filter to either or both channels, separately or simultaneously. The filter is a bit more basic than Allen & Heath's flagship hardware, but what can you expect for about a tenth of the price?
All-in-all the Xone:23 is a brilliant, affordable way into the world of Allen & Heath - a world you definitely want to enter when it comes to analogue DJing.
OMNITRONIC TRM-202 MK3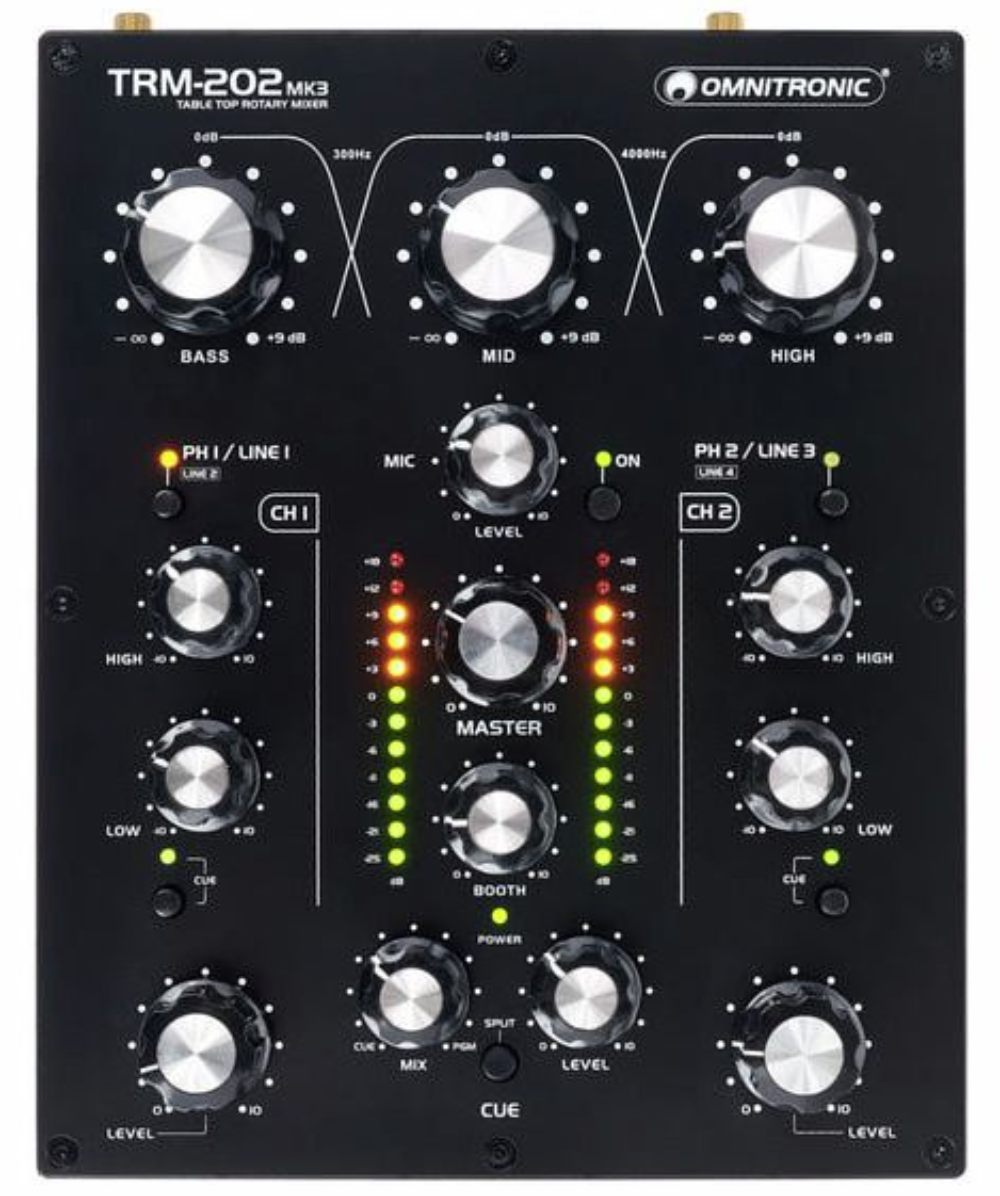 Omnitronic's TRM-202 MK3 has 2 channels an it is probably the most affordable on the market. Whilst it's much more basic than the hardware listed above, it's a great solution to combat the usual hefty price tags.
Looking at the features on the TRM-202 MK3, each channel has a two-band EQ and a three-band master isolator. The sound quality out of the TRM-202 MK3 is also decent, at least as good as the digital mixers in its price range.
NUMARK M101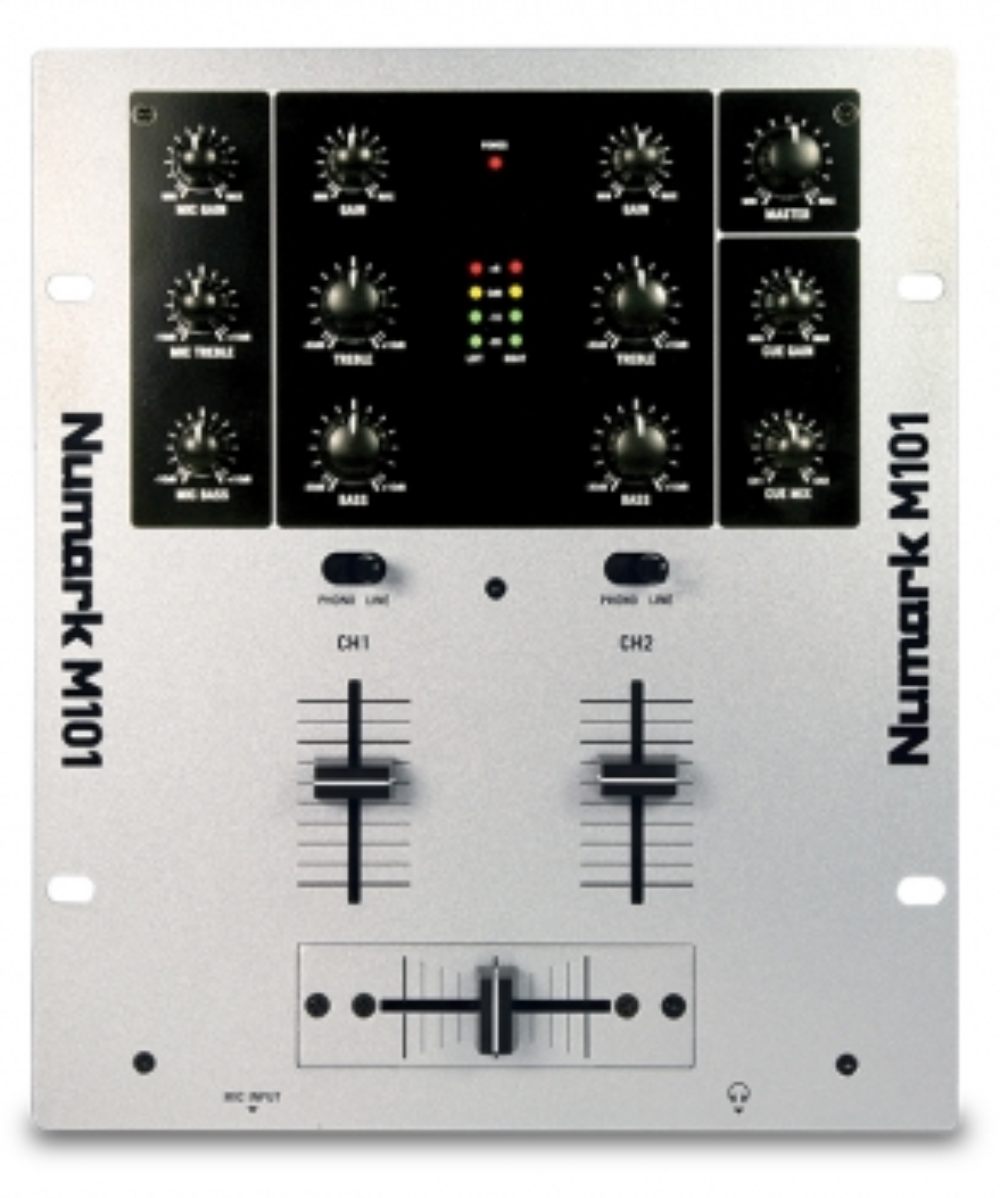 Another great affordable analogue mixer, Numark's M101 is a great simple 2-channel mixer. Each channel has a 2-band EQ and each allows you to switch between line and phono inputs.
With this mixer, Numark has also added a handy built-in USB audio interface.
The Best Hybrid Mixer On The Market - The Rane MP2015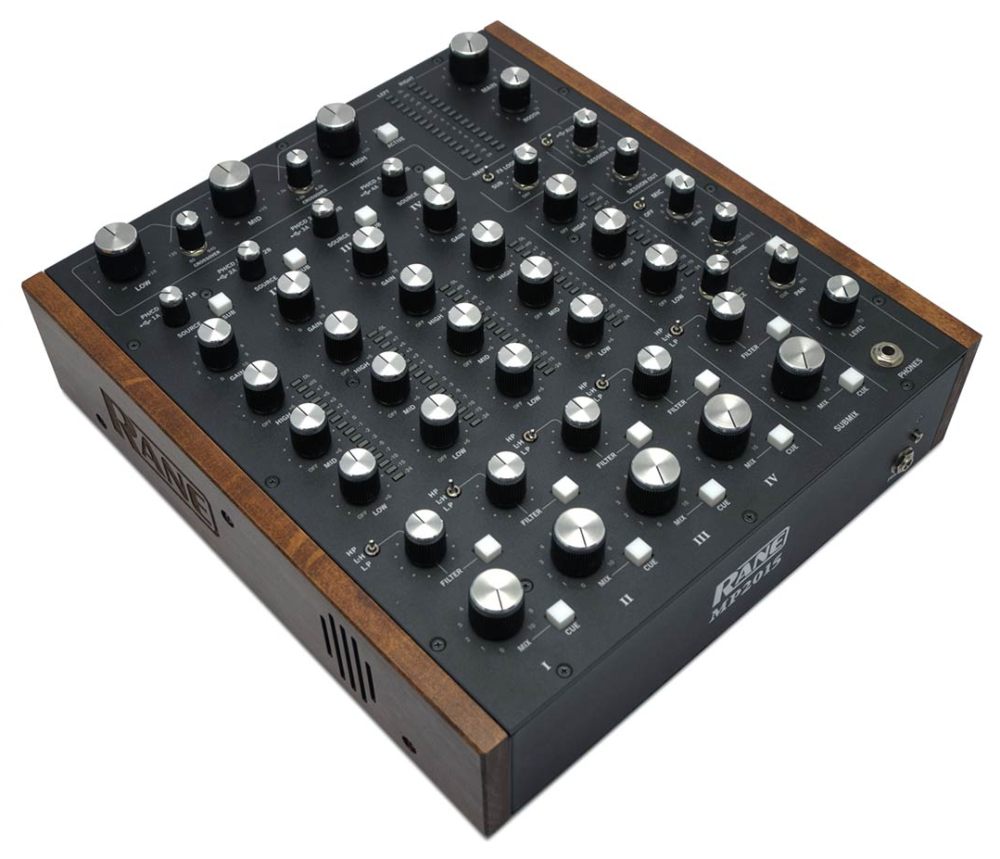 Is the RANE MP2015 digital? It is, but it manages to create a middle ground between digital and analogue classification which is why we love it.
Rane's MP2015 has the look and feel of a rotary mixer but with digital circuitry - the best of both worlds.
The MP2015 has 4 channels and you get rotary-like controls for each. However, you also get separate gain controls, a three-band master isolator, three-band EQs and multi-mode filters on each channel. This all works alongside digital input features, making the Rane MP2015 suitable for use with CDJs and USBs.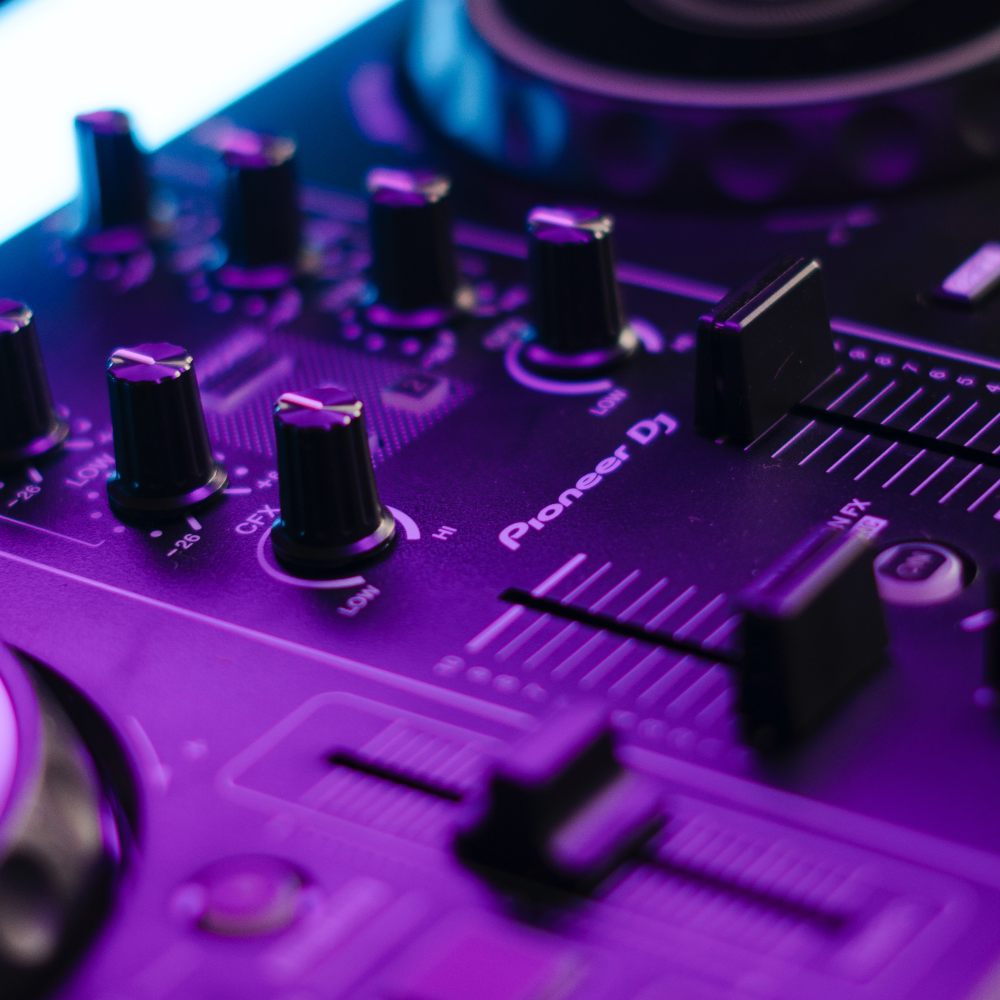 When it comes to great DJ mixers, you're spoilt for choice, regardless of whether you want to go analogue or digital.
When choosing your mixer, it's always good to consider your own specific performance needs. For instance, you can use a DJ mixer as an audio interface but only when they have USB capabilities. You also need to consider how much DJ mixers cost.
In the guide above, we've tried to include a range of good beginner DJ mixers at lower price points as well as professional solutions - such as Pioneer and Allen & Heath's fancy flagship models.