How To Promote Live Shows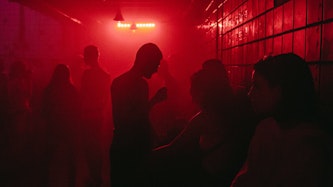 The reality of being an independent promoter is not always an easy one. It's fast-paced, nerve wracking, exhilarating, and intensely stressful work at times. That said, if you're obsessed with music and live events, it can be deeply rewarding by equal measure.
Its Saturday night, and I'm anxiously refreshing the ticketing app on my phone one more time to check on the final stream of sales trickling in for this evening's show. It's a scene which my friends & family are all too familiar with – I'm usually a ball of nerves on the day of an event – even after almost ten years of promoting gigs and club nights.
So what is it that draws me towards promoting my own events? There are a variety of reasons you might want to start promoting. Like many others, my own career as a promoter was born out of a desire to perform more.
As a teenager playing in rock bands in my hometown of Oxford, there were limited opportunities for me to play in front of live audiences. I quickly realised promoting was a great way to rectify this, but also to platform artists I loved, build connections within my favourite music scenes, and put on the kind of events I really wanted to attend – desires which have underpinned my career as a promoter as I've moved through rock, metal and indie into the electronic and dance music world.
"I'd only recommend getting into promoting if you're really passionate about the music, and have a strong reason to want to do it. It's a lot of work and not as glamorous as it seems."
The above advice comes from Charles Olisanekwu, founder of multi-genre London dance music platform Unbound Events. Charles (aka DJ Winggold) started Unbound in 2017, driven by a desire to find an outlet for his creative energies after starting out in a gruelling career in corporate law:
"I was looking for a way to reconnect with myself. Underpinning that decision was a desire to create a space for cross-genre exploration that I felt wasn't really happening that much."
Like many of the other promoters I know, Charles places an emphasis on carving out your own niche in whatever scene you operate within:
"There are more than enough [events] out there, so only add to the noise if you feel like you've got something worth saying rather than for the sake of it."
Finding The Perfect Venue
So, if you've found your niche, how do you actually go about promoting a concert or event? The first step is securing the perfect venue. If you're already embedded in your local music scene (as any promoter worth their salt should be), that's probably a venue you already attend regularly as a punter.
Kitty Bartlett is a senior booker at Percolate, a major London based electronic music brand which has been promoting events in the capital since 2012. Prior to this, she cut her teeth as a promoter running raucous parties in Manchester under her own brand B.L.O.O.M. "As someone who is starting out promoting, I would try and work with a venue that you go to regularly and they know you personally" she advises, explaining:
"Having an existing relationship with a venue can really help with getting dates, especially if there is lots of competition for them."
In most cases, venues make their revenue from drinks sales at the bar, and you, as the promoter, will keep most or all the ticket revenue for the night. Usually, venues charge promoters a fixed hire fee, sometimes offering some return on your investment if their bar take reaches a certain threshold over the course of the night.
Booking Your Lineup
Once you've locked in a venue, the next step is finding your lineup. I've always found programming to be the most enjoyable and rewarding part of my role as a promoter, but it can be challenging to know where to start. Kitty advises letting your passion for music guide your booking policy:
"Book artists who really excite you and that you're really excited to see."
As a new promoter, supporting up and coming talent is a great way to build a community around your brand and make connections in your local scene. Whilst bigger, internationally recognised headline artists will always bring in ticket sales, if you want your events to be sustainable in the long term, you'll find these homegrown connections in your own community invaluable. Kitty also warns against going after top tier artists as a beginner:
"Try not to be too ambitious when you're starting out. Realistically, you are not going to be able to compete with established promoters for the top tier artists in whatever city you live in, as [other] promoters will already have established relationships with agents."
Diversity should also be a key factor in considering your programming, something Charles notes many promoters are lacking:
"There are far too many dead lineups with only white artists out there, and for me that's unacceptable."
This is something Charles is working to rectify with his own brand when making bookings:
"Unbound always look to have a good balance of PoCs and women on our lineups.

Following the supposed 'grand awakening' after George Floyd's death, myself and every PoC knew that things would quickly go back to the way they were. Unsurprisingly, that's very much been the case.

After a good while of being burnt out and wondering why I'm doing all this, I feel more revitalised than ever and in a unique position to keep pushing for what's right."
There's a huge wealth of diverse talent out there, and its easier than ever to ensure you're representing a wide range of identities across your lineups. If you're looking for resources around diversifying your bookings, Black Artist Database and female:pressure are great places to start.
The other advantage of working with local talent is that many artists will not yet be represented by booking agents, but as your brand grows, you'll almost definitely find yourself reaching out to artists who have professional representation.
Working with agents can be a minefield for new promoters – most will expect you to put forward an offer for their artist without suggesting any kind of guide fee. Without previous experience, it can be really difficult to know what is fair and reasonable. There's a delicate balance to be struck here – on one hand, a lowball offer is likely to be disregarded without a second glance, but if you offer too generously, you'll likely ruin your chances of even breaking even on your event.
Always work backwards – factor in all your costs and expenses, and take a guess at how many tickets you think an artist could sell in your city – based on this information, you should be able to come to a figure which is achievable.
Travel, accommodation costs, and agency booking fees are often considered promoter costs on top of the artist fee, so always be sure to make it clear exactly what your offer includes to avoid any nasty surprises down the line.
Carl Albrecht has managed Berlin based booking agency Suo Motu since 2019. His advice to new promoters is to keep communication clear, direct, and concise:
"Don't be afraid to communicate your needs, and always try to be consistent and reliable if you want agents to take your offers seriously."
Selling Tickets
So, you've locked in a killer venue and booked your dream lineup. All that's left to do is advertise your concert, sell some tickets and get people through the door. If you want your event to stand out, eye-catching and distinctive artwork is a great place to start.
As well as promoting his own events in London and Brighton as part of the POLAR crew, promoter, DJ and graphic designer Blixa Agureberry took charge of artwork and creative design for recently defunct London club and live music venue The Cause across most of their 2021 programme. "Think about the message or style you're trying to represent and what audience you're trying to attract" he advises, before breaking down what makes a good poster:
"For me a good poster makes people think. Although most people tend to succumb to making things 'over-legible', there's still ways of presenting some form of abstract presentation that will make someone have to think twice."
Attracting people to a concert or live music event can be "something of a dark art to be honest" jokes Charles before offering this advice:
"Set out a marketing budget at the outset of the event, but understand that you may need to increase spend depending on the success of each promo avenue. Try a mix of different methods to see what works best."
I'd recommend considering physical activation as well as promoting your concert online. Promoting a show on social media via ads, Facebook groups & pages, and physical posters/flyering can all be effective. In general, the market is saturated, so the more creative and original you can be with your marketing plan, the better.
Promoting is notoriously hard work, and you'll need resilience and tenacity to succeed. "Avoid comparing yourself to others" warns Blixa, explaining:
"trying to replicate others and then feeling low when you can't get the same outcome as quick will just make everything turn sour."
Recalling the early days of Unbound, Charles is quick to echo this sentiment:
"I distinctly remember thinking 'how hard could it be?' when I first started, not realising that I'd grossly underestimated the amount of work it takes.

I really only did the first event and thought that I'd just see how things went from there, then it turned into a huge whirlwind after."
Risks & Rewards
As with any business venture, there's always risk involved when it comes to promoting. "Be prepared to lose money and be okay with that" warns Kitty.
Bristol-based DJ Hodge has over ten years of experience promoting under his belt, for much of that time he's run parties and club nights for boundary pushing dance music label Livity Sound. He stresses that promoting can't always be a profitable venture:
"If we make any profit, a portion of that goes into a reserve fund to cover potential losses on the next party."
Kitty agrees, pointing out that not every sucessful event makes money:
"Whilst it's great to make a profit that isn't why you should get into being a promoter. Some of the best shows we've ever done have lost us loads of money".
Nevertheless, like many risky ventures, promoting can also be incredibly rewarding and there's nothing like the buzz of a successful event, something Kitty explains as such:
"The sheer joy of watching people let go and have the best time at something you have worked hard to bring together is where I really feel the reward the most."
"That's what it's all about" Blixa agrees, "everyone feeling involved and locked in till the very end… you just can't beat it!"