Female Collectives Fronting Underground Music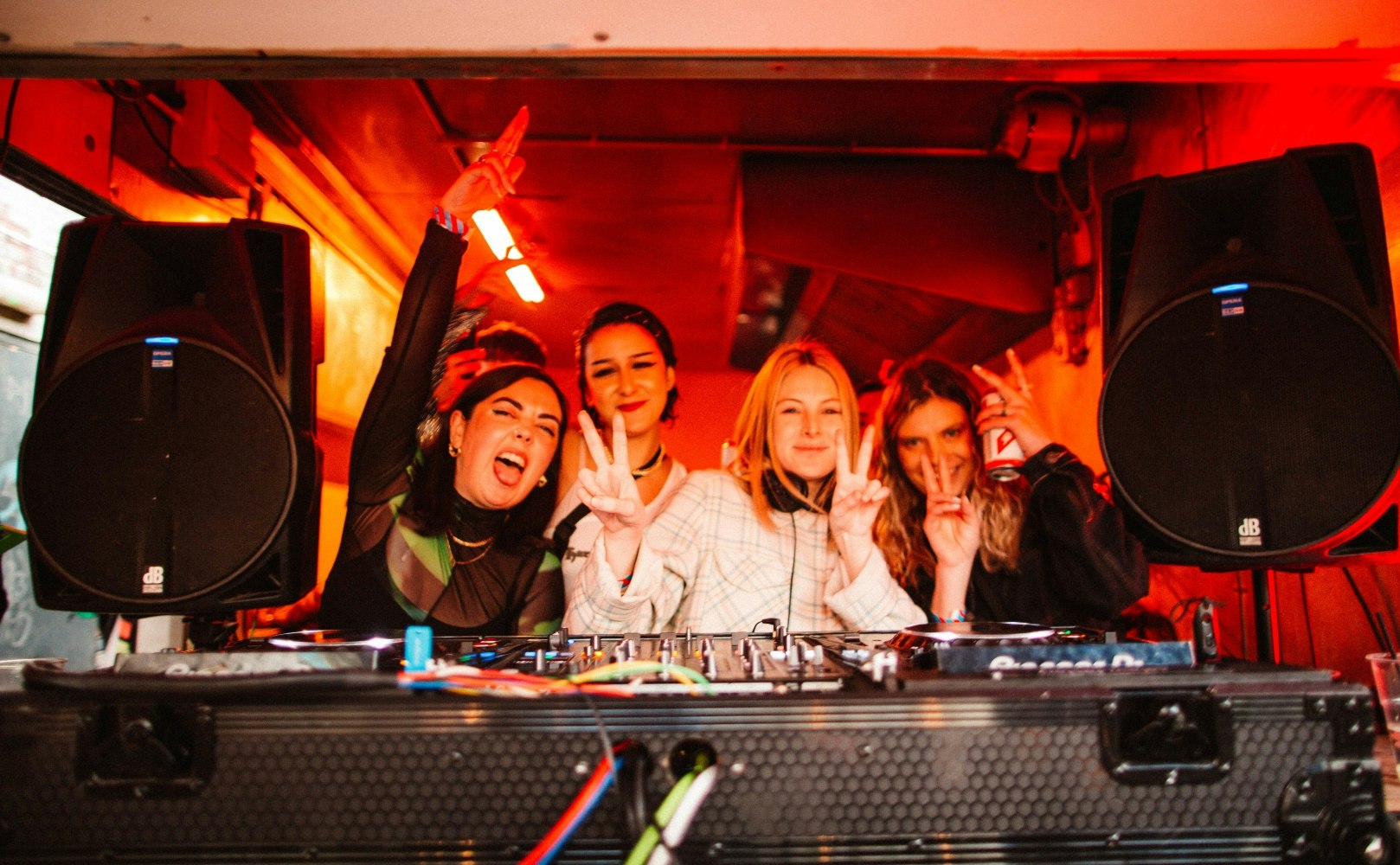 At the inaugural Outlook UK Festival, we met some of the female collectives pushing women to the front of the underground music movement.
Outlook Festival is widely recognised as one of the biggest celebrations of underground music and sound system culture, and this summer saw the first UK edition, with a serious agenda of drum & bass, dubstep, rap, grime, reggae, UK techno, RnB, soul, jungle and everything in between.
At this aggressively forward-thinking party, we caught up with some of the most trailblazing collectives pushing women to the front.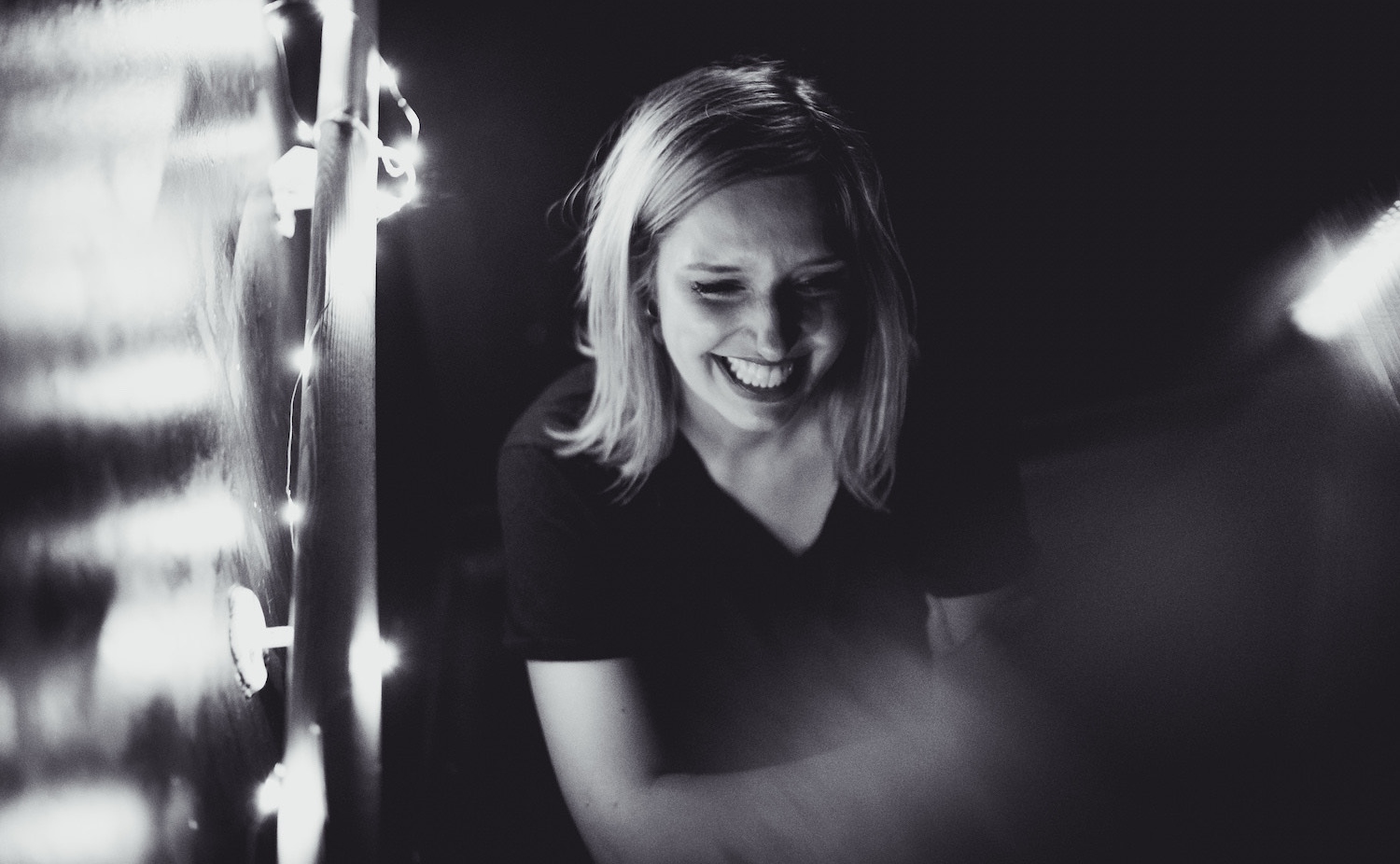 EQ50 is a collective of women working towards fairer representation within drum & bass. Co-founder Mantra is also a co-founder of London's best underground D&B night Rupture as well as being one of the best D&B DJs on the circuit.
Launched in 2018, as a response to the clear gender disparity in drum & bass, I asked Mantra how the founding mission of EQ50 has changed over the past 4 years:
"Our mission of wanting better diversity within drum and bass hasn't changed but I think our approach and the culture in which we operate has. We were so cautious of not wanting a big push back from the industry when we started. I personally felt pretty anxious and vulnerable in the early days. This was only 4 years ago but there was no conversation about inclusion within drum and bass back then and it felt quite risky.

The initiative changed drastically in 2020 when we launched our mentorship programme. In the last 2 years it's been such a joy to see so many women coming through. But our industry still has a way to go, particularly in ensuring black women are fairly represented.

With EQ50, for now, the power lies within our mentorship programme. This is where our focus will be for the year ahead when we launch our second term."
And whilst Mantra is dedicated to paving the way for other women in music to break through, she's clear that this isn't just her responsibility as a woman:
"When I was starting out back in 2000 there were so few women and such little support. I feel a responsibility, more as a human being rather than as a woman, to make this beautiful music as diverse and accessible as possible."
When talking about music, Mantra's passion for drum and bass rises to the top. Trying to understand where this palpable love comes from, I discover it's firmly rooted in sound system culture:
"Being a born and bred Londoner I've been surrounded by sound system culture since I was a kid. I grew up in Westbourne Park, so Notting Hill Carnival was literally on my doorstep. I've been going ever since I can remember, it's my favourite time of year for the area.

I look at my life now and nearly all the people I love deeply I've met through sound system culture, through jungle and drum & bass. My life has been built around it."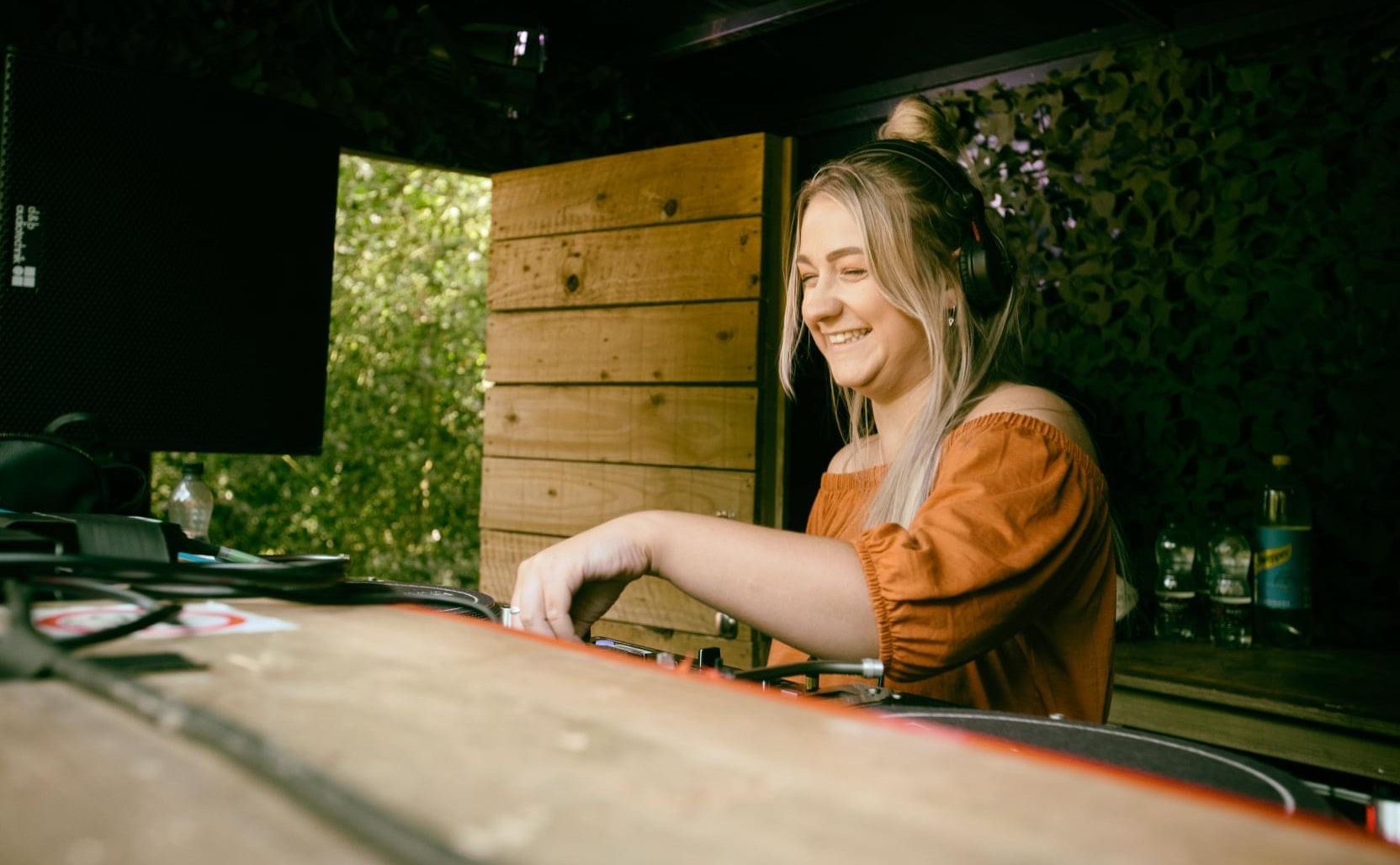 Dynamics is a database and blog celebrating female and non-binary artists in dubstep, drum and bass and bass music circles.
Enada is a 140 DJ and the mastermind behind Dynamics who describes their ever-evolving mission as such:
"When starting Dynamics our main aim was to create a platform and database cataloguing women and non-binary artists across drum and bass and dubstep that would nurture representation and be a part of a broader conversation.

Our mission was to put so much talent in one place so that promoters and labels would have no excuse to not be booking women and non-binary people and making their lineups representative.

We feel we have created an impact in drum and bass and are beginning to in dubstep, but our initiative does not change.

We want to catalogue as many women and non-binary artists as possible, but we also recognise that this takes time. We actively reach out to DJs, producers and vocalists all the time to add to our growing database of 300 artists and this aim will not change until we feel our scene is equal."
And on what equality really looks like, Enada has a very clear idea:
"Equality in music for me would mean that women and other minorities are provided with the same opportunities as men, and it really is as simple as that.

Incredible talent is overlooked time and time again, resulting in a huge disparity on lineups. Things have begun to improve and I am seeing more representation but there is still a long way to go.

Promoters need to be making sure that women are being paid fairly, billed fairly and given fair exposure.

It is really obvious when women have been put on a lineup as an afterthought because promoters feel like they need to fill a quota. I personally think that if promoters put more time into researching female talent it wouldn't feel so forced for them and lineups would be more organically curated.

I often hear promoters saying they will only be booking people based on talent, but then you see their lineups full of men? So what they're really saying is that women aren't good enough to be there."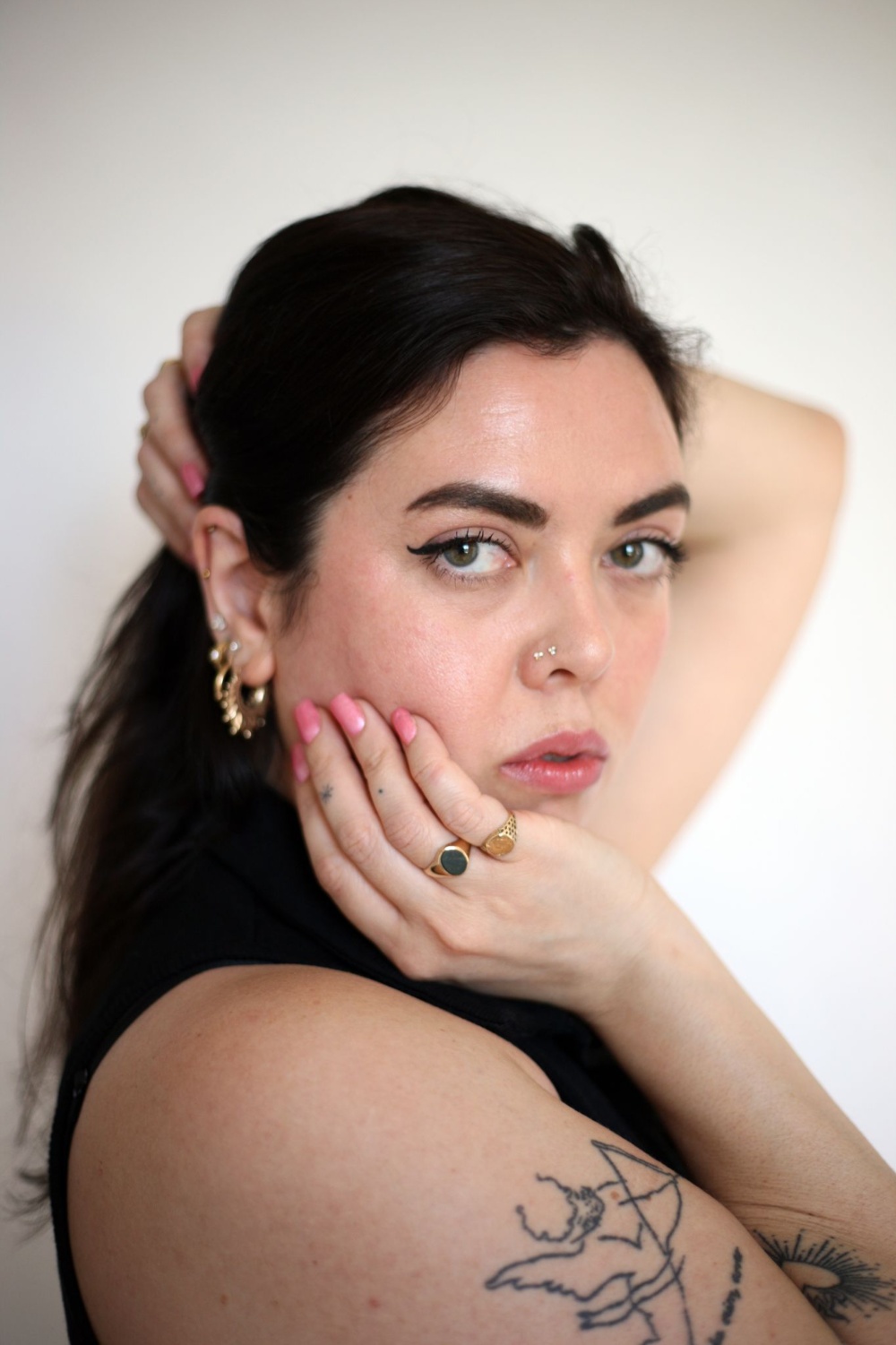 Team Woibey are 4 DJs playing bass-driven sounds, tearing down barriers with a community-focused attitude. On the rave/hardcore end of the spectrum they've got Mixtress, on garage it's FAE, Ohmydais can normally be found aroud 140-160BPM and Ell Murphy moves between garage, breaks through house and hardcore.
I asked Ell how being a part of a collective like Team Woibey has changed her perception of the music industry:
"Being in a collective of women has given me way more confidence in my solo pursuits."
Team Woibey DJs were invited to perform at Outlook UK by Foundation FM, the female-made online community radio station and record label, showing that when collectives support collectives, their power to incite positive change is made even stronger:
"I was so excited to play at Outlook and felt really honoured to be invited by Foundation FM to play on their stage.

Festivals are always such a great platform for up-and-coming DJs. It's a great way to reach a wider audience and play in front of people who haven't heard of you before.

The lineup for the first year in the UK was incredible, so we just felt really blessed to be playing alongside artists and DJs that we really respect and look up to!"
And Ell is clear that sometimes, the community aspect of her scene is as important to the culture as the sounds:
"To me, underground music is something that is surrounded by community and a sense of shared experience within the dance music scene — going to the same parties and sharing music between DJs and dancers."
Helping More Women Break Through
Each collective we spoke with was clear about the responsibility of promoters and festival programmers when it comes to getting more women and non-binary people recognised in underground music.
Hence, what many of these collectives exist to do, in part, is make programming diverse lineups as easy as possible, by bringing groups of underrepresented talent together, taking away any excuses promoters have had. No one can reasonably programme an all-male dubstep night using the excuse that they don't know of any female dubstep DJs when Dynamics exists.
That being said, breaking through in underground music is no small feat, even with a network or collective's support. For Lucidik, playing Outlook UK marked one year since her first ever live gig:
"It still hasn't fully sunk in that I played there, the weekend of Outlook Festival marked a year since my first ever live gig. So to be playing at such an established festival so soon in my journey is mind blowing. It was my first festival booking too which made it even more special. Big ups to Rich Reason each and every time for the support he's shown me in my journey so far."
Lucidik hammers home what bookings at festivals like Outlook mean for emerging DJs and highlights a change in the industry towards supporting underrepresented demographics on world-class stages. A change that no doubt, has much to do with the collectives above, who have been working tirelessly behind the scenes for years, paving the way for the next generation of non-male DJs.
As many of the collective leaders we spoke to pointed out, there's still much to be done to achieve equality on lineups but it's fair to say their impact has already been huge, and assume that their work will lead to even better parties than even Outlook UK in the future.