How to promote your music on SoundCloud
Promote music on SoundCloud like a pro – learn the best strategies to grow your fanbase and boost your plays.
Founded in Stockholm in 2007, SoundCloud is one of the most important platforms out there for musicians, DJs and producers. Growing a following on SoundCloud can help propel a relatively unknown artist to gigs across the country and beyond. Effective SoundCloud promotion will get you greater exposure and help you gain this following quicker, so we're going to take a look at how you can cut through the noise and get your music heard.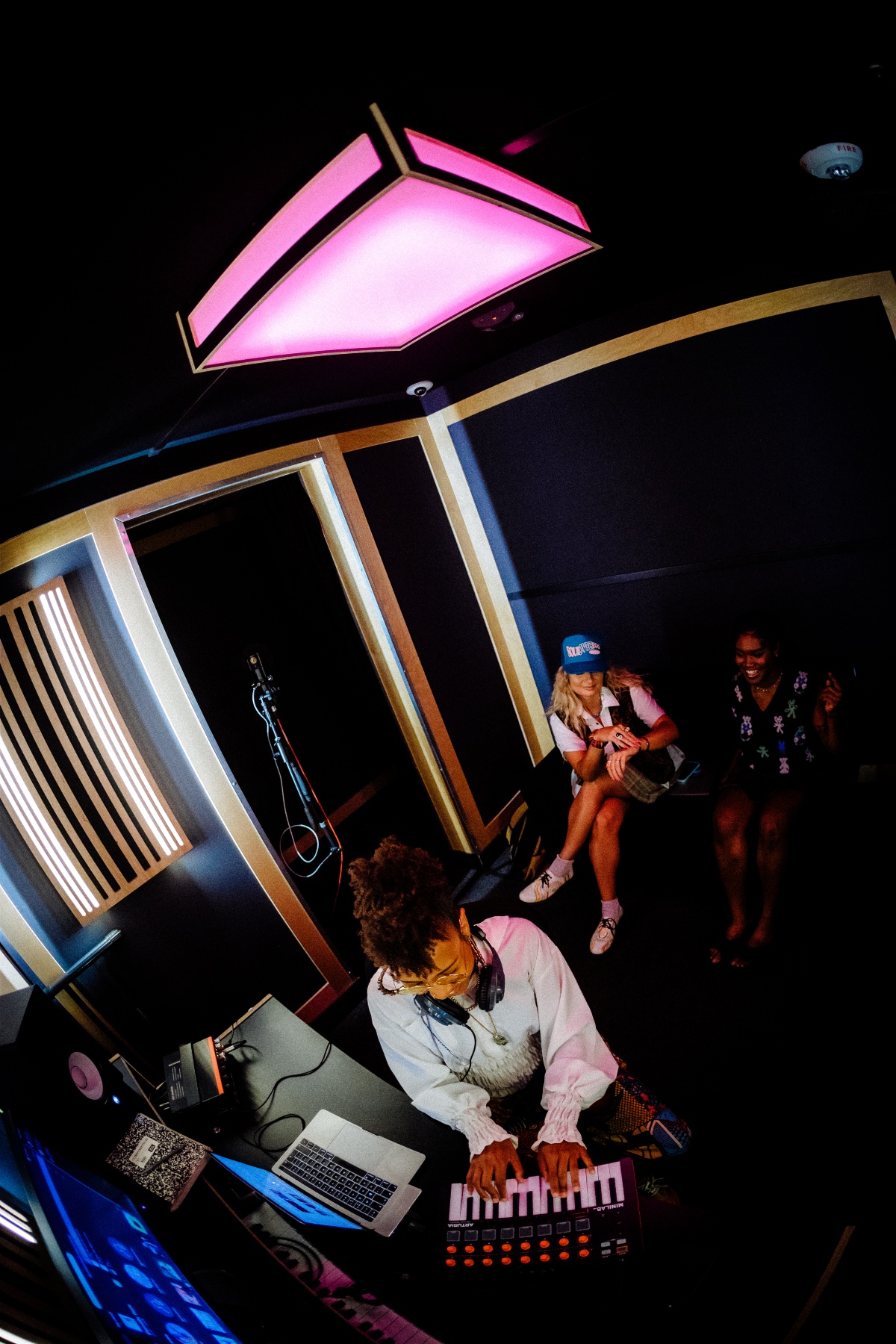 Why Consider Soundcloud Promotion?
Unlike social media platforms or YouTube, the SoundCloud algorithm isn't as well understood. However, given the power it has to help grow your fanbase as a musician, it's important to understand how to get heard.
There are allegedly 175 million SoundCloud users – this is just shy of half Spotify's 365 million monthly listeners and double the 88 million Apple Music subscribers, making it arguably the second most important platform to have your music on. Moreover, SoundCloud allows users to upload mixes, radio shows and podcasts as well as tracks and albums, making it a great home for DJs in particular. On top of this, it offers direct monetisation for SoundCloud Pro users, something we'll explore in more detail later on.
For a little more comparison of different platforms, check out our music distribution guide.
How Does SoundCloud Work?
Unlike many other streaming platforms, SoundCloud is a free streaming and distribution platform that allows users to upload and share their audio content, as long as they own all the rights to do so.
On top of the free service it offers, which comes with certain limitations, SoundCloud offers a paid subscription service. The first tier, SoundCloud Go, starts at $4.99 a month allowing unlimited streaming, zero ads and offline listening. SoundCloud Pro Unlimited (either $12 a month if paid yearly, or $16 if paid monthly), unlocks unlimited uploads, monetisation, sharing via other platforms and enhanced listening stats.
Once you have created your SoundCloud account, which you can do via Facebook, Google or Apple if you so choose, you'll need to enter basic details such as your display name, an image and a bio to complete your profile. Once this is done, you'll be able to start uploading material or streaming on SoundCloud.
When you open SoundCloud, you will automatically be taken to the 'Discover' page, which lays out sections such as 'Recently Played', 'More of what you like', as well as algorithm-curated playlists such as 'Daily Drops' and 'Soundcloud Weekly', tailored specifically to you. With regards to what shows up here, selections work on a similar basis to Google's PageRank algorithm, which assigns scores to pages based on a number of factors such as popularity, listening history and so on. It also features 'Charts', a collection of the most played tracks on SoundCloud that week, as well as playlists organised by genre containing new relatively undiscovered music curated by the SoundCloud team themselves.
Two other tabs at the top of the page or navigable in the mobile app are 'Feed', which contains the latest posts from accounts you follow, and 'Library', which catalogues your own page's material and streams you've liked.
Most people use SoundCloud by directly going to pages they want to stream from, or via direct links people have shared. When you're playing a stream, you'll have the option to like, comment or share, much like any other social media platform. You're also able to tag other users using @[user], which will notify them of a comment or if you have decided to put them in a track description, which is useful when listing tracklists or tagging collaborator/label accounts for music you upload.
Uploading music to SoundCloud is fairly straightforward. The only problems you may encounter here is going over your account's limit or when uploading material you do not own the rights to. For example, you can't upload your favourite Radiohead album – it'll get automatically detected by a bot and taken down.
How Much SoundCloud Pays Artists
If you have a SoundCloud Pro account and own 100% of the master rights to a track that's over 30 seconds long, you can monetize this by providing a legally registered ISRC code (International Standard Recording Code) – a 12-character code which uniquely and permanently identifies recordings.
For each stream, SoundCloud creators earn between $0.0025 to $0.004, fairly similar to what Spotify pays out. So for 1000 plays, you'd be making between $2.50 and $4 and you'd need a million plays for somewhere between $2,500 and $4,000. This gets paid out automatically once you hit a threshold of $5.
So unless you're successfully churning out hits that gain 1 million plays at a monthly rate, your SoundCloud account isn't going to match a month's income. Though for artists with a rich and growing catalogue, these music royalties can provide a nice supplementary source of income, especially pooled with gig earnings and other music sales. This is no different from any other streaming platform with regards to independent artists. On top of this, one of SoundCloud's greatest values is in exposure, for artists, especially for DJs and their mixes.
Preparing For SoundCloud Promotion
1. Brand Image
When creating your account, the first thing you'll have to consider is the image you use, as this will appear on your page and beside any audio you upload. If it's a personal account, you'll want to use one of your best artist press shots as your photo. If you're creating a label account, you'll probably want your logo. Make sure you use high quality images so they don't appear blurry and unprofessional.
2. Your Artist Bio
With your artist bio or DJ bio, keep it short and sweet. You should normally have a few versions of this for various places, so pick the most condensed for SoundCloud (around 2 or 3 sentences long).
A lot of artists also use the bio section on their SoundCloud profile to outline upcoming tour dates which is a good idea. You are also given the option to link to other platforms and sites on your professional profile, so be sure to add your socials, as well as any other relevant places for your music, such as your Bandcamp page, your YouTube channel or your website.
3. High-Quality Music & Promotional Art
When it comes to uploading your content, always be sure to do so in the highest spec. So if you're uploading mixes and tracks, make sure these are in uncompressed files (AIFF/WAV/FLAC), as SoundCloud playback accommodates these high quality formats. Same goes for your artwork, don't go using low-res imagery.
On top of this, be sure to put a well thought-out description for each uploaded track or collections like playlists and albums, being sure to tag anyone relevant. Tagging the genre of the track can also help it get discovered, by potentially landing your track in one of the Charts. You can tag a couple genres, but it's going to be the first one you put that will get Chart consideration. Moreover, you have the option to add a buy link, which is really useful for sending fans directly to somewhere they can purchase a relevant product.
How To Promote Your Music On SoundCloud For Free
There are many ways you can promote your music on SoundCloud without spending a dime. Interaction is highly recommended for one, as not only does this directly notify other users, but SoundCloud rewards active accounts who bring value to the community. This way, you're more likely to get picked up by the platform and land yourself in Charts.
1. Use SoundCloud's promotion features
'Promote' on SoundCloud
Unsurprisingly, the platform offer their own paid promotion service, a little similar to say a targeted Facebook ad for a chosen track:
'Your promoted track will be highly visible, at the top of your target audience's homepage (on mobile) and feed (on mobile and desktop) where listeners will have a better opportunity to discover your music' – SoundCloud
Setting one up is really easy, especially compared to something like Spotify promotion, and starts at as little as $5 and has huge reach, so definitely worth considering trying out.
SoundCloud Repost
Reposting is a great and easy way to maximise exposure. Say you've done a radio show and a station uploaded the show – the quickest way to get this on your account's page too is by reposting. Look out for tags, such as if people have played your music in their mixes and give these a repost.
Remix competitions
Remixing other artists is a great way not only to connect with them, but hit an audience you'd like to crossover with. Even massive artists like Bloc Party have run these on SoundCloud, so be sure to keep your eye out.
Offering free downloads
If you're up for giving away one of your tracks for free, this can create a bit of hype – especially if you only make it available for a limited window. Consider doing this when you have a track you think is bangin' but doesn't quite fit a project you're working on. This is a great way to get it out there and offer your fans a freebie.
'First on SoundCloud' #SCFIRS
First on SoundCloud is open to Next Pro members and is a program aimed at celebrating creators who start their journey on SoundCloud:
'The program features unique opportunities for career acceleration, education, and creative support. Above all, First on SoundCloud helps you develop your audience and create meaningful connections directly with your fans.' – SoundCloud
'Buy' links
As mentioned, where there's a product relevant to your upload, make sure to add a buy link directly to the place people can purchase it.
2. Engage with your audience
Make sure to look out for comments on your tracks and respond – this will help your fanbase feel involved. With DJ streams you'll also often get asked for track IDs, so as painful as it is to give away your secret weapons, you may want to oblige every now and then.
3. Collaborate with other artists
SoundCloud provides an amazing community of like minded musicians all across the globe. If there's someone who's music you really like, consider reaching out and working on a track together. It may turn out no good, but that's all part of the learning process.
4. Use Social Media to promote SoundCloud
One of the best ways to promote your material on SoundCloud is via your socials. In fact, it should be a core part of your social media music promotion strategy, as it's likely you'll have your main following here already, but many platforms don't offer a streaming service. So using links or links in bios to your SoundCloud material is a great way to share your music in one click and accumulate plays.
With SoundCloud Pro, it's especially easy to share your music on various platforms, such as Instagram stories – from there it's one click through to your page where people can hear the music immediately.
5. Reddit threads for SoundCloud promotion
r/listentothis is a subreddit containing 17 million members where hot new tracks get upvoted. It has rules – no posting any tracks over half a million plays and no self promo (you can't post your own tracks on here, but there's nothing stopping a friend of yours from doing so).
r/hiphopheads and r/guitar are good ones to look at for hip-hop and rock music respectively, as are many r/genre threads, such as r/dubstep.
Shameless self-promo is sometimes frowned upon, so do be careful with this.
Get Soundcloud Pro
The key reason to suck up the cost and get SoundCloud Pro is for its enhanced analytics. This can give you a lot of valuable insight: which tracks are getting the most (and longest) plays, who your top listeners are and where they're listening from, and what links users are arriving at your material from.
Should you use SoundCloud promotion services?
Definitely be wary of using external services that offer SoundCloud promotion. Music promo scams are everywhere, some will promise you listens and followers but won't deliver a quality service. If you're being offered something too good to be true, it probably is too good to be true. Read a bit more about SoundCloud's warning against scams.
How To Grow A Fanbase On SoundCloud
Being a fan is the best way to grow your own fanbase. All great artists start out as admirers, forging a path based on the inspiration for music others have provided them. Discovering what you think is great new music is hopefully a good indicator of what they'd think about your music, particularly for artists starting out who are on a similar level to you.
'The best way to gain meaningful followers is to be one yourself. Use the Search and Charts to find and follow like minded creators, listen carefully and give honest feedback often. Think quality over quantity, tailor your suggestions, constructive criticism, or praise according to each track and profile.' – SoundCloud
How To Make Your Song Go Viral
Why and how songs go viral will always remain something of a mystery, but there's no doubt that through strong SoundCloud promotion, you're giving it a better chance of doing so. Post Malone (White Iverson, 2015), Lizzo (Luv it, 2011) and Billie Eilish (She's Broken, 2014) all owe their hugely successful careers to SoundCloud, and stars of tomorrow could be uploading tracks to their accounts right now. There's nothing stopping you from harnessing the power of this amazing platform either.