Pirate offers everything you need to play, mix, record, create and produce in our Sheffield studios. Practice what you want, when you want, 24/7.
Your space to create
Whether you're a beginner or a seasoned pro, our specialist South Yorkshire studios are the perfect place to create, write, produce, practice and mix with no distractions.
In Sheffield there are 13 spaces ready for your next project:
Hone your mix on club-standard equipment in the DJ studios
Rehearsal studios to jam with your band or practice for the next gig
Recording studios to write and produce songs or capture vocals
Simply book and pay by the hour using our easy live calendar. It's time to let your creativity flow.
What's Pirate?
A worldwide network of DJ, production, rehearsal, podcast and dance studios, giving you round the clock access to create. Because we're open 24/7, we've made the experience entirely self-service using our unique entry code system — but if you ever need a hand, we're here. The fastest way to get support is via Live Chat.
South Yorkshire's finest
When it comes to culture and the arts, the cup overfloweth in the Steel City of Sheffield:
Coffee lovers will enjoy Tamper, a Kiwi-inspired indie cafe, and Steam Yard Coffee Co. If you're after something tasty, one of Moor Market's 80 artisan food stalls is sure to tick all the boxes.
For big gigs, check out the O2 Assembly (formerly the iconic Roxy Nightclub) or the Sheffield City Hall. For an intimate live music experience, the Backroom at The Greystones — the flagship pub for Thornbridge Brewery — is a winner.
For other cultural treats, check out the Crucible or Lyceum Theatres for stage shows; stroll the Sheffield Street Art Trail; or book a ticket for Doc/Fest, one of the world's best documentary film festivals, taking place every June.
From the Community
◄
"Through Pirate I got a chance to practice privately and at my own pace."
◄
Frequently asked questions
The Sheffield edition of our FAQs has the top things you need to know about your session. Need more help? Hit up our support team via Live Chat.
Driving? We have six car parking spaces available at the front of the building.
If you're coming by public transport, buses stop nearby on Petre St.
What is verification and how does it work?
Being verified unlocks extra features at Pirate, like Refer-a-Friend credits. You also need to have your identity verified before you book one of our DJ or recording studios, so it's a worthwhile investment! Don't worry, the process only takes two minutes.
TIP: Use your mobile, it's easier to get a clear shot of your face/document.
I'm having trouble with a code or lock — help?
Slow and gentle! Our locks can be a little sensitive so put your code in slowly and as detailed on your booking — such as * 1 2 3 4 5 6. Don't forget the star!
You might be sent a four-digit code as a replacement for the booking, such as 1 2 3 4. As above, press slowly and in this case, with no star, *.
If you're having trouble with the lock or code, please contact us and we'll help get you in as soon as possible.
What if something breaks or I need a spare?
Spares in every location! We carry lots of spares in our sites, just in case you need any further equipment or something has a fault. You'll also find lots of spare cables and mics in our rehearsal studios if needed.
Something missing from the room or you need an item from the Spares cupboard? Hit us up on Live Chat via the website. We will be more than happy to help.
Will any staff be available to help me with my session?
Our studios are self-service, which allows us to keep costs down for you. If you have any problems please use the FAQs, live chat or call us ASAP.

If you have any equipment issues, we can help troubleshoot — the sooner you let us know, the better. We have replacement gear on-site in case of any technical faults.
These measurements are for guidelines only. Studios can vary by location and type of build. Sizes are approximate.
Rehearsal Classic: From 100 to 130 sq. ft — six people maximum
Rehearsal Premium: 215 sq. ft — six people maximum
Rehearsal Pirate: between 215 to 260 sq. ft — six people maximum
Rehearsal Pirate XL: From 260 to 300 sq. ft — six people maximum
Showcase: 395 sq. ft — six people maximum
DJ Premium or Pro studio: From 65 to 130 sq. ft — five people maximum
Production studio: From 65 to 175 sq. ft — five people maximum
Podcast studio: 110 sq. ft — fits six people comfortably
Dance: 580 sq. ft — 11 people maximum
Studio Sitemap
On-site Facilities
Free parking
Free WiFi
Kitchen area
Custom temperature control
Spares available
Self-service, pay by the hour
24/7 customer support
Acoustically-treated rooms
Rehearsal studios
DJ studios
Recording studios
24/7 pin code access
Professional equipment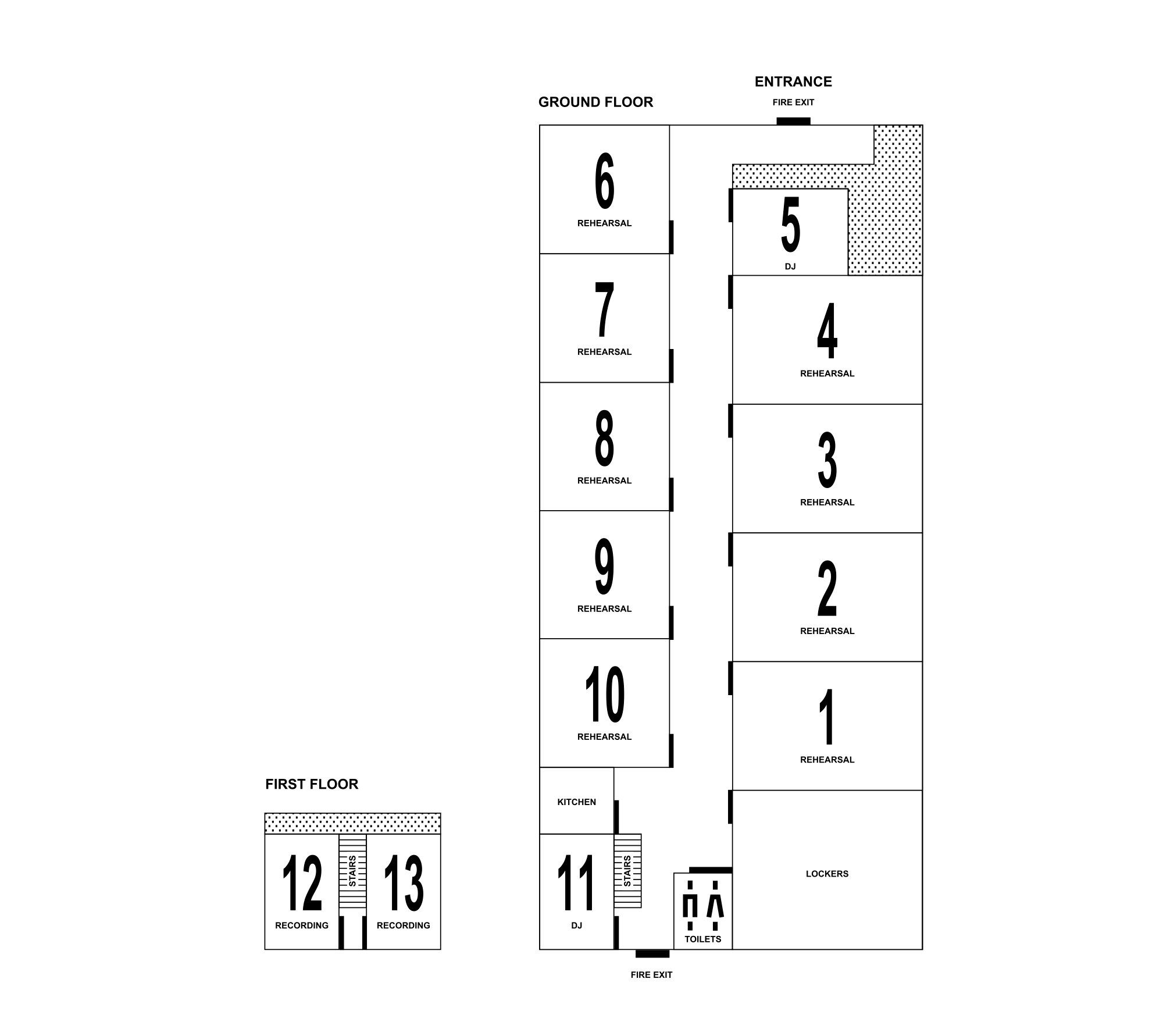 The studio address is Unit 12, Fieldhouse Way, Sheffield, S4 7SF.

If you're coming by public transport, buses stop nearby on Petre St.

Have a question or need support? Check out our FAQs, use the Live Chat, or call us.