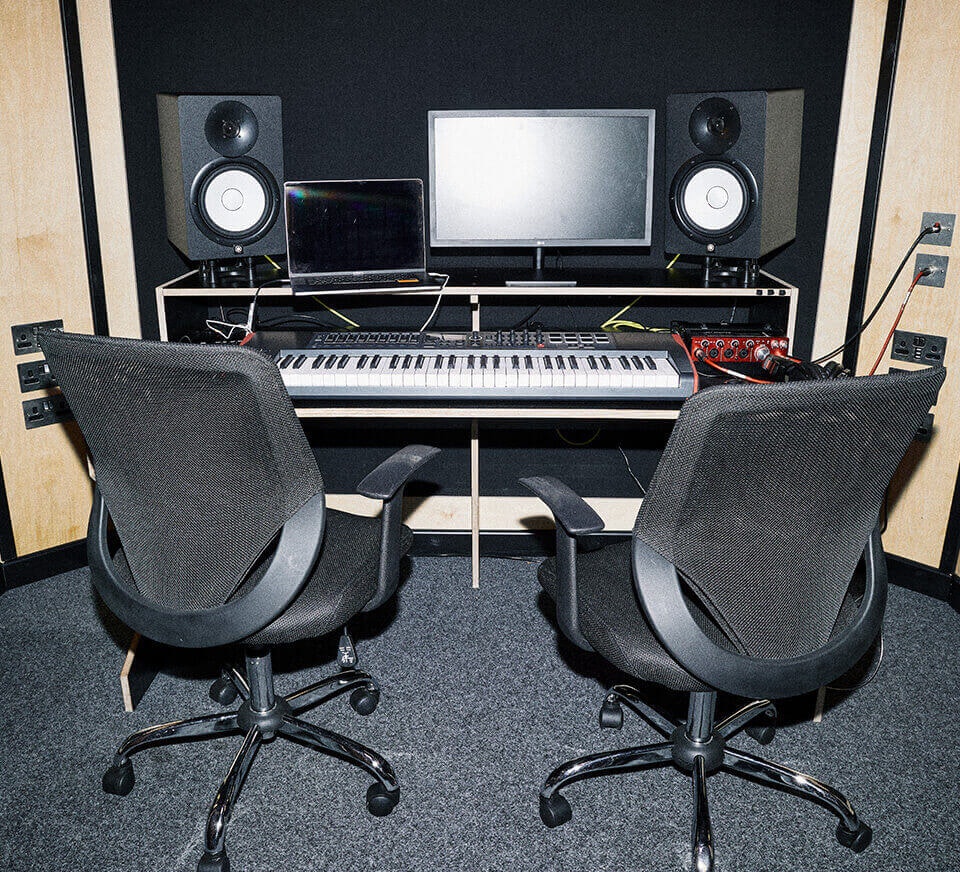 Inside your recording studios
The process of creation is different for everyone, yet the need for a quiet, productive space is universal. With self-service access, professional equipment provided free, and affordable day rates, our recording studios help you capture your creativity the moment it sparks.
Pop in for an hour, settle in for a day session, record, mix, edit — the space is yours for whatever purpose you need, and available 24/7 to work around your daily routine.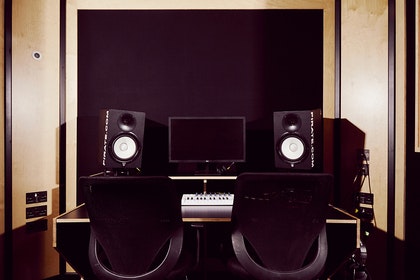 Choose Your Recording Studio
Find the best music studio for your next project

Recording Lite: Our budget-friendly music production and writing studio is the top choice for beginner producers, suitable for solo work or collaborations with one other artist. This compact and affordable music studio is equipped with an audio interface, MIDI keyboard, microphone, headphones and monitors.
Recording Standard: Ideal for music production and songwriting when vocal recording isn't necessary. It provides more advanced equipment compared to the Lite studio, but still offers comfortable space for just one or two artists. Included are an audio interface, MIDI keyboard, microphone, headphones, monitors and extras.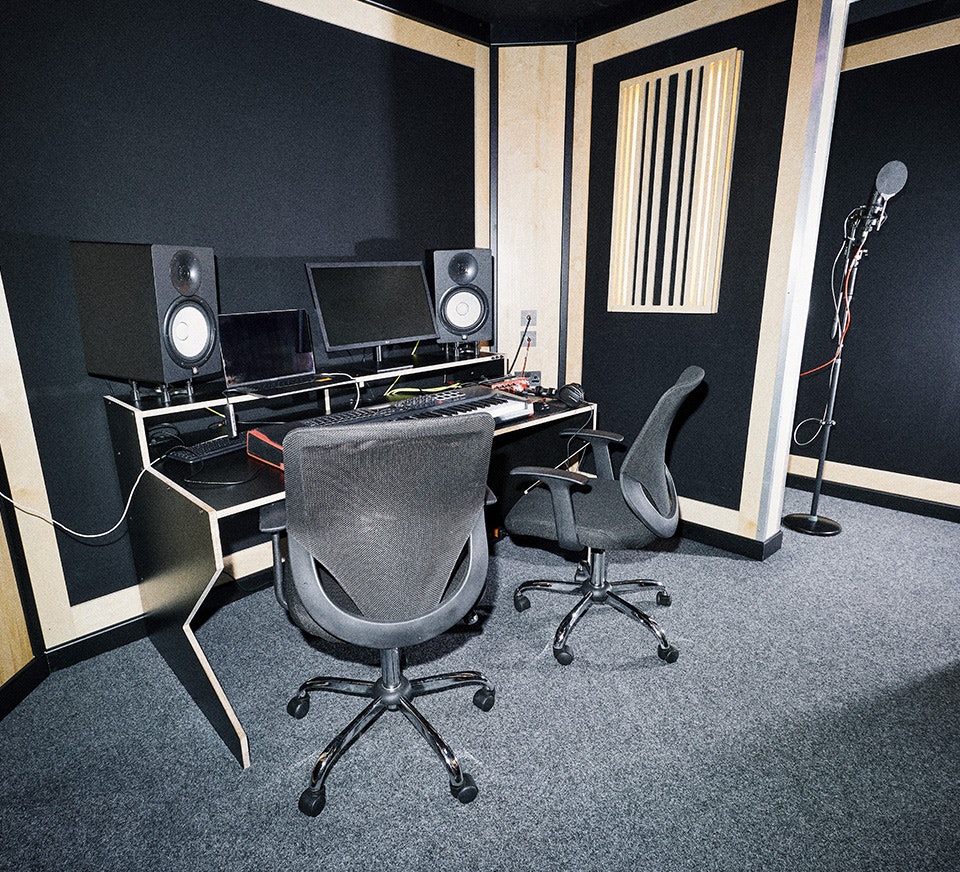 Recording Pro: Tailored for recording vocals and collaborations between music producers and vocalists. If you need a rap studio for recording bars and creating beats, this studio is your best fit. Fitting up to three artists comfortably, it includes all the equipment available in the Standard studio, along with a curtained vocal booth for high-quality vocal recordings.
Recording Pro+: Designed for vocal recording and collaborations, this studio is the perfect choice for extended sessions and more advanced artists. You'll find all the same equipment as in the Pro studio, along with the same curtained vocal booth for high-quality vocal recording. However, Pro+ studios also include upgraded monitors and a 34" ultra-wide screen for enhanced production capabilities.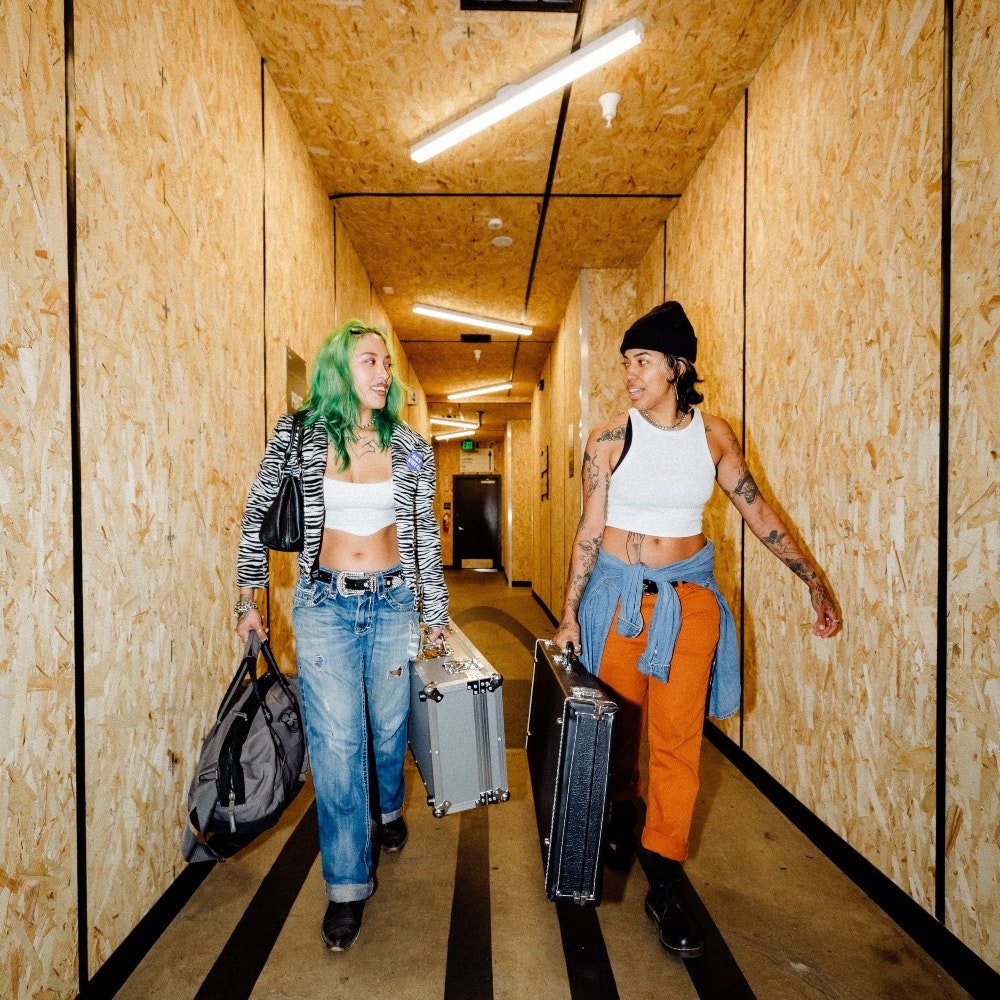 RECORD FROM OVER 30 LOCATIONS
Lay down a beat in Berlin, capture vocals in Leeds or mix down in Brooklyn. With over 30 locations worldwide, make Pirate your go-to studio, whether you're at home or on the road.
With 9 locations in the UK capital alone, our London recording studios are never far away. Elsewhere in the UK, rent rooms in most cities, from Edinburgh to Plymouth. Stateside, book music studios in Los Angeles or find our New York recording spaces on the East Coast. In Europe, we're in Berlin, Hamburg and Dublin.
Rent a Studio, Unlock Events and Opportunities
Get Feedback on Your Music From a Live Audience at AUX
Want to test a new track in front of an audience? AUX is like an open mic night for your songs and beats. Sign up to take the AUX and receive live feedback.
Visit AUX
Join Music Production Workshops with Professional Artists
Join skill sessions and workshops with industry leaders and touring artists. Get free technical and career coaching from the best in the game.
View workshops
Submit a Track for Radio Play on Partner Stations
Get your music played on radio stations like Reprezent, Voices, and Mode London. With opportunities for artists of every genre and discipline, submit a track.
Submit your tracks
Book Beginner and Advanced Music Production Lessons
Book an online music production course or connect with a tutor at a recording studio near you — Pirate music tutors customise lessons to suit your skill level.
View teachers
Start From Scratch, Learn How to Use FL Studio
Use our free beginner's guide to start producing music using FL Studio — learn how to compose, record, mix and master your music using this popular DAW.
Read more
Get Your Song Ready with Our Guide to Mastering
Learn how to master a song with our step-by-step guide — from EQ to limiting, we'll cover everything you need for a more polished sound.
Read more
Got a Question?
Here are the questions we get asked the most, answered. Whatsapp is the best way to reach us if you still need help, or give us a call on 0333 241 9598.
How much does a recording studio cost?
Recording (production) studios are the same price throughout the week. A discounted day rate is available. Check availability and pricing by visiting the booking calendar.
How many people can use a recording studio at once?
Five people maximum, including the lead booker, per session, for all recording (production) studios across the UK, EU and US.
What if something breaks or I need a spare?
Spare equipment is available at every Pirate location, including instruments, cables, microphones, stands and other hardware.

If you need replacement equipment or something is missing, contact us on Live Chat via the website or WhatsApp for assistance. We will direct you to our spares cupboard quickly so that you can get on with your session.
What do I need to prepare for my session?
To make the most of your session there are a few things you'll need to bring and do.
What to bring
A laptop (essential)
A USB-C cable to connect your computer to the Focusrite interface (essential)
The external monitor connects via HDMI or VGA. If you don't have one of these ports on your computer, you'll need to bring an adapter (optional)
Downloads
You must download the Focusrite software before your session otherwise you won't be able to connect, and it'll take up valuable time

If you have any further questions our team is always happy to help.
What recording equipment is available?
Monitors: Pair of KRK V6 S4 or Yamaha HS8 or JBL 8" LSR 3 Series Mk2 Monitors
Microphone: SE Electronics SE2200II / 2300 Condensor or Aston Spirit Condensor or AKG C214 Condensor
Interface: Focusrite Scarlett 18i8/ Clarett 4pre / 2pre
Keyboard/Midi Controller: Novation Impulse 61 Keyboard/Midi Controller or M-Audio Oxygen 61
Headphones: Beyerdynamic DT770 or AKG K275 or Pioneer HDJ-X5 Headphones or similar
Other: External Screen, Keyboard & Mouse, Mic Stand, Keyboard Stand, XLR-XLR
Please remember to bring your own laptop, plus a USB C cable (and a hub if required).
Are studio visits available?
Unfortunately, studio visits are not available. If you want to check out a space, book a single off-peak hour. Our hourly rate is kept low for this purpose. Alternatively, explore our 360° virtual tours for a detailed view.
Alternatively, our 360° virtual tours are a great way to familiarise yourself with a typical Pirate location. Tap or click the locations below to get started:
UK
London Notting Hill (Arch 2; Arch 3)

Germany
US
Pirate not available in your region? New locations are opening across the globe throughout 2023 and beyond. Keep an eye out on our socials for updates, or pop us a message using the live chatbox on Pirate.com. Let's chat about how we can bring the next generation of creative studios to your area.