Large UK Festivals Are Booking Fewer New Acts Each Year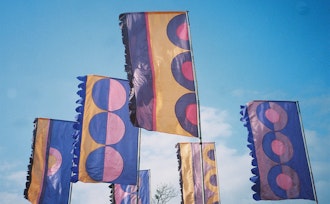 New research shows the percentage of new acts performing at large UK festivals is falling each year, while small & medium-sized festival lineups consistently evolve.
Since the end of January, festival lineups have been flooding the social media feeds of music fans. Whilst many of these announcements have been met with excitement, some artists and fans have called out festival organisers for booking the same acts year after year. Eglo Records boss and NTS resident Alexander Nut tweeted: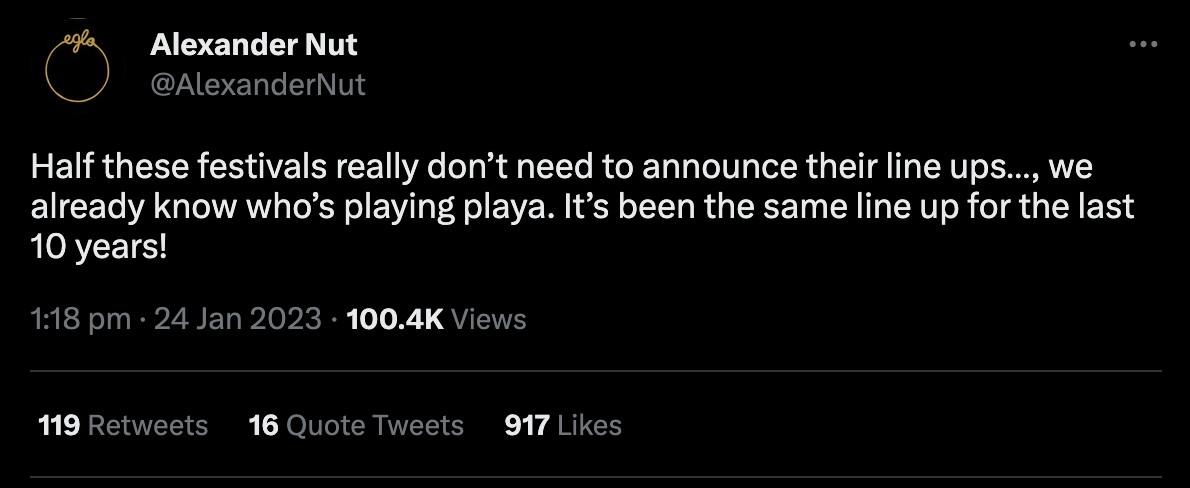 Through analysing data from 32 of the UK's most popular festivals (excluding Glastonbury) over 10 years, Pirate found that not only are festivals booking legacy acts to play year after year, popular artists are being booked at multiple UK festivals each year, making lineups look homogenous.
The study found that large festivals – festivals with a capacity of over 50,000 – do tend to repeatedly book the same artists, with the percentage of new acts on lineups dropping steadily year-on-year, with a spike in 2022, presumably due to restrictions in the pandemic aftermath: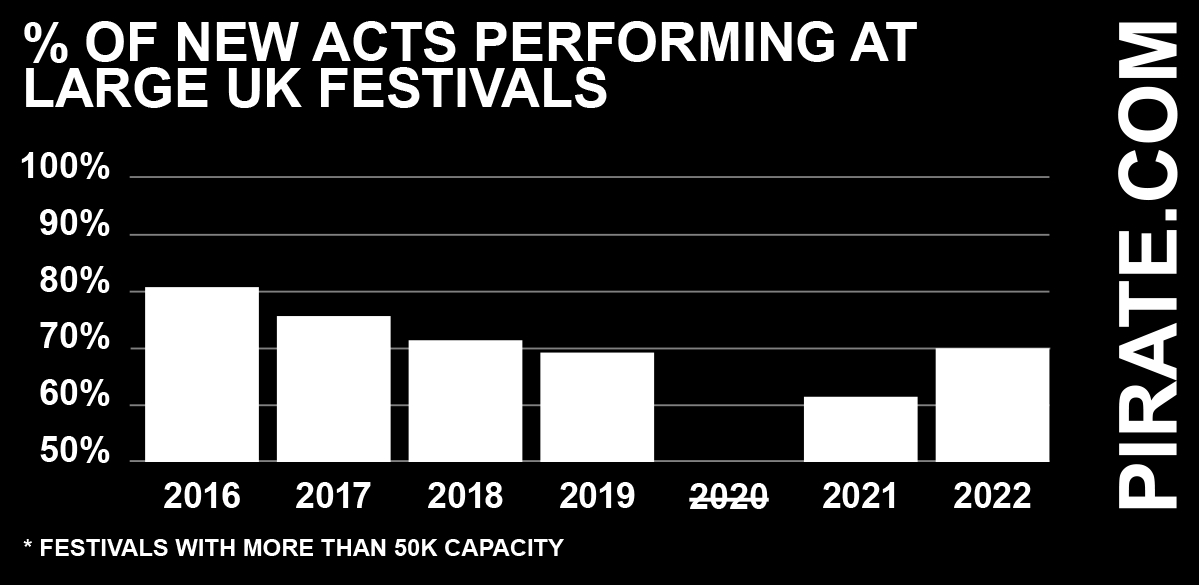 Small and medium festivals – festivals with a capacity of under 20,000 and 50,000 respectively – on the other hand, do tend to consistently book new artists each year: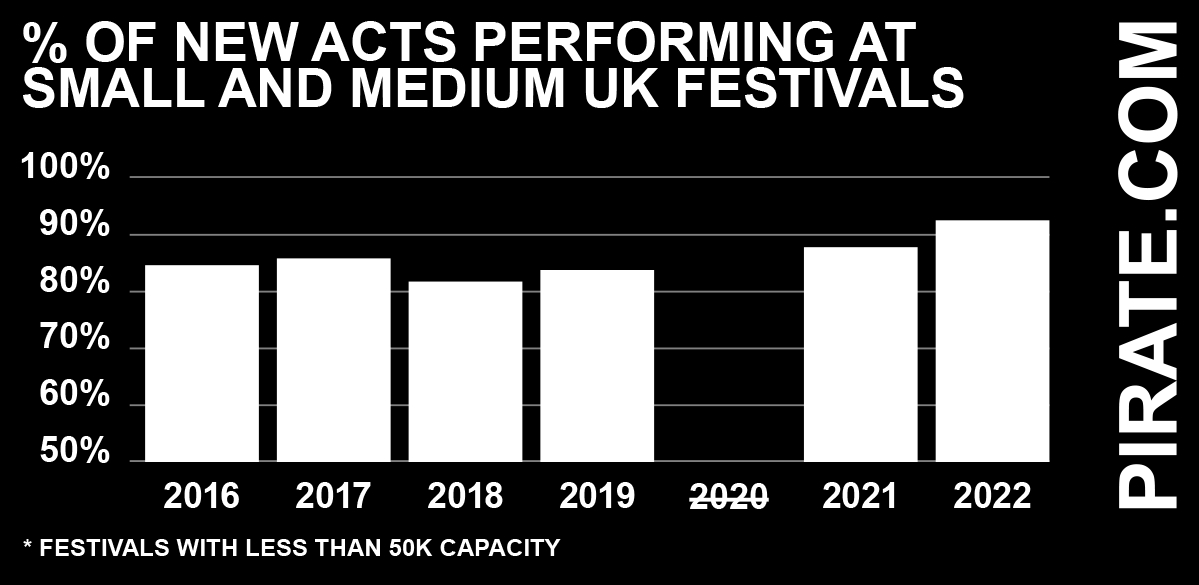 A representative from jazz, funk and soul festival Cross The Tracks insists that there is enough music in circulation to programme unique lineups year-on-year:
"There's so much music out there, it's not hard to keep things fresh if you love music and keep listening to new music, old music, good music."
Simon Taffe, founder and programmer of eclectic indie festival End Of The Road since 2005, recognises that it's not always so easy in a saturated live events market:
"I think I could count the amount of festivals in the country when we started. Now there seems to be 10–15 music festivals a weekend during the summer to cater for anything from cheese lovers to model railways enthusiasts."
Taffe notes that particularly on the indie circuit, a conscious effort to programme creatively has to be made:
"I certainly wouldn't want to become one of these indie landfill festivals where you always see the same bands on every bill."
The UK is home to some of the world's most creative and personality-filled festivals in the world. However, the study found that many of these festivals are broadly similar musically:
In 2017, 27 of the UK's top 32 festivals ran. Loyle Carner played 7 of these. LAKUTA and Ray BLK each played 6.
In 2018, 28 of the UK's top 32 festivals ran. Hak Baker played at 7. Maribou State, Jade Bird and Confidence Man each played 6.
In 2019, 29 of the UK's top 32 festivals ran. This was the year of Self Esteem, Children of Zeus, IDLES and Squid, who all played at 6.
In 2021, 21 of the UK's top 32 festivals ran. Georgia played at 7. Jaguar, Becky Hill and Greentea Peng each performed at 6.
In 2022, 31 of the UK's top 32 festivals ran. Yung Singh, Self Esteem and Keg played at 7 of these. Yard Act, Nuha Ruby Ra, HAAi, Enny and GROVE each played at 6.
Pirate also identified the best UK festivals for discovering new music. All of these 10 festivals achieved a rate of 85% new versus returning acts across their active years: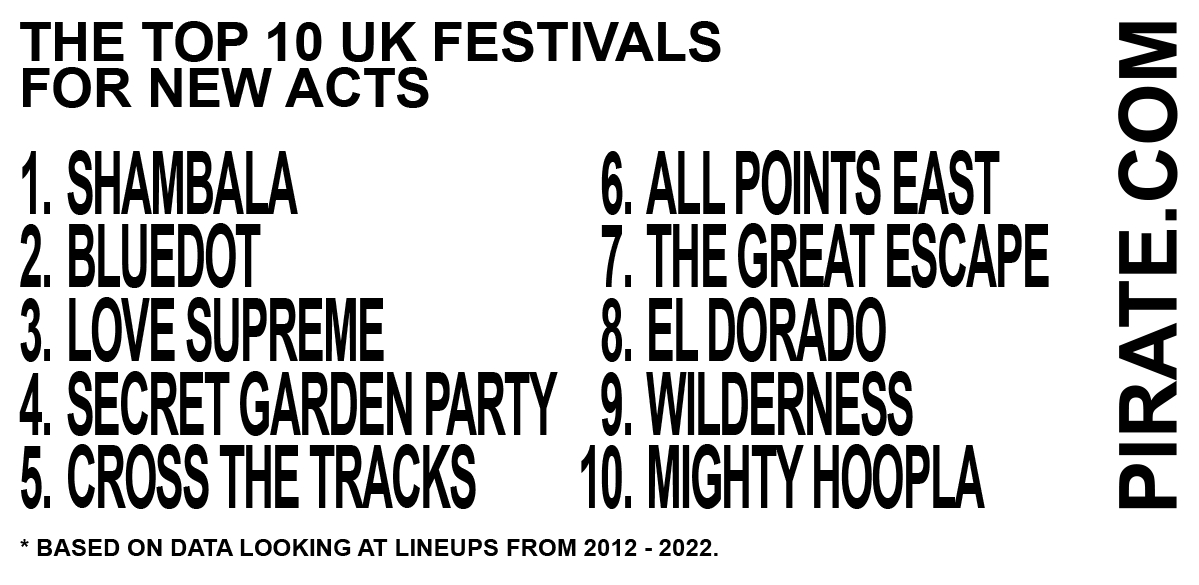 All of the top 10 festivals identified as best for new acts had a capacity of less than 50,000. The best large festivals for new acts were Boomtown, Wireless and Lovebox, which all had a rate of over 80% new versus returning acts across their active years.
The Pirate team will launch a summer residency scheme to provide more performance opportunities for emerging acts in the UK on March 6th, in collaboration with Cross The Tracks, El Dorado, Festival People, Truck Festival and more industry partners. To be amongst the first to apply, sign up here.
The top 32 UK festivals (excluding Glastonbury) analysed for this study were: Download, Reading and Leeds, Parklife, Isle of Wight, Creamfields, Boomtown, Boardmasters, Lovebox, Wireless, All Points East, Latitude, Secret Garden Party, Bluedot, Field Day, Green Man, Mighty Hoopla, Wide Awake, Love Supreme, Bloodstock Open Air, El Dorado, Wilderness, Lost Village, Cross the Tracks, End of the Road, Shambala, The Great Escape, Camp Bestival, Houghton, Standon Calling, We Out Here, Noisily & Gottwood.
The data in this study comes from Clashfinder, Resident Advisor and Music Festival Wizard.