9 Must-Visit Listening Bars In New York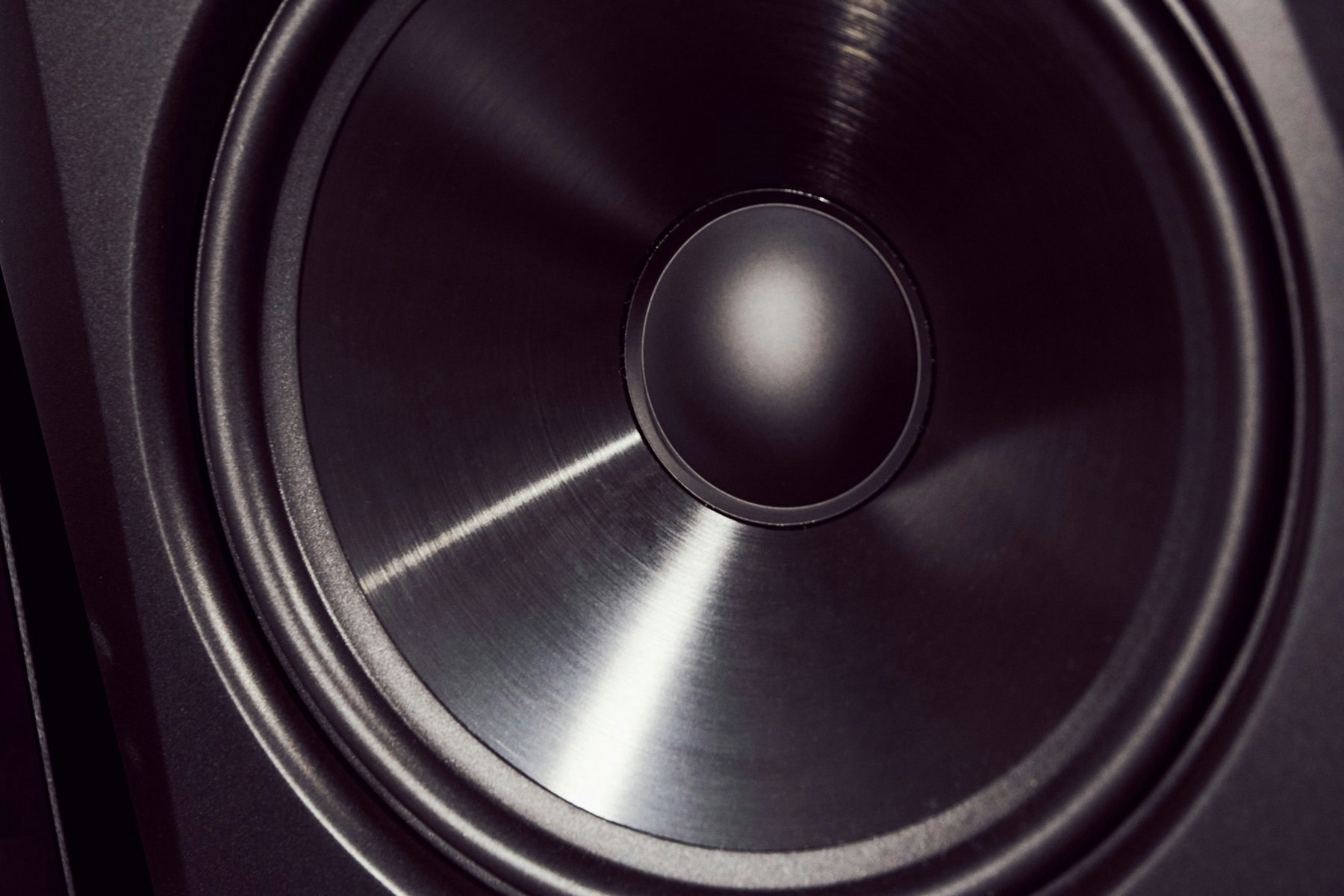 We've put together a list of some of the best listening bars in NYC for a high fidelity night out.
Are you a music lover? Do you pride yourself on being an audiophile? Do you find the music selection at regular bars to be bland and uninspired? If you answered yes to any (or all) of those questions, one of these NYC vinyl bars might just be your new go-to spot.
What Is a Listening Bar?
While the name is somewhat self-explanatory, here's the gist of the concept behind listening bars: Originating in post-World War II Japan, listening bars featured hi-fi audio equipment to offer patrons the ultimate listening experience. The focus was on sound quality rather than how loud the music could be or lighting or anything else. It was a place for customers to sit, relax, and enjoy music played on high quality audio systems. It was not a place to party or even to catch up with friends. If you were there, you were there for the sound.
Flash forward to present day. While Tokyo-style listening bars aren't extremely prevalent by any means, they're rising in popularity in the west. As well as popping up in New York, listening bars in London and other major cities like Los Angeles and Berlin are becoming more and more commonplace.
The rise of listening bars may not come as a surprise, given the recent vinyl resurgence. However, going to a listening bar, as opposed to listening to vinyl on your sound system at home, is all about the experience. See (and hear) for yourself, check out some of NYC's best below.
Best Listening Bars In New York
New York, being a cultural epicenter, has its fair share of listening bars. However, there are a select few that stand out among the crowd. These are the 9 best listening bars in New York.
1. Tokyo Record Bar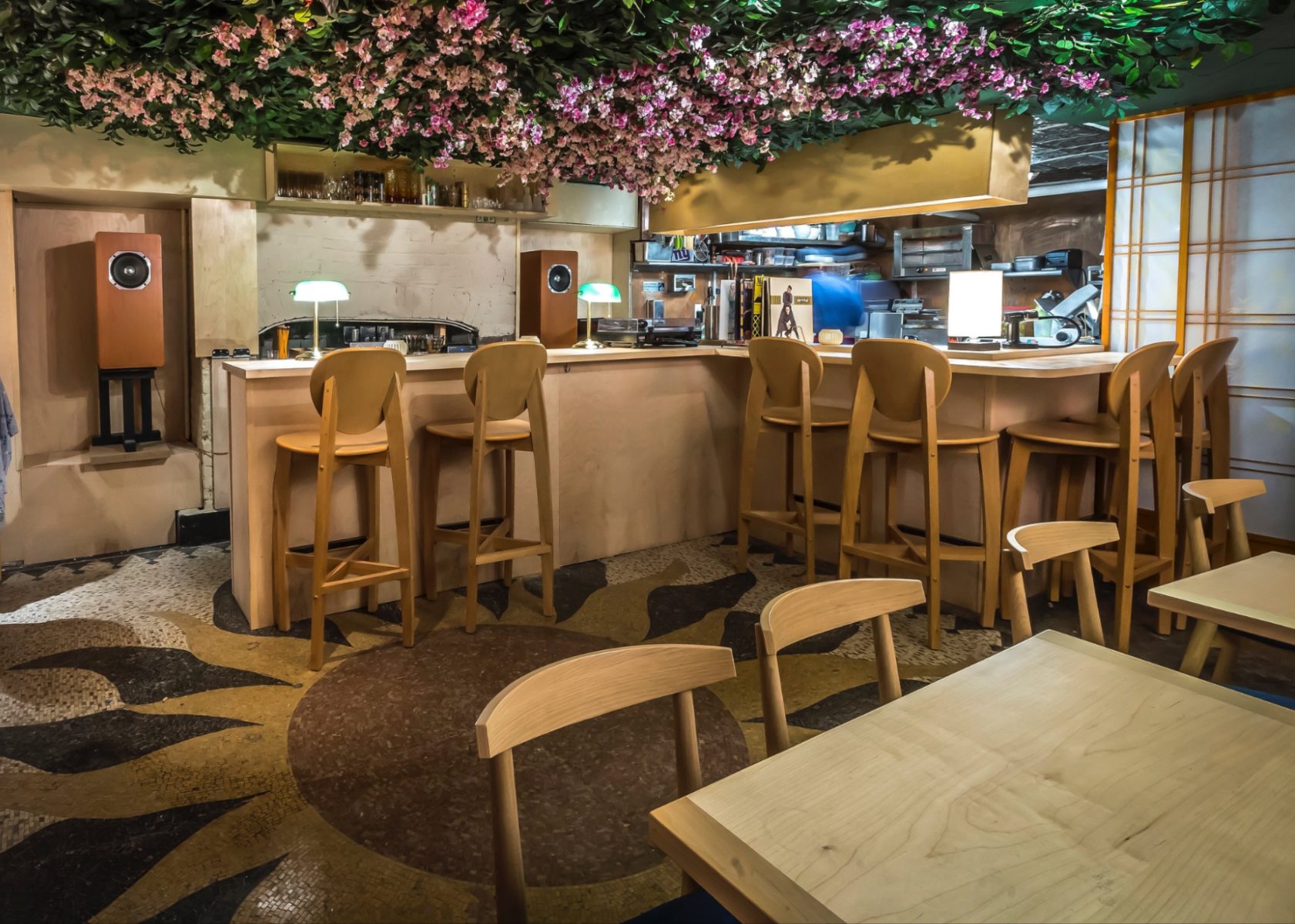 127 MacDougal St. (Manhattan)
At this chic Manhattan spot, you get a supremely unique Japanese listening bar experience. Be forewarned, reservations are required at this extremely cozy izakaya which is host to only 12 seats.
Tokyo Record Bar offers a Vinyl Jukebox Prix Fixe, where you can take part in creating a custom vinyl playlist in real time with other guests while enjoying their food offerings. In addition, they have DJ sessions, which are currently on hold but "will be back soon".
All in all, Tokyo Record Bar offers an intimate, authentic experience that will introduce you to the wonderful world of listening bars.
THE SETUP: McIntosh sound system, featuring the Mt10 Precision turntable
2. Public Records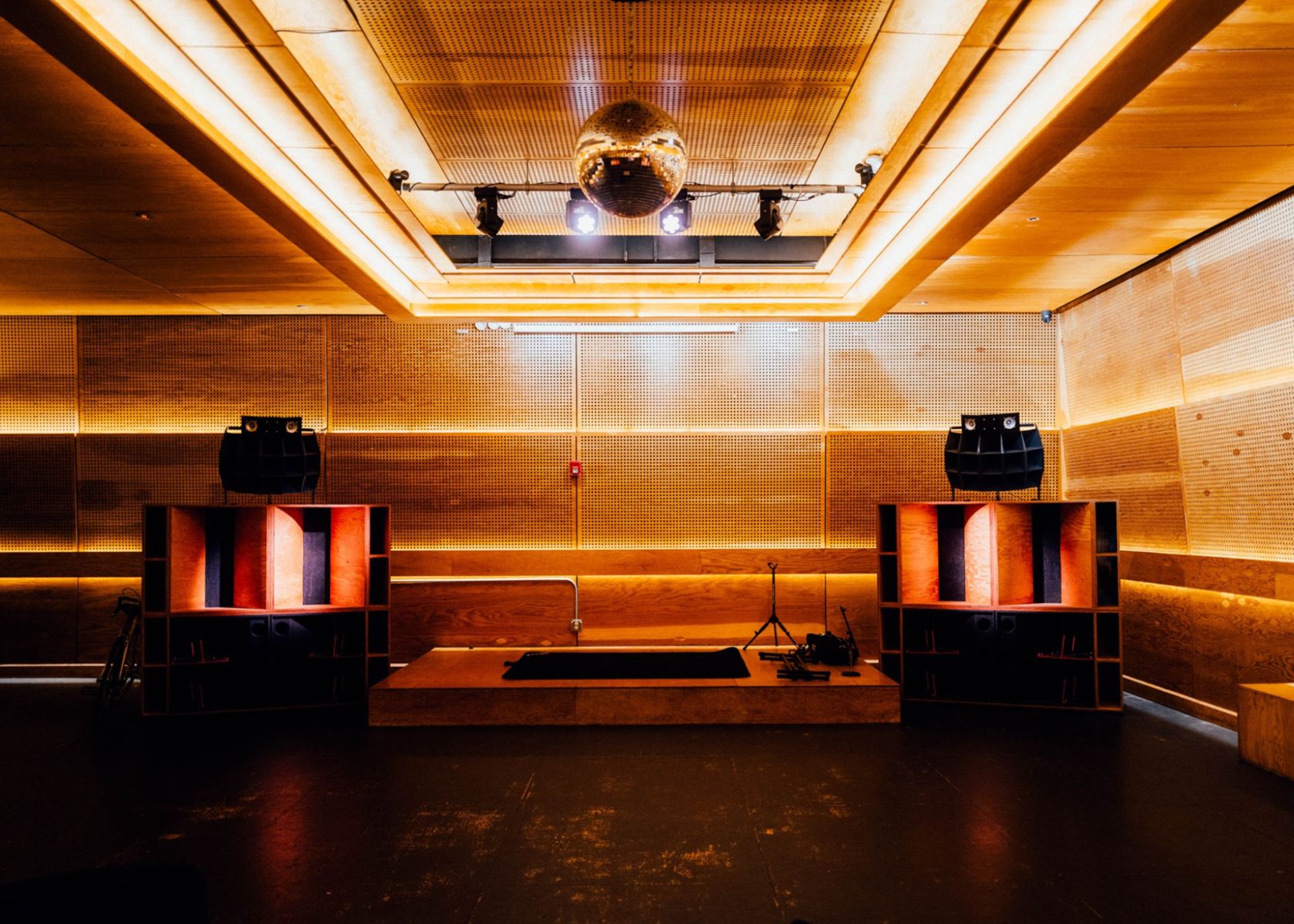 233 Butler St. (Brooklyn)
This is not your grandma's listening bar. Public Records is a modern, distinctly New York-style experience. With several different rooms offering very different experiences, there is something that everyone can enjoy.
The dining room is adorned with greenery and records line the walls, the audio booth is in the corner for whoever might be spinning records that night. The sound room is moody, decked out in wood and featuring a custom-designed sound system. Here, Public Records plays host to DJs and dance parties.
This isn't just like any other club, however; the venue actually has a list of rules for the sound room, one of which is "no cell phones". So, even if you're there on the night of a techno dance party, it will still very much be all about the music.
THE SETUP: Custom sound system
3. Eavesdrop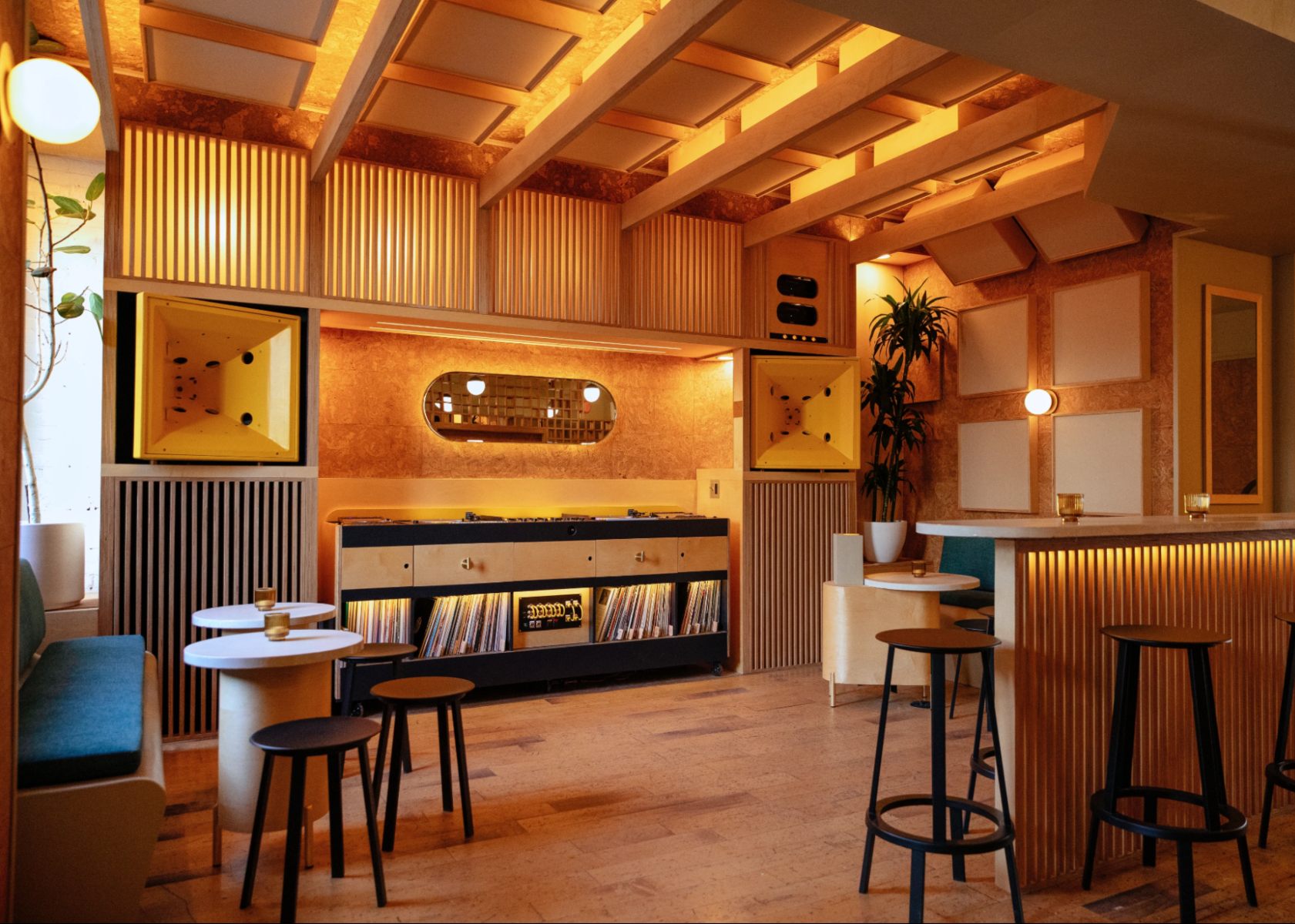 674 Manhattan Ave. (Brooklyn)
One of our favorite listening bars in Manhattan, head to Eavesdrop and find music played over a pristine, extremely high-end sound system in a space specifically designed to complement the music.
They are constantly hiring DJs to come in and play sets, and they post the schedules on their Instagram once a month. In fact, you can check out many of the recent sets over on Eavesdrop's Soundcloud page if you want to get an idea of what to expect when you're there.
In terms of food and drinks, Eavesdrop offers tapas, natural wines, and cocktails. They have plenty to keep you satisfied, but without a full kitchen, the music remains the center of attention as it should in any listening bar.
THE SETUP: MasterSounds Mixer & FX; MasterSounds Technics Turntables
4. Analogue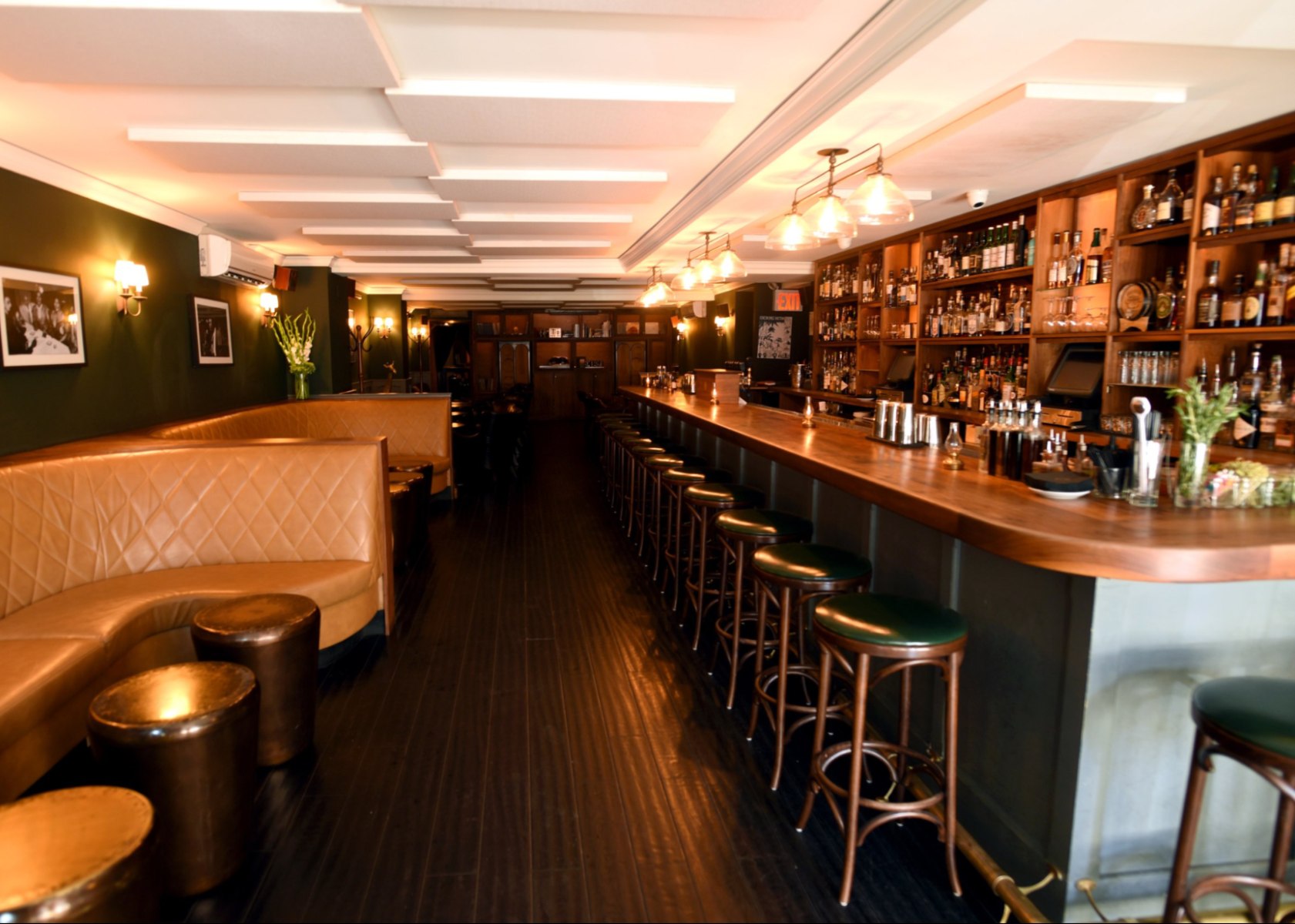 19 W. 8th St. (Manhattan)
Prohibition-era speakeasy vibes with a hi-fi sound system and a focus on analogue experiences (as opposed to digital). A night at Analogue serves as an escape from the day-to-day dreariness of burying your face in your phone, where people can come to appreciate the lifestyle of the past.
One look at Analogue's Instagram feed will clue you in that they are far more focused on drinks than anything else – including sound. As far as listening bars go, this may not be the purist's place; however, it's still a great place to come to appreciate the simplicity of the past.
5. Honeycomb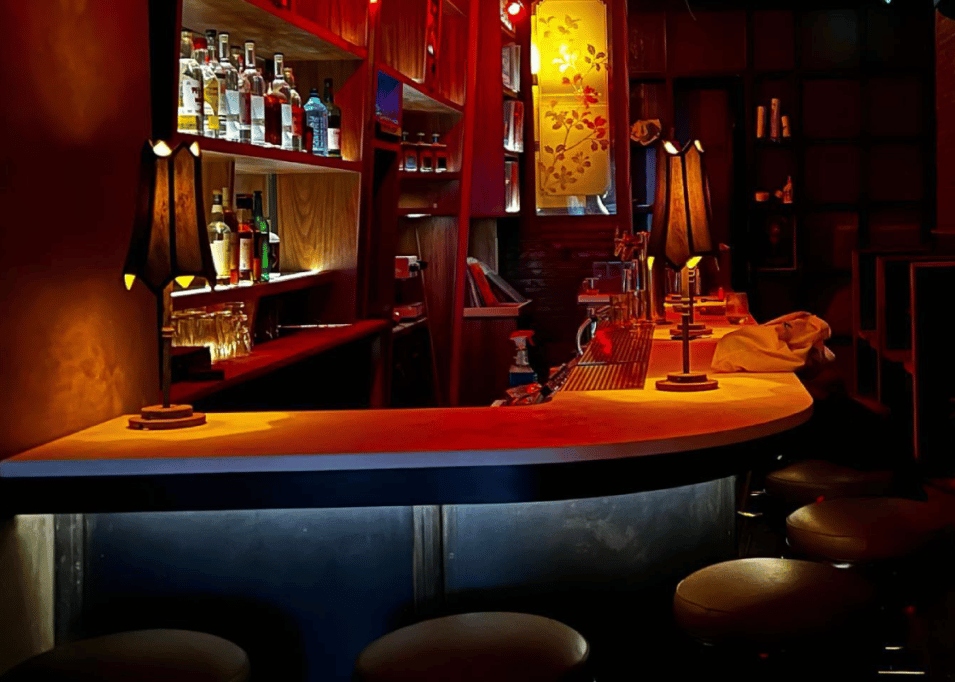 74 5th Ave. (Brooklyn)
Honeycomb is a listening bar, through and through. Some of the others on this list tend to toe the line somewhere between a listening bar and a regular bar, and I'm sure some deem it necessary in order to bring as wide a variety of customers as they possibly can. However, the first thing you will see upon loading up Honeycomb's website is the phrase "Inspired by the listening bars of Japan". Clearly, they have no intention of watering down the idea, which is great for any audiophile that's looking for a more authentic experience.
The bar's dark lighting really sets the mood, almost giving it the feeling of some sort of vampiric lair.
Honeycomb doesn't offer food, but they have a wide variety of wines, spirits, beer, and sake to enjoy while you take in the music.
THE SETUP: Pioneer All-In-One DJ sound system
6. Studio 151 (Ichi Go Ichi)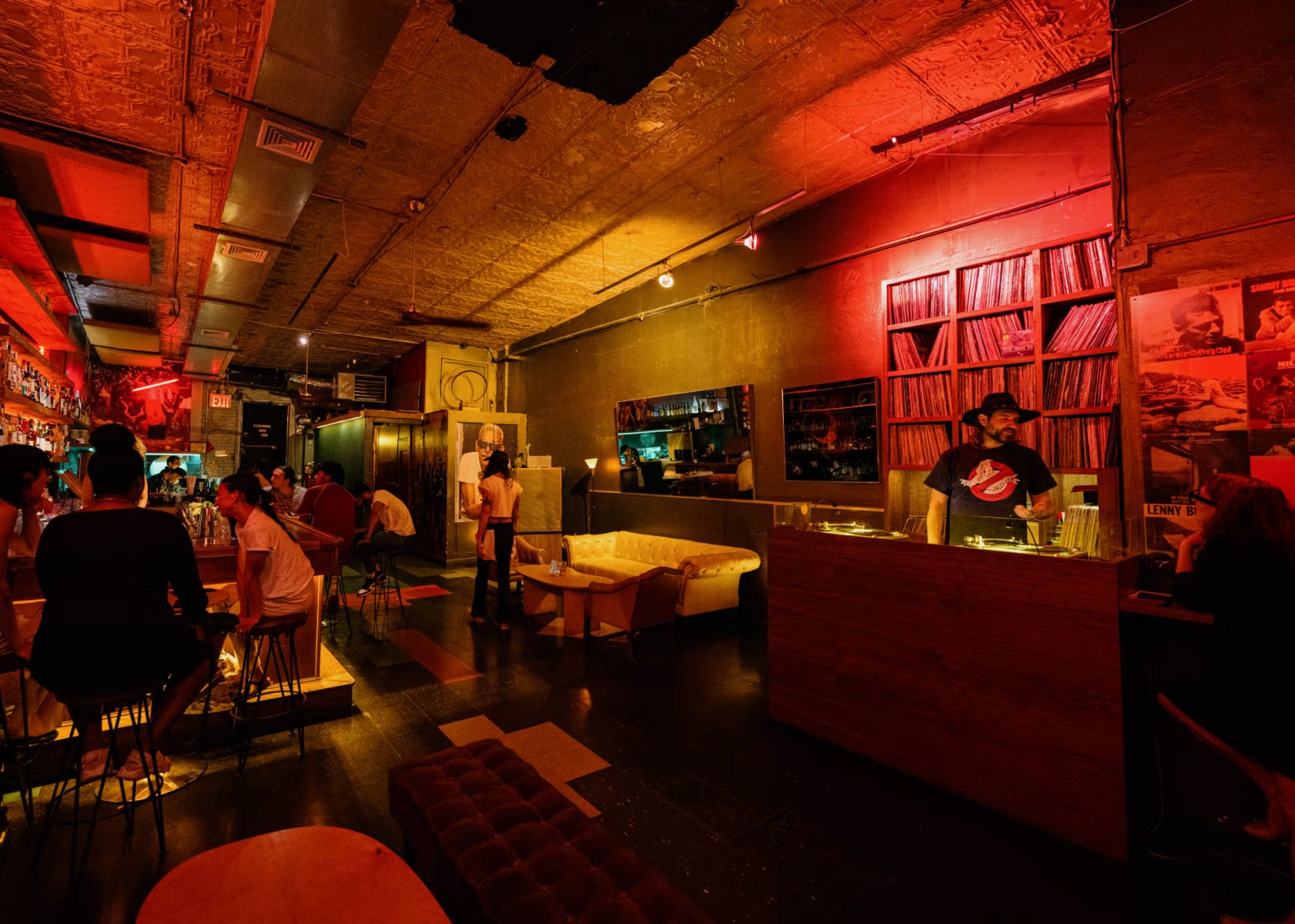 151 Avenue C (Manhattan)
Here, you get an experience that feels exclusive. Among the listening bars on this list, Studio 151 seems to have the most buzz.
Featuring a DJ booth and a wall of vinyl records, the focus is very much on the music. They frequently host DJs, so you can expect a variety of different sounds. They have plenty of food and drink options, as well, but make sure to reserve a spot if you plan on having dinner there.
THE SETUP: MasterSounds Technics turntables & Condesa mixer
7. The Last Call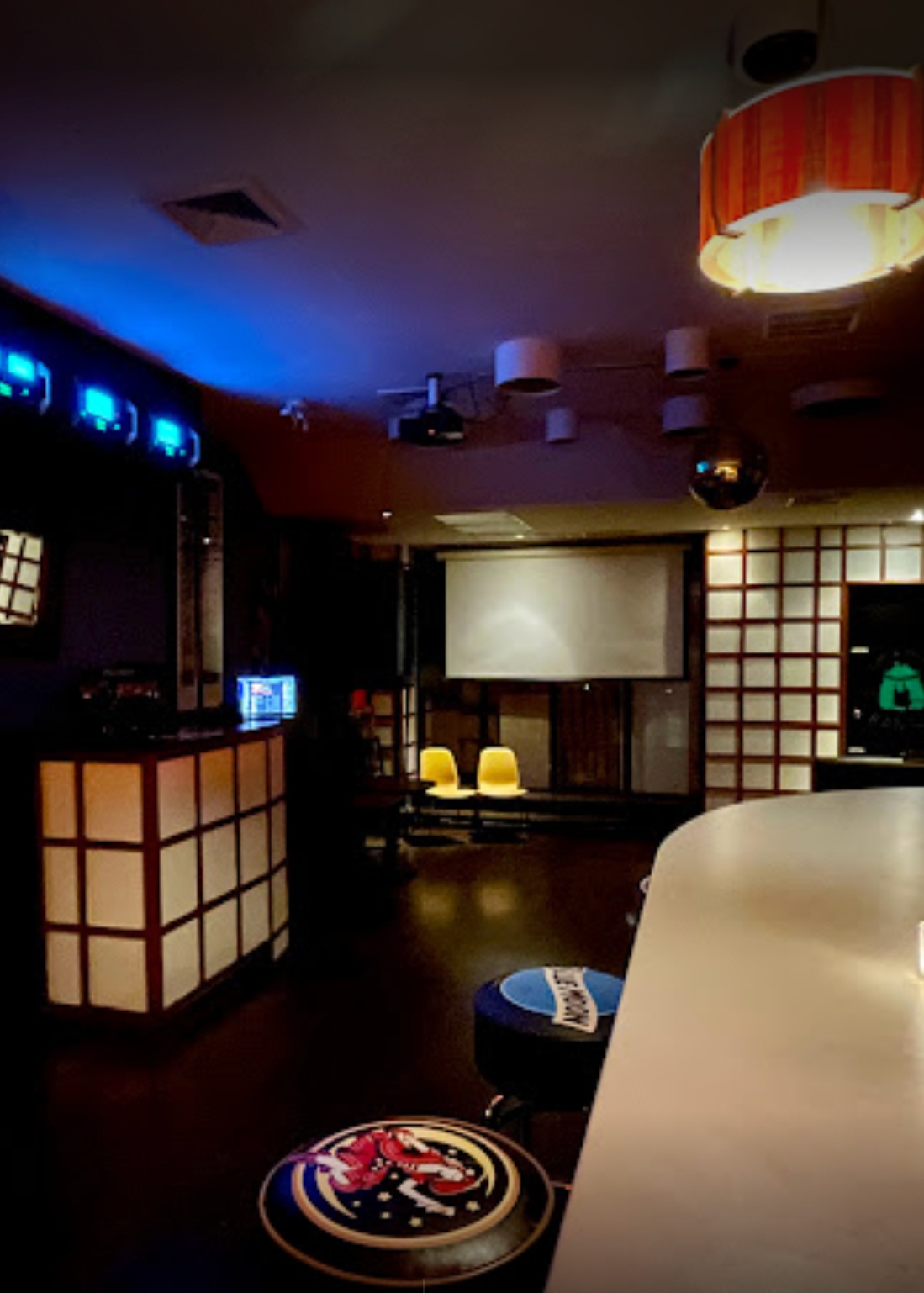 588 Grand St. (Brooklyn)
The Last Call is a more recently opened listening bar in Brooklyn, but they seem to be doing all they can to give patrons an authentic experience.
The sound system is immaculate, with some of the highest quality gear on the market. The decor, which includes shoji screens and old Japanese posters, will transport you into something that, at the very least, feels authentic. Much of it seems to be meant to evoke the style and feeling of the original Tokyo listening bars of the post-World War II era.
In addition to the stellar sound system, The Last Call has a large selection of sake, Japanese tapas, and cocktails.
THE SETUP: Reloop turntables, ARS Model 9100B mixer, & McIntosh amplifiers
8. Bierwax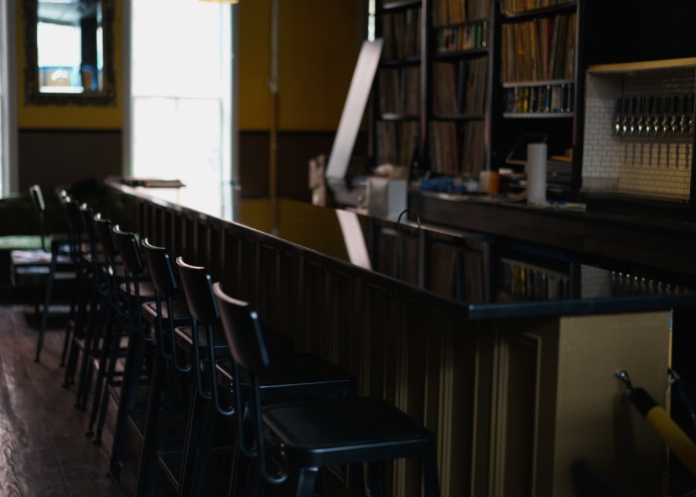 1680 Madison St. (Queens); 556 Vanderbilt Ave. (Brooklyn)
If you're a hip-hop head, look no further. Bierwax offers a listening bar experience with a focus on old hip-hop records and craft beers. The bar has over 5,000 records and an extensive menu of local beers.
The original location is located in Brooklyn, but the owner recently expanded into Queens with a second location. The decor very much feels like any other modern New York bar, but the record collection and the focus on a particular genre of music is what makes it special.
9. Good Bar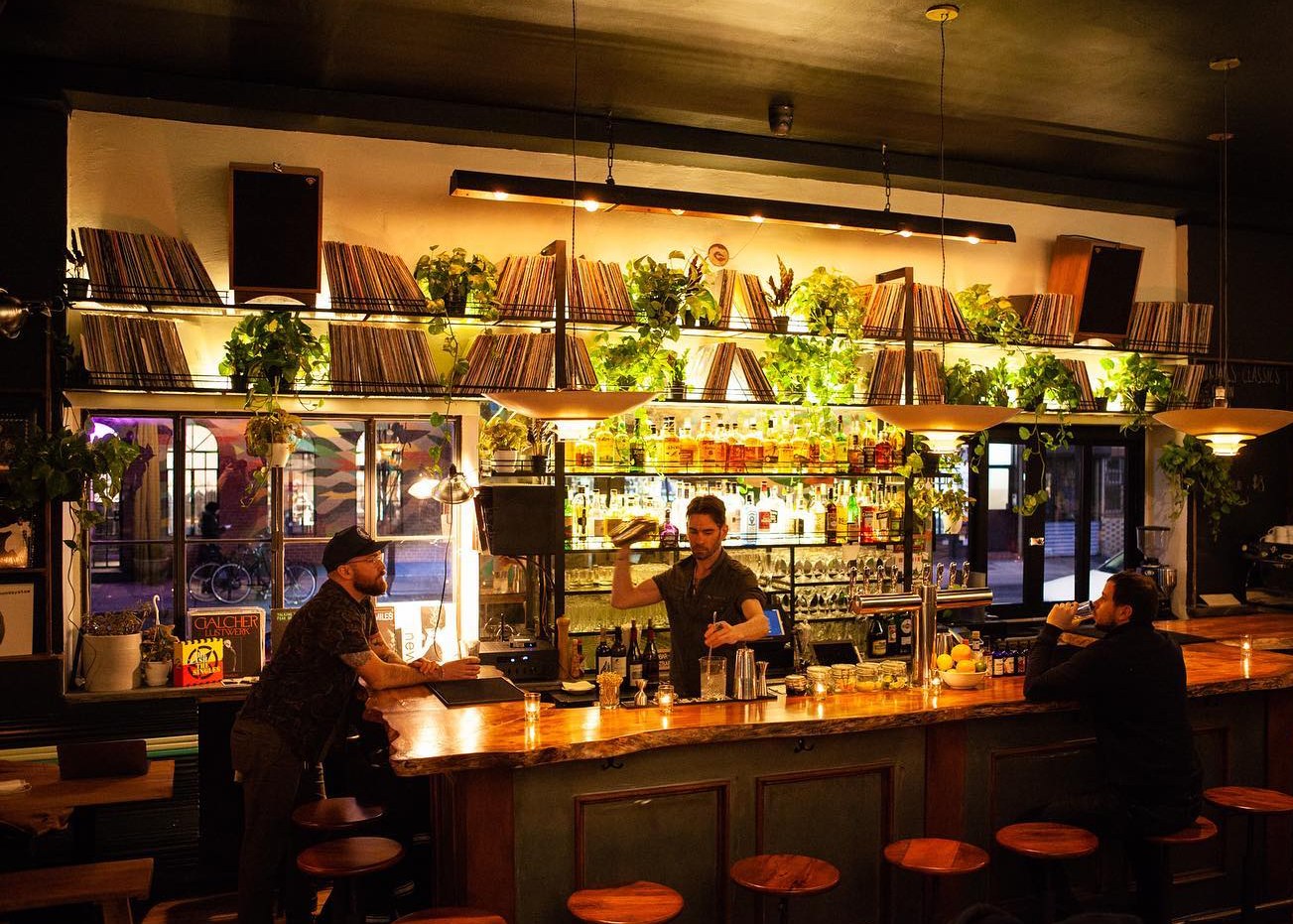 1 Bedford Ave. (Brooklyn)
Good Bar gives you an experience that feels very modern but still very much music focused. So, while it may not necessarily transport you the way that some listening bars try to, it's a great experience.
The bar has all-vinyl listening sessions on Wednesdays, Fridays, Saturdays, and Sundays so there are plenty of chances each week to check out their impressive sound system. The DJs that they host also play all-vinyl sets, the schedule for which can be found via their website.
They offer a wide variety of food (perhaps more so than any other bar on this list), and the wine list is also quite extensive. If you want a listening bar experience that still feels like home, Good Bar is probably the place for you.
If you plan on playing a set at Good Bar, be ready to face the public – the turntables and mixer are in a window that faces outside (with an outside speaker and all).
THE SETUP: Thorens TD 160 turntable, Pioneer mixer, & Klipsch Heresy III speakers
These 9 listening bars are a testament to the fact that there are plenty of people who crave a music-focused hi-fi listening experience when they go out.
If the appetite for vinyl listening spaces continues to spread, it's likely that the options will become even more plentiful, so if you're living or visiting in NYC, watch this space.