10 Best Independent Music Shops In Manchester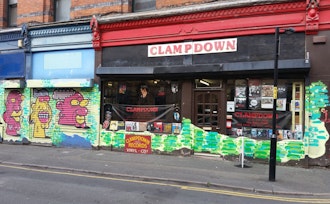 Our guide to the best independent music shops in Manchester. Here's where to buy, service, exchange and get expert advice on instruments, decks, records & more.
Manchester is a city with music in its blood. I don't need to go into the long expansive musical heritage here, but with a plethora of musicians comes a vast array of music stores catering to their every whim and need.
Whether you're a local or touring artist, these Manchester music shops should be on your hit list. Below, find recommendations for bands, instrumentalists, producers and DJs, as well as some record shops for your downtime.
INSTRUMENT/GUITAR SHOPS
From the oldest music shop in Britain to one specialising in hard-to-find folk instruments, below are our favourite instrument and guitar shops in Manchester city.
126 Deansgate, Manchester M3 2GR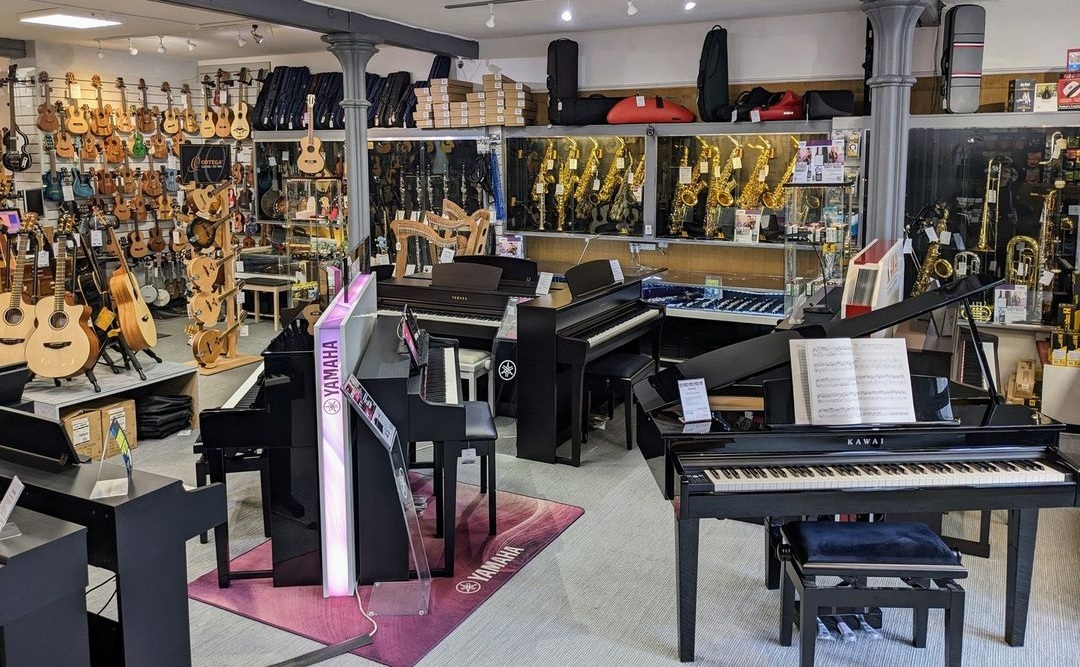 Photo: @forsythmusicshop
Specialises in: pianos, repairs, sheet music
The oldest music shop in Britain, Forsyths music shop in Manchester has been serving local musical talent since 1857. The shop specialises in pianos and musical instrument repairs, as well as an extensive catalogue of sheet music. Everyone, from the youngest piano player to the session musician, has visited Forsyths for their expertise and long-standing reputation. They also hold events where you can meet like-minded artists at their city centre location.
123 Oxford Rd, All Saints, Manchester M1 7DU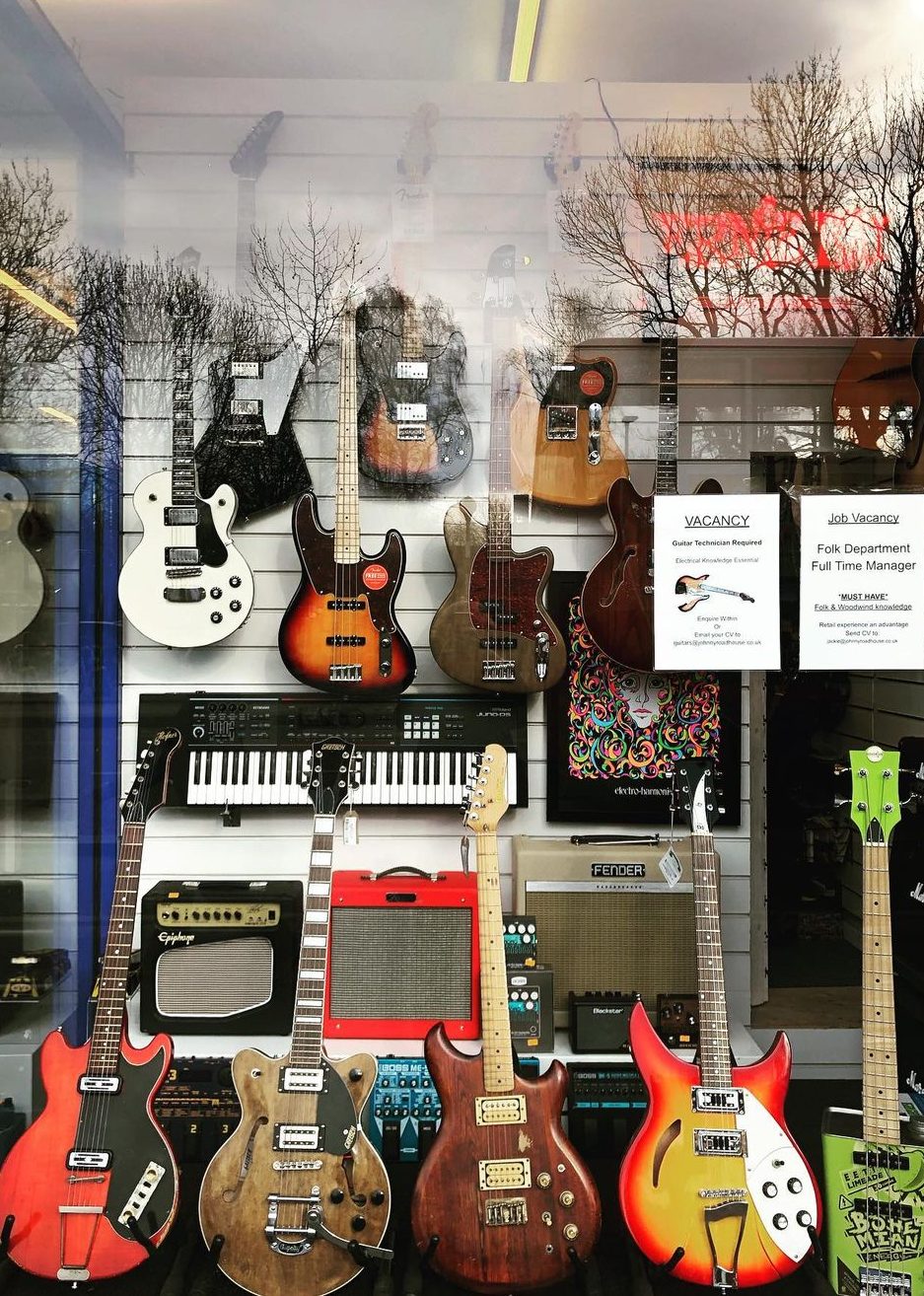 Photo: @johnnyroadhousemusic
Specialises in: folk, rock, advice, repairs / acoustic, rare instruments
Two of Manchester's best music shops operate from the same building – two birds, one stone.
Opened in 1955 and specialising in rock and folk, Johnny Roadhouse is an iconic music shop helping Manchester's acoustic musicians with advice, insight, repairs and sales.
Located in the same space as Johnny Roadhouse, Hobgoblin is a music shop with a focus on acoustic and hard-to-find instruments. If you must have that Appalachian Dulcimer from the 1970s, they've probably got one at Hobgoblin. If not, you can always ask their friendly experts to help.
58 Oldham St, Manchester M4 1LE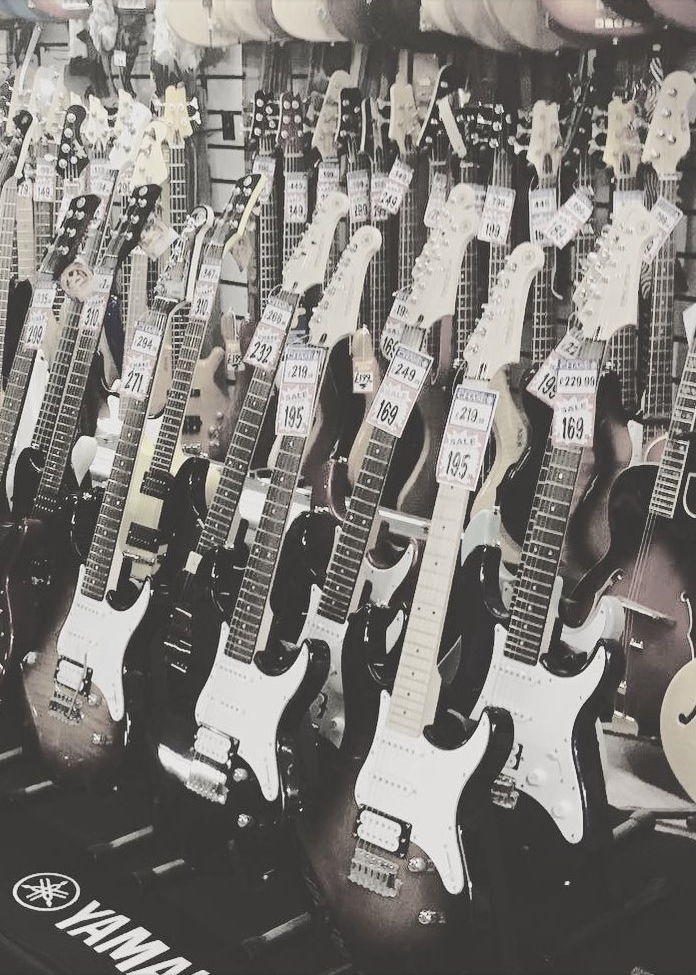 Photo: @chasedirect
Specialises in: affordable instruments, servicing and repairs
On a budget? Chase Direct on Oldham Street has you sorted. They specialise in a huge range of discount electric and acoustic guitars. They also offer services and repairs in the Northern Quarter. Whilst you're there, check out NQ's many eclectic record stores (see below). A grand day out.
DJ/PRODUCTION SHOPS
Manchester isn't short of DJ and production shops. Below are some of the best we've found, plus a new business specialising in production work.
11 Stevenson Square, Manchester M1 1DB
Photo: @djrepairshop
Specialises in: DJ equipment repairs, DJ servicing and DJ and production courses
The DJ Repair Shop does what it says on the tin – specialises in fixing DJ equipment. So if your kit is getting a bit tired or you've been needing to fix that knob for ages, they're there to do it. Plus, they offer DJ and production courses from their Northern Quarter base.
72 Yorkshire St, Manchester, Salford M3 5EG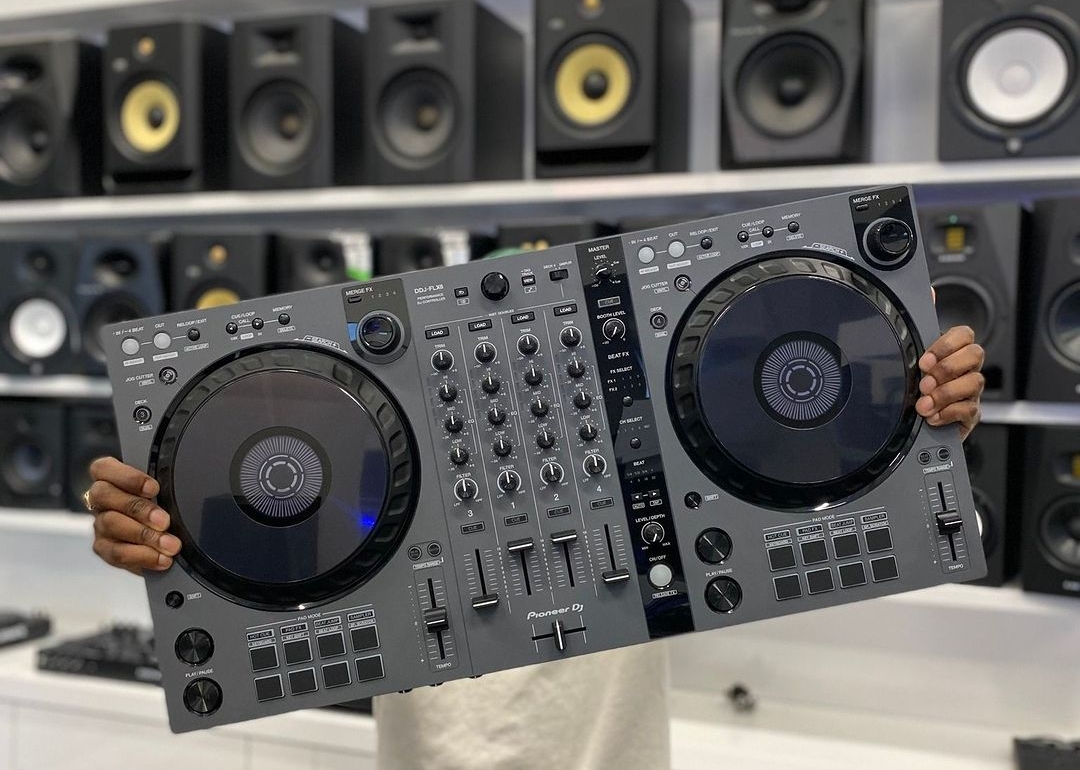 Photo: @dbopdj
Specialises in: new DJ equipment, try-before-you-buy, advice
If you're looking to splash the cash on the shiniest new toy, Bop DJ stocks a wide range of new and cutting edge DJ equipment in the slickest DJ equipment shop in Salford. This is the place for your investment purchases. Their try-before-you-buy policy helps you make exactly the right decision before opening your wallet.
Tie in a trip to Bop DJ with a visit to Pirate's Manchester DJ studios next time you're in the Salford area.
Manchester-ran, web-based
Photo: bytheproducer.com
Specialises in: production, STEMs, sample packs, selling
Need to pick up some new sample packs and STEMs? By The Producer is a manchester-born service offering just that and more from their online library. Founded in 2019, the selection is limited but it's always good to support grassroots MCR business. Plus, you can upload your own STEMs and sample packs to make some extra cash.
Vinyl Record Shops
Throw a stone and you'll hit a record shop every 500ft in the Northern Quarter, but here are some of our favourites.
9-11 Paton St, Manchester M1 2BA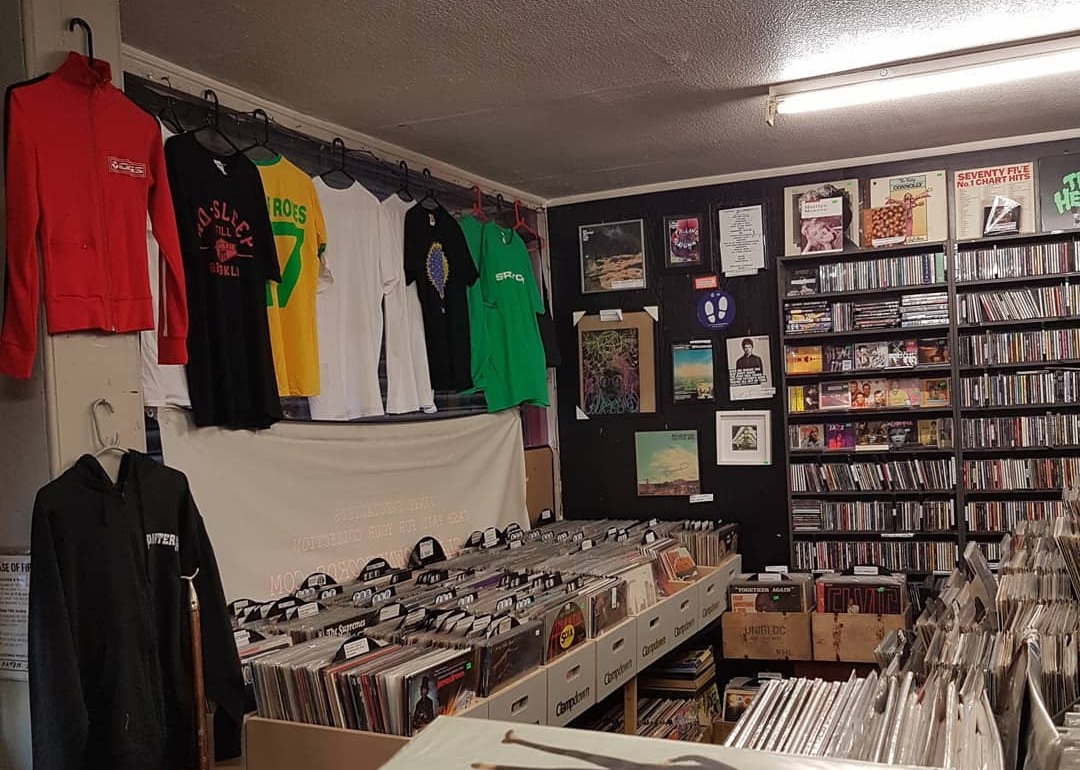 Photo: @clampdownrecordsmanchester
Specialises in: second hand, vintage, jazz, white labels, rock, indie, pop
Specialising in vintage and second hand music (and DVDs), you'll be sure to get lost crate digging for obscure white labels, deep cuts from long ago pop stars or how about some Ethiopian Jazz from the 80s? A must-visit Manchester record shop.
5a Stevenson Square, Manchester M1 1DN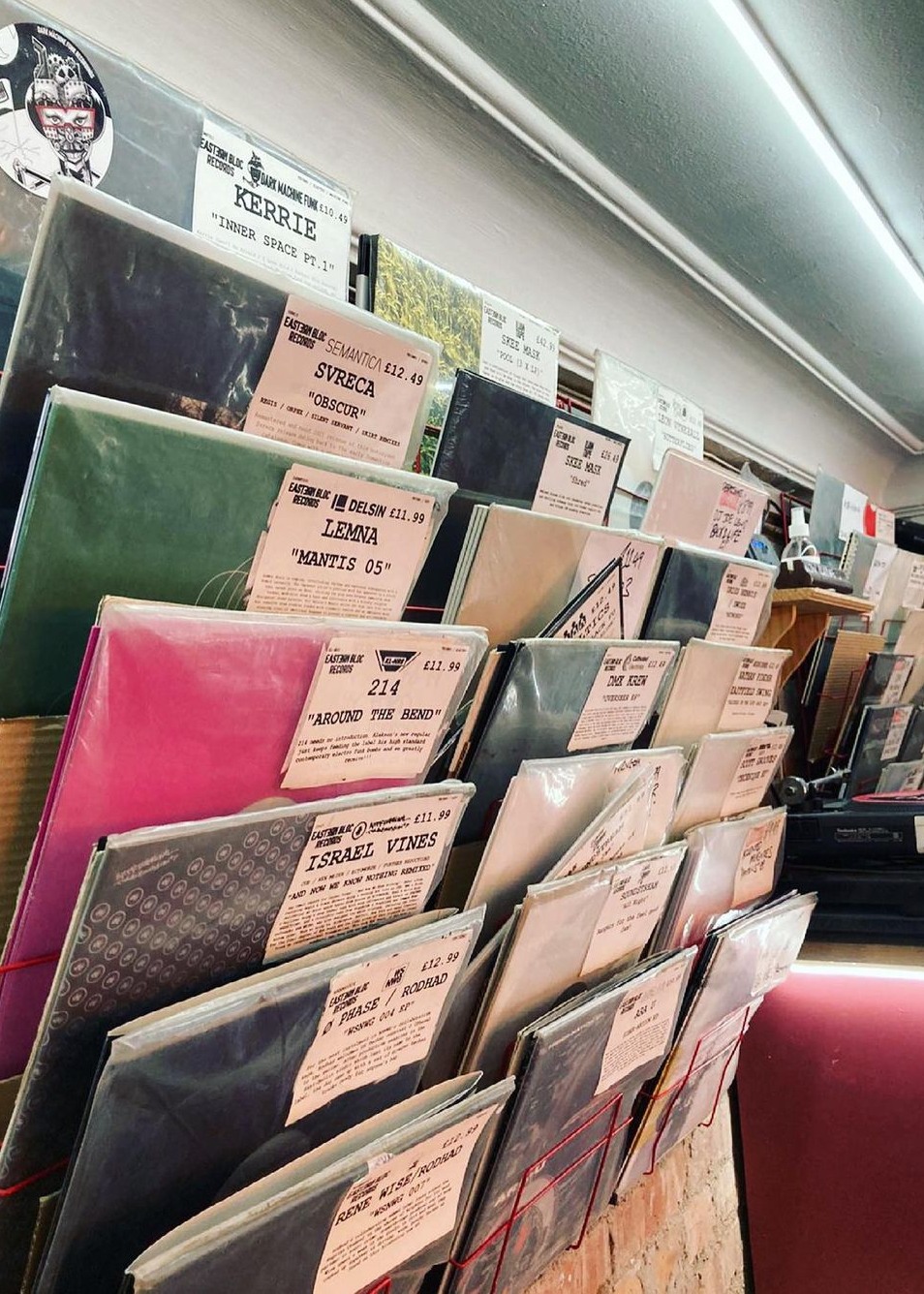 Photo: @easternbloc_
Specialises in: drum and bass, techno, hardcore, jungle, dubstep, UK electronic, electronic
Established in 1985, Eastern Bloc is potentially the record shop in MCR for techno, drum 'n' bass, jungle, dubstep, all of that good stuff. Their website have their picks of each genre – and their staff are unbelievably knowledgeable on all things electronic. Your next mix is going to be fire.
3 Oldham St, Manchester M1 1JR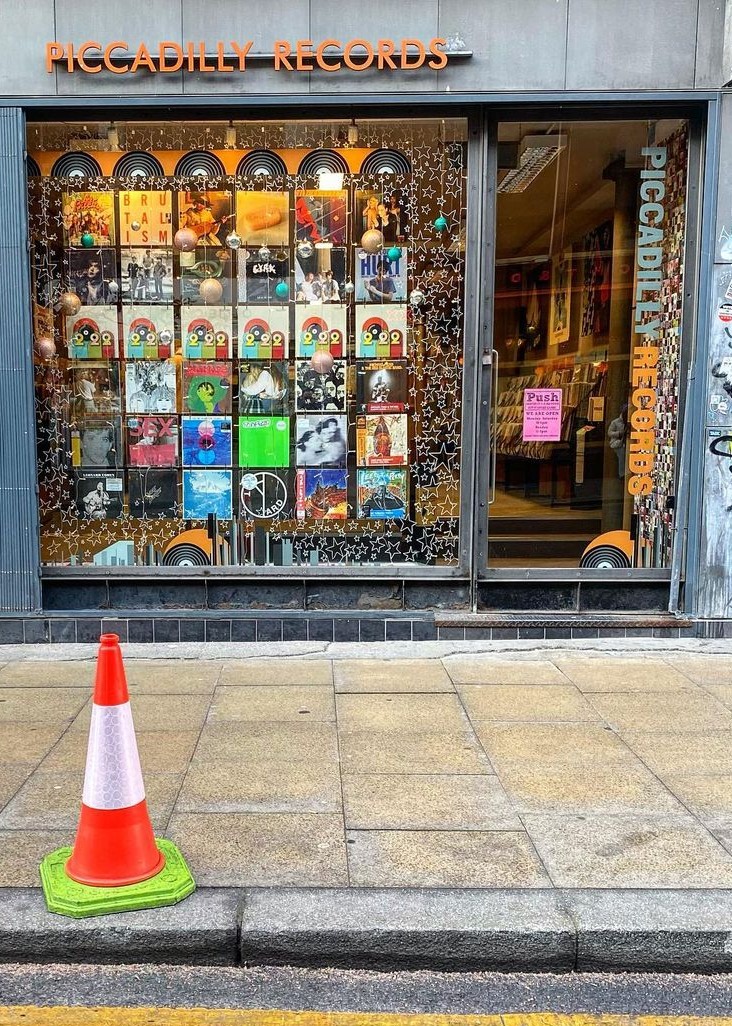 Photo: @piccadillyrecords
Specialises in: collection, punk, techno, wide variety, iconic
No mention of Piccadilly Records on lists of best stores in Manchester would be criminal. The iconic independent record shop has been serving a wide breadth of genres from punks to techno-heads for decades since 1978. It's record collection is hard to match, with everything and anything you could want from a Manchester record store. Pick up some merch whilst you're there too to let everyone know.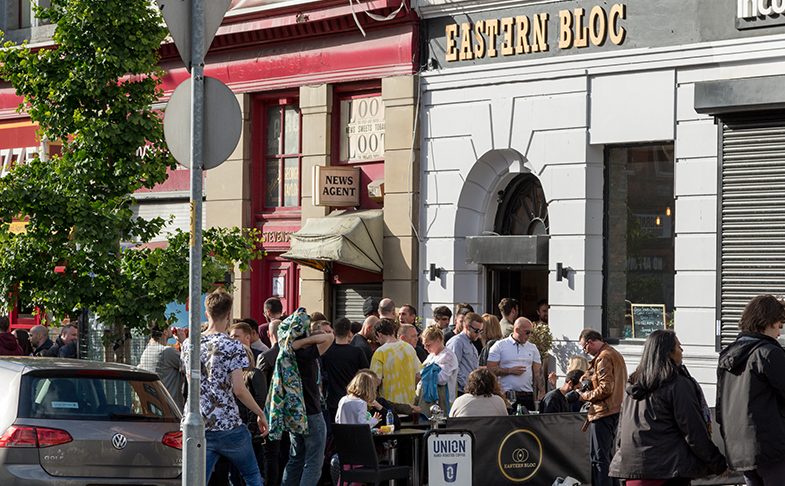 Whether you're looking for a vinyl exchange, new acoustic guitar, Forsyths specifically or a range of instrument repair shops in Manchester, the city is bursting with specialist, independent places to play, fix, read and listen to your heart's content. Not bad from the music capital of the North.
Ready to test your new electric guitar, bass drum pedals, sample pack or synthesiser? Head to Pirate's Manchester rehearsal studios in Salford or Cheetham. DJ studios and recording studios are available in the same buildings, bookable by the hour.