How To Release Music - A Step-By-Step Plan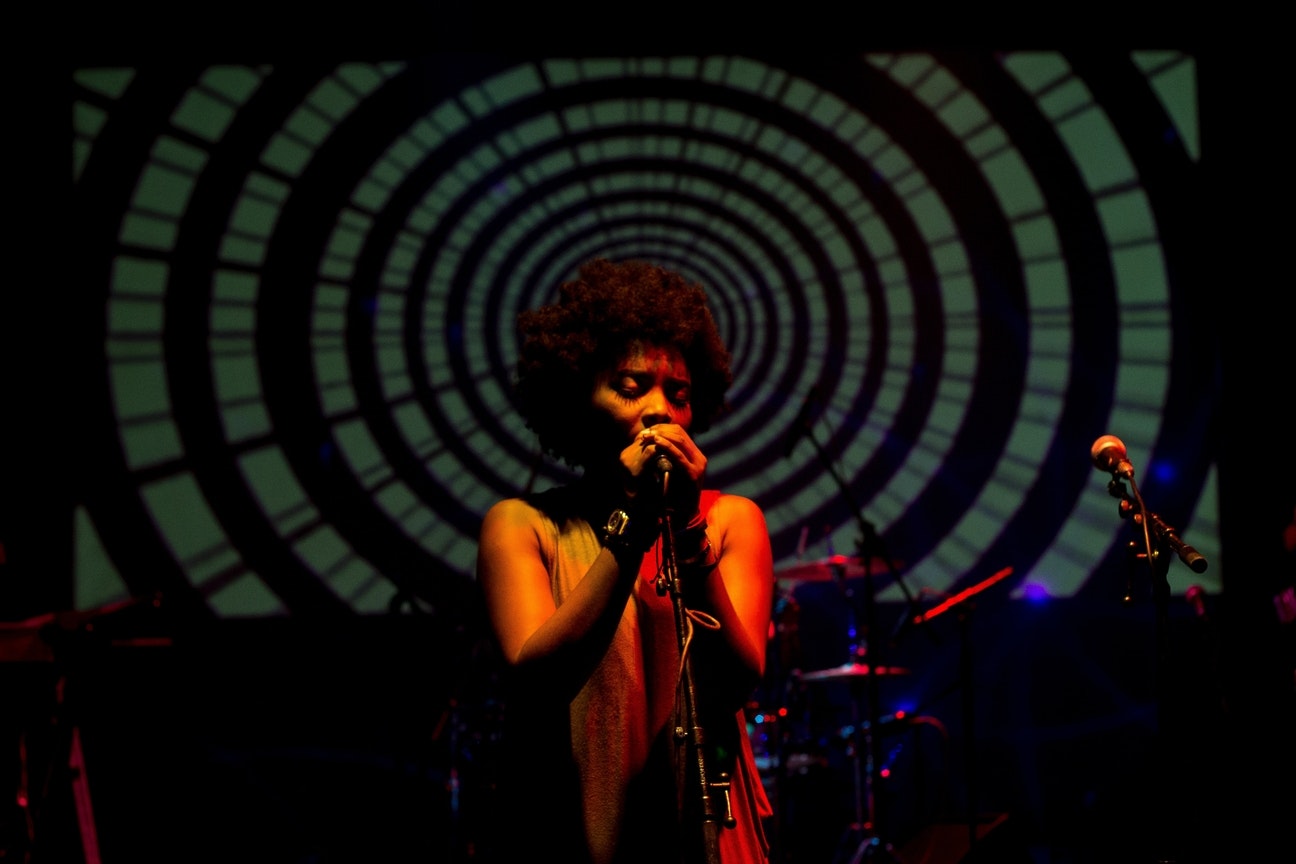 If self-releasing your music is something you're thinking about doing for the first time, or if you're looking to improve on your music release strategy, try our release day checklist.
Self-releasing music is becoming increasingly common, especially for new artists in the early days of their career. The ease with which you can get your tunes out there makes it a no-brainer for artists who don't want to relinquish creative control to a label.
In the article below, we break down the items you need to have in place to successfully launch a new song or album. It is by no means an exhaustive list, but should provide a watertight checklist for you to work through, making sure you don't miss anything.
Questions to get you started
How much does it cost to release and promote a song?
Technically you can release and promote a song for free, and all it will cost is your time. But for almost everyone releasing music, there are some costs for things that you can't do yourself, such as music mastering (£20-£50), graphic design work (£20-£100) and a bit of budget to promote music on social media (£50-£250).
Whilst there's no ceiling to how much you can spend on promoting your music, you'll find that shelling out a fortune on the release won't guarantee that you'll achieve the results you're dreaming of. Be realistic – spend the right amount for your level and gradually invest more as you gain a following.
Can you release a song for free?
You can release a song for free, or for a very minimal cost anyway. But putting a bit of spend behind it will help with exposure and reaching the right audience.
Should you release a single or an album?
You should release singles first, then EPs, then the album.
Albums are a pretty serious and complete artistic statement, so you need to build up to these and generate interest through releasing singles first.
Also, as painful as it is to admit, sometimes we only really like one or two tracks on an album (unless you're an uber fan of the artist). These are often the singles – picked precisely because they are generally the best tracks.
It's also important to 'cascade' your singles as per the infographic below to ensure people are more likely to hear the next track given the way streaming automatically queues music. Accumulating plays over time like this will definitely add to the payouts you receive, which you can read more about in our guide to streaming royalties.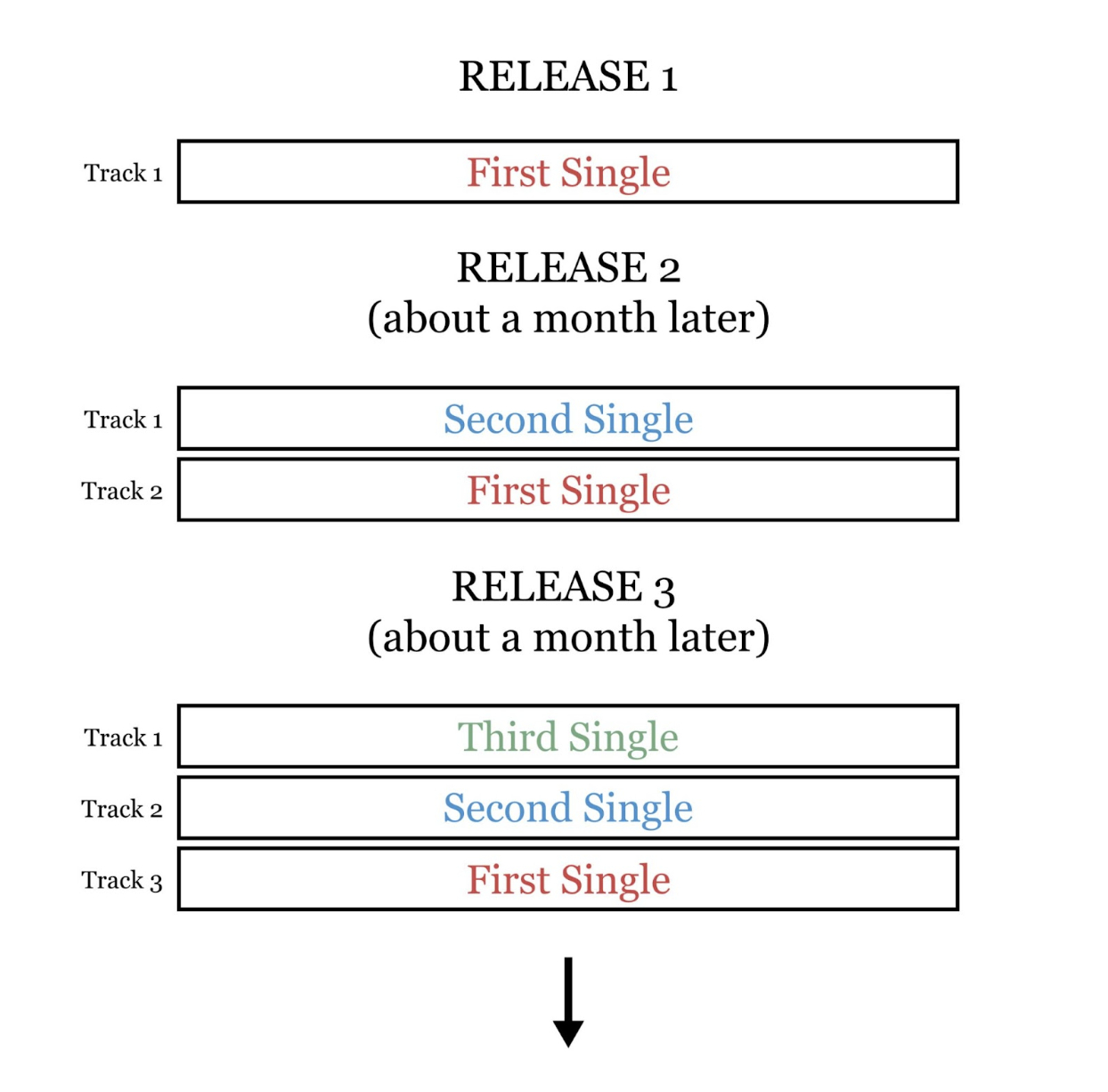 Do you need a record label or music publisher to release a song?
No. As discussed in the introduction, self-releasing is becoming increasingly common for artists early on in their career. It just takes a bit of work yourself.
How to release music on all platforms?
Using a music distributor is the best way to release music across all platforms. If you don't have a music distributor yet, you can choose one from our music distribution guide.
Your distributor should take care of getting your music onto the main streaming platforms like Spotify and Apple Music. There are a few channels you'll need to cover yourself though, like Soundcloud, Bandcamp and Youtube.
How long in advance do you need to start promoting your new song before release?
For singles, sometimes artists with a bit of a profile like to do a surprise drop and release the track without any prior promo.
But generally, you'll want to be teasing and promoting a track for 4–6 weeks ahead of its release – line up some good content and build some hype around the track for when it's out. Any longer and you may lose momentum and interest.
Which is the best day to release a new song?
It's a standard music industry thing to release music on a Friday. This is because billboard chart sales are registered week to week from this day.
Whist you may not be aiming for a no.1, it's advised to stick to this day anyway for two reasons:
The industry is oriented around this as a release day – digital distros will get tracks out to DSPs (Spotify, Apple Music etc.) and other digital stores, pitched for playlist inclusion.

People are looking out for new music on this day – if they've earmarked your new release, they'll want to listen to it.
How often should you release new music?
Generally, it's not a good idea to leave too long between releases as you can get regarded as less 'current'. Similarly, you don't want to be bombarding people with new material every couple of weeks.
Be strategic and space things out appropriately. You don't want to be releasing singles without a month or two's distance between them and you don't want to be releasing albums closer than 12–18 months apart. Give people time to get to know your tracks and keep them wanting more.
What works in 2023?
Attention spans are rapidly dwindling while the pool of talented artists releasing great music grows year-on-year. Moreover, the impact technology and social media has on music is constantly changing.
TikTok has become an incredibly influential channel, capable of turning unknown tracks into hits overnight. Indeed, a lot of labels are now going to great lengths to create viral TikTok 'moments' to boost the popularity of their music (and in turn, their artists). So inevitably, it has become a useful platform for promotional purposes.
But the bottom line remains the same: target channels and tastemakers that suit your release. From press to subreddits to TikTok hashtags, it's important to know your audience.
What doesn't work anymore?
As mentioned before, long release campaigns are worth avoiding as people will lose interest.
Social media channels like Facebook are also going out of fashion. You should focus your social release strategy on Instagram and TikTok to get your music in front of a relevant audience.
What makes a song release successful?
These days success can indeed come overnight – if you tickle the algorithm right, your track could blow up on TikTok or via a Spotify Playlist. Ensure that you upload and promote music on Spotify and TikTok to be in with a chance, although don't ever bank on instant success.
Long-term success comes from growing a dedicated audience who will stay with you throughout your journey as an artist. The most important thing to do is give your track the best chance it can through getting each accompanying component right – strong assets, press outreach and a well planned campaign.
How to release music as an independent artist
The assets you need to prepare
Now let's take a look at what you'll need to have at your disposal before you launch your release campaign.
Set up distribution
If you are self-releasing and don't have an in with an independent distributor willing to take you on, you'll be looking at an Open Distribution Platform/Aggregator (DistroKid/Tunecore etc.). Accounts are easy to set up and come with free/premium plans – Distrokid's 1-artist premium band costs as little as $19USD per month. Also, be sure to set up a Bandcamp account, arguably the most powerful platform for independent artists/producers.
Your finished track(s)
You need the mastered files in uncompressed form (wavs/aiffs), submitted to your distributor with a chosen release date, as well as prepared as a draft in Bandcamp.
Document the creative journey and story behind the single
Why would you want to do this?
Because having a great track is no use if there's no story to tell, one which gets people interested in listening to it when it comes out. This will help you build up a bank of content to share in the run-up to and post-release.
Official video
If you had the budget to make one of these, do. Most social platforms favour video, making it much more likely for your track to get exposure and even potentially go viral if you have visuals.
You'll want to try and land a premiere with a publication that has some reach for this. Also as mentioned above, you'll need to do a little edit (30–45 seconds max) to use on socials, being sure to choose the most visually striking bit.
Design cover art
Having great cover art is definitely something which helps generate interest in the release. This should already be on file as a hi-res image.
Photos
Make sure you have some sharp-looking press photos done from all your best angles – it's good to give these a refresh too if it's been a while, so consider whether you need some new ones. We've got a guide on how to take band photos for press shots if you get stuck.
You'll also want some exciting live shots to share, as well as moody studio shots depicting the artist at work – consider both your home studio vs professional studio to show some contrast. The more to choose from the better, so gather them all in one place and pick out the best ones.
Press release
Crafting a sick press release is 100% necessary in order to get picked up on by publications as a newcomer. So set aside a bit of time to nail this well ahead of your announcement.
There are plenty of articles on putting together a strong press release out there, so I would recommend doing some research to make sure you haven't missed anything. Most importantly, this is where the narrative of your track originates, along with a bio about you and anything else relevant to the release like a tour, collaborators, release info and so on.
Updated EPK
An EPK (Electronic Press Kit) is kind of like an artists' resume. It should contain all info relevant for an industry professional who wants to find out more about you, so this is why it's crucial this exists in an organised, visually appealing way.
If you aren't familiar with what an EPK is, consider looking a little more into how to make an EPK for musicians, nailing one can be a really useful industry tool.
List of contacts to reach out to
You'll want to be mailing out your press release to as many potentially interested targets as possible. So draw up a list of every relevant publication you want to hit up and try to find the contact details for someone who works there.
When you're searching for music media contacts, look for the news writer/reviewer at a publication rather than the chief editor (who is more likely to simply ignore an unsolicited email). Moreover, lots of freelance writers work for multiple publications, so you'll want to pitch to them independently too.
Always mail out your press release ahead of the announcement with an embargo on it, following up a couple of times if necessary.
Social Media assets
Prepare what you're going to post on social media before, during and after your release ahead of time. Here are some popular examples of promotional material:
Release artwork
Artist press pics
Music video snippets
Be sure to have these in both square (Instagram main feed/Twitter/Facebook) and 9:16 aspect ratio (for Instagram reels and TikTok). Additional assets worth considering if applicable include accompanying tour poster, merch photos and pictures of collaborators you want to shout out.
Pre-release (2 weeks before launch)
1. Register your track(s) with PPL/Publisher and upload to your distributor/soundcloud/Bandcamp
Make sure to note down your ISRC code – this is what's used to track plays of a digital audio file and collect royalties from radio plays. For more on what music publishing is and picking a one vs self-publishing check out our guide to music publishing.
2. Gather all relevant photo/image/video content, update your EPK and plan a socials campaign
Write yourself a little timeline from announcement to release day, pairing good imagery/videos with relevant copy. You'll want to be dropping content every week from when you announce, leaving a couple gaps to be sharing any press you land.
3. Write up your press release & contacts to hit and email this out a few days before the announcement.
As mentioned, it's crucial to target as many relevant publications as you can, as well as to follow up regularly. These editors receive hundreds of emails a day so could easily miss something.
4. Post announcement
Make all your drafts lift and get the word out on socials. Be sure to look out for any reactions and document these, sharing the best ones.
Also, you'll be able to begin pitching your track for playlist inclusion a few weeks ahead of release. Apparently a good way of getting playlisters' attention is to do a pre-save campaign, so be sure to share out this link and get all your mates to add it to their Spotify presaves.
Release day
1. Share, share, share.
This is certainly the most important day to share with every channel you're on! Also be sure to upload your music video to Youtube, get your website updated and launch any paid ad campaigns you have planned.
Message your Bandcamp followers (if any) – they should already get a notification but a personal message won't hurt - go out with it later in the day!
Also, you'll want to make it as easy as possible for people to listen to/buy your new music, so be sure to add a multi-link in your bio.
2. Say your thanks
Tag people who have contributed/worked on your release in some way – be that the graphic designer, mastering engineer or friends who gave you mixdown advice. Their network is probably interested in their work too…
3. Celebrate!
Your release is out there now and will have a life of its own. Crack a frosty one and kick back.
Post-release
1. Keep sharing
People may have missed it the first time round, so keep shouting about it on socials. Especially any reviews or reactions to your track being out there are good endorsements that might encourage more people to listen.
2. Tease what might be coming up next
You'll be starting to build a fan base. Always keep them wanting more!
3. Learn and grow
Feedback is a huge part of releasing music, you can use the feedback you get to make your next release even better. So take note of the comments – the positives and the negatives.
Other promotion strategies
Organise a release party
This doesn't have to cost anything – you could simply find a pub with a function room and minimum bar spend, get a load of your mates down and do a little performance, get a couple of local DJs to play afterwards. People will then forever associate your track with that (hopefully) great night they had.
Go On Tour
Having new music out is always a great excuse to get some gigs in the diary – it's a bit of a two way street, promoting new music and getting to play comes hand in hand with building an artists' profile.
Merchandise
It's no secret that merch items are high margin. In fact, it's an increasingly important revenue stream for artists – independent or otherwise. If you have a sexy looking t-shirt up for grabs, people are going to buy it.
Tools to help you release new music successfully
Photopea: Given that a lot of what you'll need to be preparing is visual assets, this is a great free Photoshop alternative that will allow you to adapt images in various formats.
Davinci Resolve: Need to edit down your music videos/overlay music on images? Blackmagic's free industry-grade video editing software has you covered - its very instinctive to use.
Audacity: the ultimate free and open-source digital audio you can use to quickly create previews of your tracks/snippets for assets.
With releasing music, there's a lot you have to bear in mind if you want to grow your audience. Above all, it requires quite a lot of thought and organisation, so it's important to give yourself enough time to get everything in place and actually enjoy the process – ultimately, spending a lot of time and effort creating music has a greater pay-off the more people you can share it with.