Most Sampled Songs Per Decade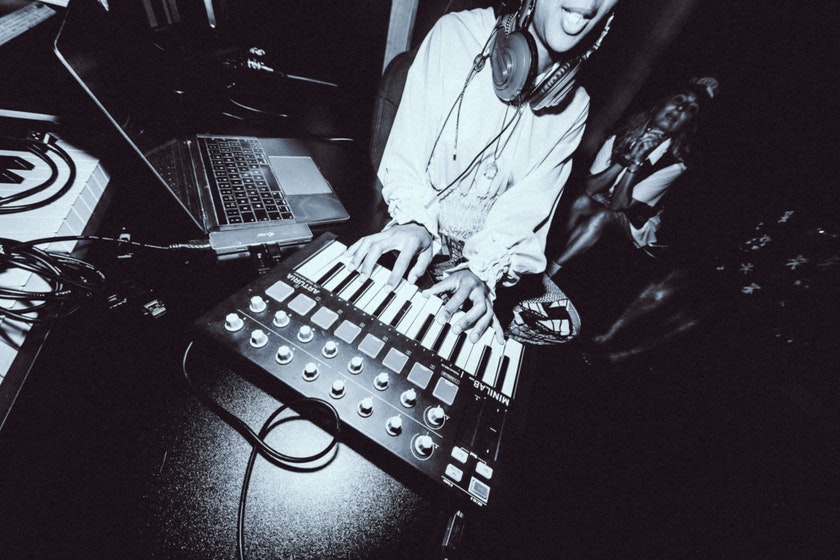 In our latest research, find out the most sampled songs per decade since the 60s, including some of the best and most famous samples in music.
Sampling is a way to create new sounds and play around with music. If there's a beat you enjoy or a lyric you love, you can add it to your own music by using it as a sample.
Thousands of samples are used in popular music to pay homage to iconic tunes, merge or expand genres, or continue a conversation that the original songs began. Samples are also the perfect material for DJs to chop and blend into their sets to create unique sounds and experiences.
You might know these hit songs which use samples:
M.I.A - "Paper Planes" (samples The Clash - "Straight to Hell")
The Notorious B.I.G. - "Mo Money Mo Problems" (samples Diana Ross - "I'm Coming Out")
Madonna - "Hung Up" (samples ABBA - "Gimme Gimme Gimme")
Sampling originates from the 1940s as "musique concrète". It wasn't until later in the century as music production studios improved that the practice became common in popular music. It's use has changed with the ways we listen to music. It started with tape recordings, moved through vinyl and CD, and it's now typically done with digital recordings. This technology has made it easier than ever to access music for sampling.
This ease of access doesn't mean that there aren't legal implications to sampling, though. Since you're using somebody else's work, it's important to follow the correct copyright process. This will depend on the purpose of the new track, as well as the way the sample is used within it.
To explore the history of samples and trends in sound, we looked back at the most famous sampled songs from the 60s to the edge of the millennium.
Soul, funk and hip-hop dominate the decades
This chart shows the most popular samples from the 60s to the 90s: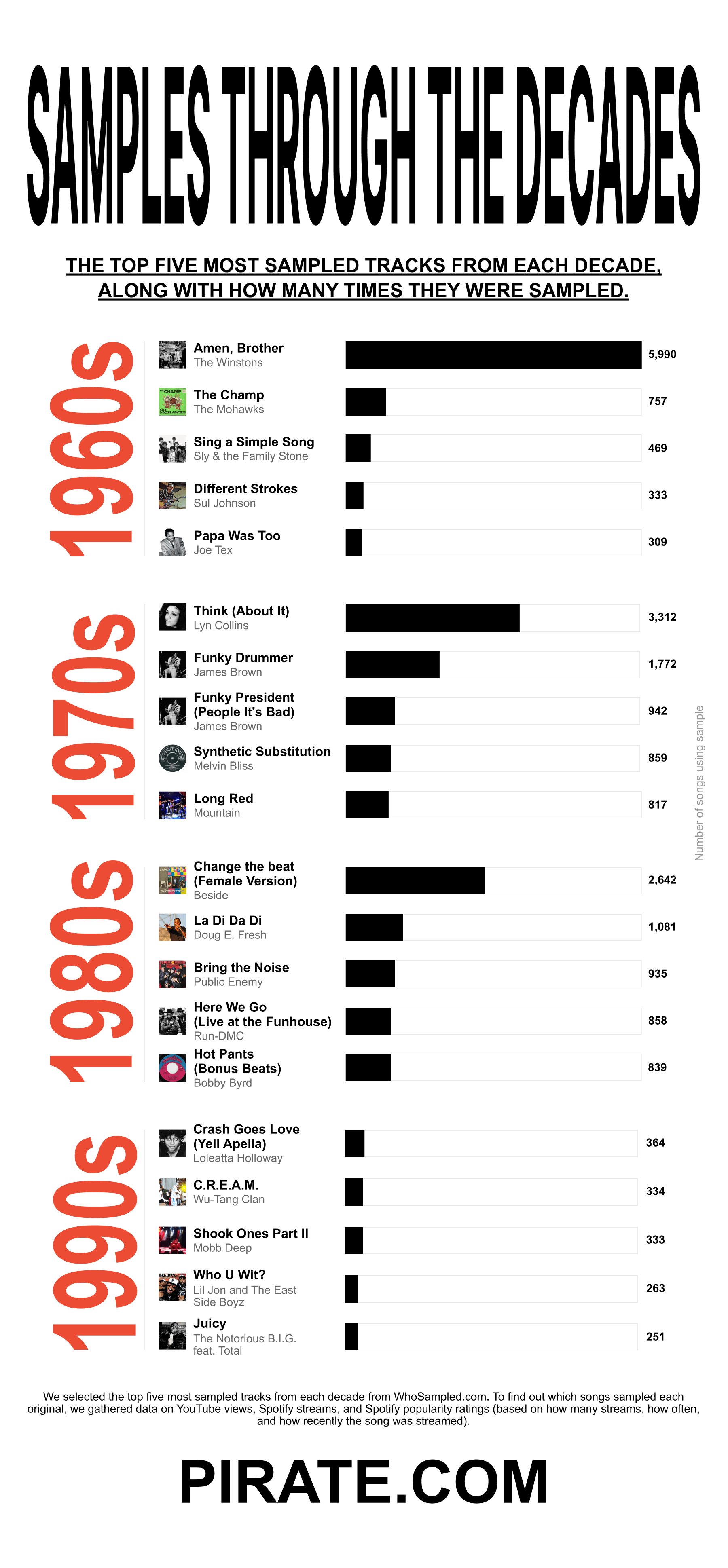 Infographic: Through the decades - The top five most sampled tracks from of the 20th century, along with how many times they were sampled.
There are clear trends in the genres that are most commonly sampled from each decade. The most popular songs to sample from the 60s are all soul, with the top sampled song being "Amen, Brother" by The Winstons. This track was originally a B-side that got little attention compared to the single the group released simultaneously. It's now used in over 5,000 other known songs.
The most sampled song from the 70s is Lyn Collins' "Think (About It)", which highlights the journey from soul to funk in that decade. This track was written and produced by James Brown, a key artist in the creation of funk from soul and R&B.
Soul, R&B, and funk in turn influenced hip-hop. The 80s and 90s see hip-hop dominate the samples, with tracks by Beside and Fab 5 Freddy, Doug E. Fresh, and Run-DMC flooding the scene. R&B and soul songs also continue to be popularly used throughout the years.
It's not only whole pieces of the tracks that are reused. It could be a particular beat, such as The Winstons' drum break, or a spoken phrase, like Beside and Fab 5 Freddy's outburst "ah, this stuff is really fresh".
There was only one rock song at the top for any of these decades, which was Mountain's "Long Red". This could reflect the importance of heritage to the more popular genres, as R&B, soul, funk, and hip-hop are so intertwined and historically relevant to each other. Or, they could just be great tunes.
What Are The Most Famous And Successful Music Samples Used In Songs? Hip-hop succeeds with sampling
Do great samples make an automatic hit?
We've checked the data to find out which samples brought the most success to the songs they were used in.
These are the top sampled songs since the 60s, based on the other songs that have sampled them:

Infographic: Most successful samples since the 1960s, according to other songs that sampled them.
The Spotify Popularity Index is a feature created by the app itself, to show how popular each artist is compared to others. The rating is on a scale from 0 - 100.
Some of the samples that have received the highest ratings have been used in a variety of genres. Our most successful sampled song, Slick Rick and Doug E. Fresh's "La Di Da Di", has been sampled by the Notorious B.I.G., Miley Cyrus, Vengaboys, Beyoncé, and André 3000.
Meanwhile, third place is "Hot Pants (Bonus Beats)" by Bobby Byrd, which has been sampled by the Spice Girls, Twenty One Pilots, Madonna, Black Box, and the Stone Roses to much success.
Hip-hop samples of course remain popular within their own genre as it continues to evolve: Lil Jon & The East Side Boyz's "Who U Wit?" has been used in hits by Lil Uzi Vert, Drake, Wiz Khalifa, 2 Chainz, G-EAZY and more.
The diversity of the artists that create hits using samples shows how many different ways samples can be used. Some act as an inspiration or set the mood while others provide a beat to riff from or even to shape into a new sound altogether through music production techniques.
Overall, hip-hop rides the wave of success at the top of the sample charts, with funk getting plenty of replays too. Whether the samples made the remixes hits or not, it's clear that they're a key part of music history.
If you're inspired to make the next hip-hop hit, add some soul into your songs, or simply see what you can create, you can book a room and use our kit to get started.
Methodology
To find out which samples hit the spot over and over again, we first found the top five most sampled tracks from each decade from WhoSampled.com. Only one song from the most sampled list was made after 2000, so we focused on tracks from the 60s to the 90s.
Then, we looked up stats for Spotify streams, Spotify popularity ratings, and YouTube views (official channels only) to find out which ones were most popular. The Spotify popularity ratings are based on the number of streams, frequency of plays, and how recently the song has been streamed.
Data sources: WhoSampled.com, Spotify.com, and YouTube.com.