The Best DJ Softwares On The Market For 2023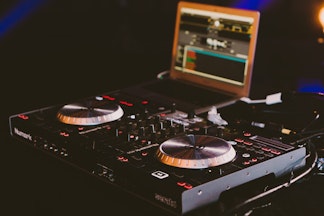 See which is the best DJ software to use in 2023 depending on your needs. With recommendations for beginners, professionals and everyone in between.
A DJ software is going to be the heart and soul of your setup. Whether you're a seasoned veteran or learning how to DJ for the first time, you'll want to pick and download DJ software that has all the tools you need.
Below, we look at a range of DJ software options in granular detail, including features, the platforms they run on, price, specifications and much more.
The History & Evolution Of DJ Software
DJ tech has come a long way since the days of vinyl turntables and records. And while traditional formats persist, you now have the option to operate decks and a DJ mixer online when you download DJing software — particularly useful for beginner DJs and those restricted by budget.
DJ software is a computer program that mimics the functions of classic hardware like turntables, mixers and CDJs. It allows you to load up tracks, beats and loops from your computer and manipulate them in much the same way as you would on traditional hardware.
There are some clear benefits to using this software over conventional methods, the number one being that you can buy it at a fraction of the cost than if you were to learn how to beatmatch on CDJs.
Best DJ Softwares For 2023
There are tons of different software options out there — so many that it can be hard to know where to start.
To help out, we've reviewed some of the top DJ softwares on the market today. Find out which free DJ programs are up to scratch, the best DJ softwares for PC, and discover easy DJ softwares to get you started.
Most popular DJ software: Serato DJ Pro
Best for intermediate DJs with room to grow.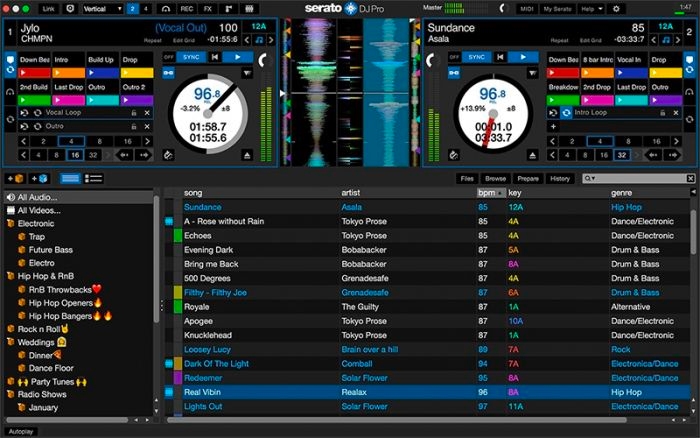 PRICE: £175 / PLATFORM: Win/Mac
One of the best music mixing softwares out there, you won't miss a beat with Serato Pro — their professional version comes with everything out of the box. Plus, we've created a full guide on how to use Serato DJ.
FEATURES
Serato Stems
Stem Pad FX
Serato Flip
Serato DVS
Serato Play
Serato Video
PROS
The complete package at a competitive price.
CONS
Not compatible with all DJ controllers. Be sure to double check!
RECOMMENDED SYSTEM REQUIREMENTS
MAC
OS: 13 Ventura, 12 Monterey, 11 Big Sur
CPU : Intel core i5 or Apple M1/M2
RAM: 8GB
Storage: 15GB SSD
WINDOWS
OS: 11, 10
CPU: 6th Intel core i5 or AMD Ryzen 5 3000 series (AVX required)
RAM: 8GB
Storage: 15GB SSD
Video Memory: Dynamic/shared 512MB
Easy to use DJ software: Serato DJ Lite
Best for beginners looking to up-skill.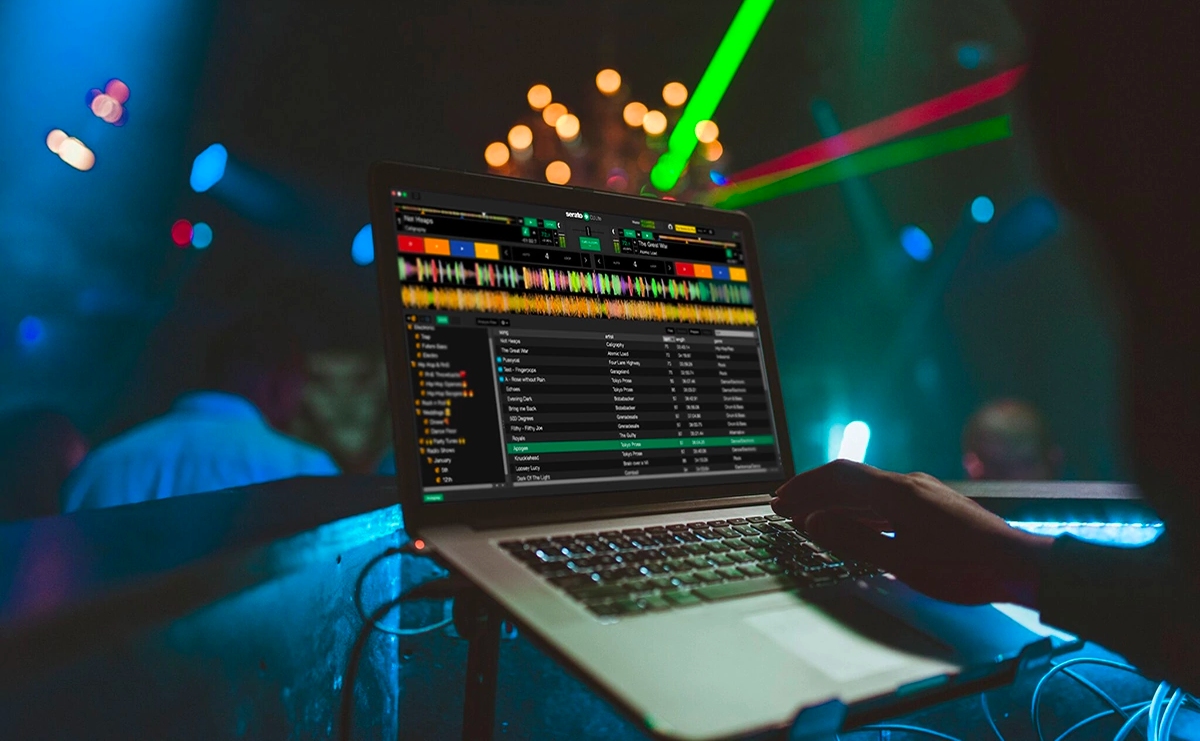 PRICE: Free / PLATFORM: Win/Mac
It's important to budding and professional DJs that their preferred DJ software is easy to use. For beginners, it helps gentle the learning curve, for pros it helps get the job done.
This generous offering for budding DJs is derived from one of the most popular professional DJ packages on the market. There is a clear teleology here, starting at the free version, then upgrading when you're looking to go pro.
FEATURES
Serato Stems
OBS integration
Twitch extension
PROS
Everything you need to start your DJing journey.
CONS
Doesn't come with the pro key analysis software.
RECOMMENDED SYSTEM REQUIREMENTS
MAC
OS: 13 Ventura, 12 Monterey, 11 Big Sur
CPU: Intel core i5 or Apple M1/M2 or higher
RAM: 8GB
Storage: 15GB SSD
WINDOWS
OS: 11, 10
CPU: 6th generation Intel core i5 or AMD Ryzen 5 3000 (AVX Required)
RAM: 8GB
Storage: 15GB SSD
Video Memory: Dynamic/shared 512MB
Best software for mixing music: Ableton Live 11 Suite
Best for DJ/producers.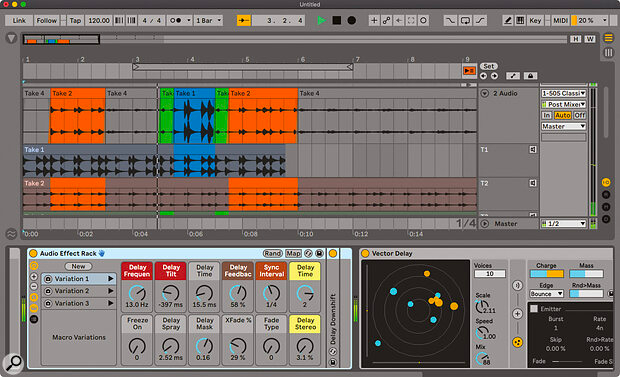 PRICE: £431 / PLATFORM: Win/Mac
Live has long been the de-facto standard for creative music production in a live setting. Now, it's a very mature production suite packed full of synths and devices to satisfy pretty much any DJ or producer's requirements.
Ableton's flagship product is the best DJ mixing software on the market. A half-way house between live music production and beat-matching, Live will help you stand out from the crowd literally and figuratively!
What's great about this suite is that you can approach this from a DJ or producer angle and still find a workflow that's comfortable. It might be overwhelming at first, but if you're looking for the creative edge, consider DJing with Ableton Live.
FEATURES
17 software instruments
5000+ sounds
60 audio effects
16 MIDI effects
PROS
The complete DJ/producer package.
CONS
Possibly too much of an investment for anyone starting out.
RECOMMENDED SYSTEM REQUIREMENTS
MAC
OS: macOS High Sierra 10.13 to Monterey 12
CPU: Intel® Core™ i5 processor or Apple M1
RAM: 8 GB
Storage: 8GB
WINDOWS
OS: Windows 10 (Build 1909 and later)
CPU: Intel® Core™ i5 processor or an AMD multi-core processor.
RAM: 8GB
Storage: 8GB
Best DJ software for beginners: Virtual DJ
Best beginner DJ software for anyone starting out with desktop DJing.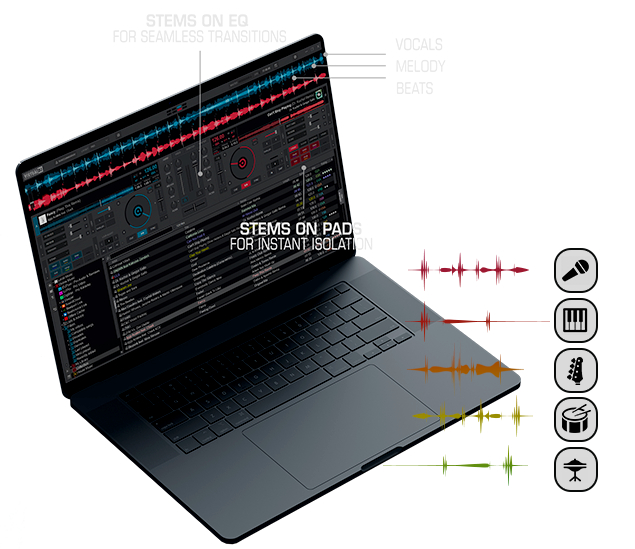 PRICE: Virtual DJ offers a range of pricing options based on your needs / PLATFORM: Win/Mac
An unsurprising choice, Virtual DJ continues to reign as a standard in the professional DJ software industry. Atomix has everything to boast about, including insane download numbers, through to testimonials from some of the world's most admired pros including David Guetta, Fedde Le Grand, and Julian Jordan to say the least.
Boasting over 100,000,000 downloads, Virtual DJ is also a great music mixing software for beginners, not only because of its free tier, but it creates a path for budding DJs to naturally up-skill to their pro products. Download the app for free from the website, check out a Virtual DJ tutorial and get mixing on digital Virtual DJ turntables within minutes.
FEATURES
Real-Time Stems Separation
Multi-Deck Stand-Alone DJ Mixer
Plug & Play With DJ Gear
Accurate Vinyl Feel
Powerful Video Mixing
PROS
An array of pricing options from free to business licences make it easy to climb the ladder.
CONS
Lack of native hardware support.
RECOMMENDED SYSTEM REQUIREMENTS
MAC
OS: 10.6
CPU: Intel
RAM: 2 GB
Storage: 200MB
WINDOWS
OS: 7
CPU: Intel
RAM: 1GB
Storage: 200MB
Best software for DJ live streaming: OBS
Best for DJs wanting to mix on streaming platforms.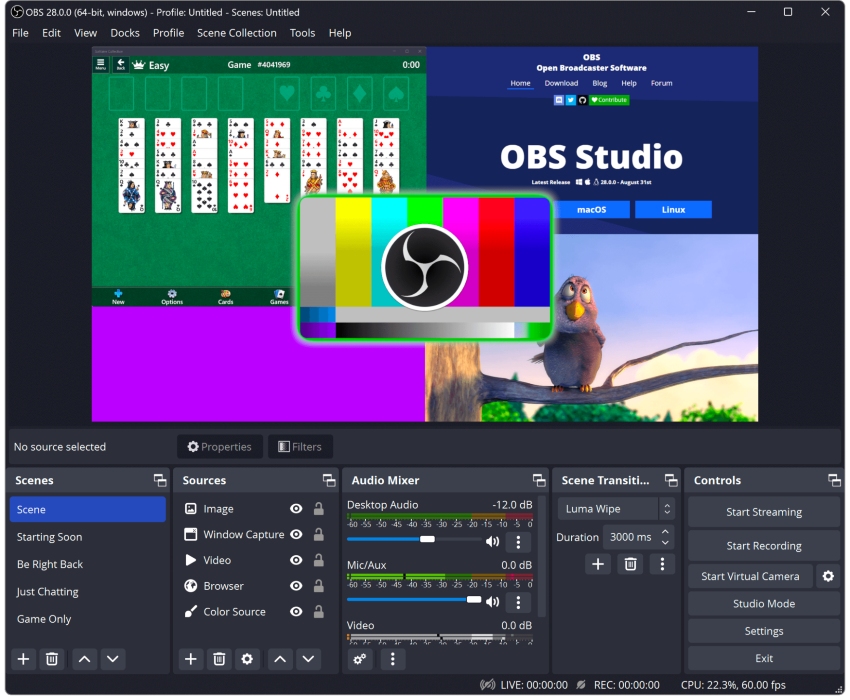 PRICE: Free / PLATFORM: Win/Mac
Learning how to stream a DJ set is a powerful skill in any DJ's arsenal.
Any major DJ software can be used for livestreaming with accompanying software such as restream, Twitch Studio, or Open Broadcaster Software (OBS).OBS is free, open source and one of the more popular options.
How you employ OBS is totally up to you, it's a very adaptable and therefore useful tool. You can use virtual sound devices such as Blackhole to internally loop the output of your DJ software into an input on OBS. On Mac, you can use Audio MIDI setup to create a multi-output device that aggregates the virtual device and the output you are using for monitoring, so that you can still hear your mix in the cans whilst it appears as a signal in your live streaming software.
PROS
Free and open source. Compatible with all streaming platforms and services.
CONS
Steep learning curve for beginners.
RECOMMENDED SYSTEM REQUIREMENTS
MAC
OS: 10.5 or higher
CPU : Intel or Apple Silicon
GPU: OpenGL 3.3-compatible
WINDOWS
OS: 11, 10
GPU: DirectX 10.1 compatible
Best free DJ software: Mixx
Best free software to mix music.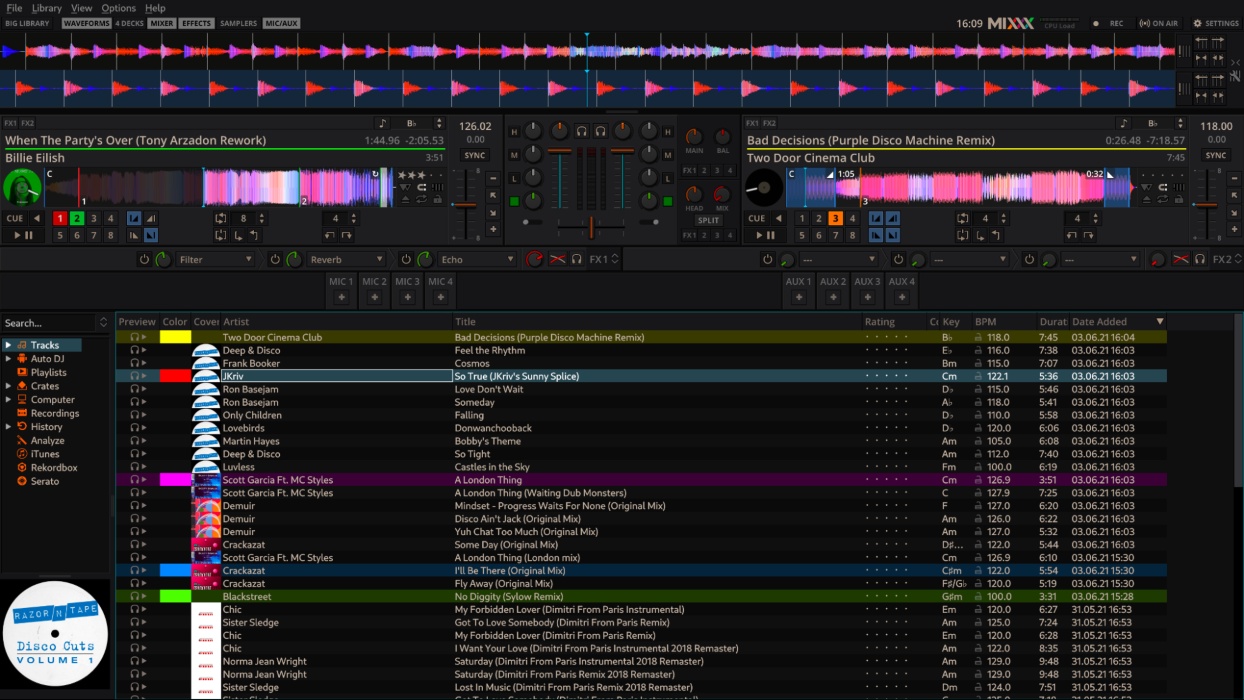 PRICE: Free / PLATFORM: Win/Mac
Mixx is a free and open-source alternative to every DJ program listed in this article. This package also has a strong online community around it, so you won't find it too difficult to learn, as long as you put the time in. If you're looking for a free DJ app for laptop DJing, this could be the perfect solution.
FEATURES
BPM, key detection & sync
DJ controller support
Effects
Vinyl record control
PROS
Free, open source. Range of skins available.
CONS
Possibly steeper learning curve.
RECOMMENDED SYSTEM REQUIREMENTS
MAC & WINDOWS
CPU: 2GHz
RAM: 1GB
Soundcard: 2x stereo audio output
Best mobile DJ software: Traktor DJ 2
Best for Traktor users who want to delve into iPad DJing.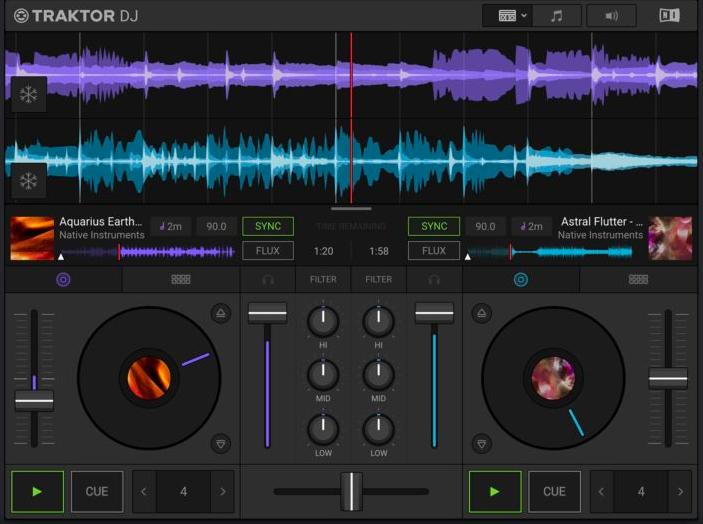 PRICE: Free / PLATFORM: iOS
The free and very mobile application for Native Instruments is the go-to for beginners who want a taste of the disc jockeying experience on the go.
FEATURES
Built-in Mix Recorder
Track recommendations
SoundCloud Go+ integration
PROS
Ideal springboard for beginners.
CONS
Far from fully functional and lacking features that most pros would require.
RECOMMENDED SYSTEM REQUIREMENTS
MAC
OS: 10.15, 11, 12, 13
CPU: Intel Core i5 or Apple M1 (with Rosetta 2)
WINDOWS
OS: 10, 11
CPU: Intel Core i5 or equivalent
RAM: 4 GB
Best DJ software for professionals: Pioneer rekordbox Pro
The best professional DJ software.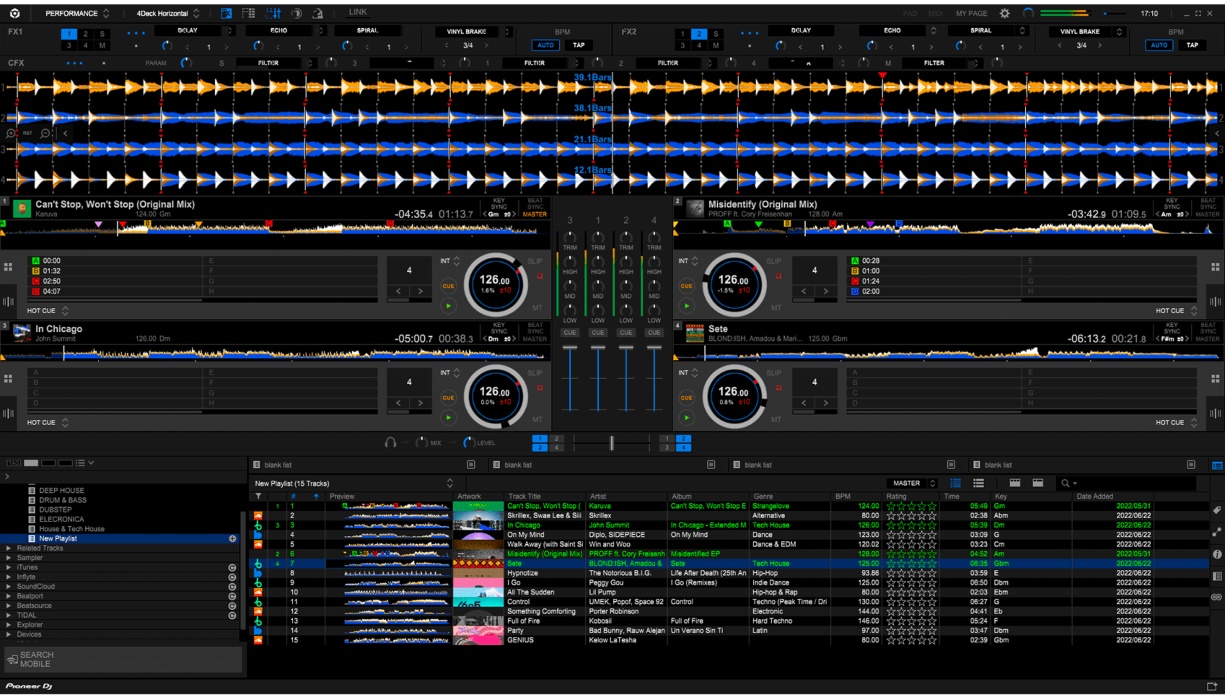 PRICE: £299 / PLATFORM: Win/Mac
The gold standard of DJ software, rekordbox competes at the highest level, which is no surprise coming from a household name such as Pioneer. Probably the best DJ software for Mac and Windows users alike, rekordbox may be too advanced if you're just starting out.
FEATURES
rekordbox Cloud Unlimited powered by Dropbox: Safely manage your whole library online
Support for PC/Mac/iOS/Android Collection Auto Upload: Automatically sync tracks to the cloud
Automatic Device Library Backup: Smoothly recover your library if your USB drive fails
PROS
The complete package.
CONS
Overkill for beginners.
RECOMMENDED SYSTEM REQUIREMENTS
MAC
OS: 10.15, 10.14, 10.13 
CPU: Intel® processor Core™ i9, i7, i5, i3
RAM: 4GB
WINDOWS
OS: 10, 8.1
CPU: Intel® processor Core™ i9, i7, i5, i3
RAM: 4GB
Best DJ software for mixing on iPad: Algoriddim djay
Best for iPad DJs.

PRICE: Free / PLATFORM: iOS, Android, Mac/Win
As the concept of tablet DJing becomes increasingly popular and more mature, Algoriddim's contributions to this domain come with a slew of impressive features such as Neural Mix and Automix.
FEATURES
Cue Points
Looping
Desktop-class effects
Up to 4 decks
PROS
Tons of features built into the box.
CONS
Lacking features that would be missed by professional DJs.
RECOMMENDED SYSTEM REQUIREMENTS
OS: iOS 12
CPU: A12 Bionic chip
Best DJ Apps
DJ apps for PC and laptops have exploded in recent years. Moreover, tablets and smartphones are starting to compete with the desktop world, packed full of capable CPUs and GPUs and mobile applications are certainly starting to take advantage of that fact.
Every new edition of an iPad Pro or a Samsung Galaxy tab gets us closer to the idea of using mobile devices for professional use. This also means a more seamless transition from beginner to advanced use of DJing app
One of the more obvious distinctions between mobile devices and laptops is the interface. Touch screen devices have the opportunity to create a more intimate DJing experience, which would be closer to that of a vinyl-based set up. This opens up opportunities for software-based turntablism and scratching. This tactile approach to modern DJing positions the tablet based setup as a competitor in the top-end of the market. Below we list some of the more popular DJing apps for mobile devices:
WeDJ
Dejay
Cross DJ
DJ Studio 5
Traktor DJ 2
Having a tablet-based setup can also make for a good supplement to the laptop equivalent. Another tool in the toolbelt, if you will.
FAQ
How much to spend on DJ software
Depending on your needs, you can expect to spend anywhere between £100 and £500. There are even cheaper programs, some even free, but they are largely aimed at casual use.
What DJ softwares are professional DJs using?
Rekordbox is widely considered to be the incumbent choice amongst seasons DKs the world over.
What DJ software is the industry standard?
Ableton Live, Virtual DJ, Rekordbox, Serato and Traktor all offer software solutions that cater for DJs ranging from beginners to professionals.
However, the most commonly used DJ software is Serato, with over 100 million downloads. It's compatible with both Mac and PC and integrates seamlessly with the most popular controllers on the market.
Serato DJ Pro is designed for the most demanding DJs and is used by major artists all over the world. It has a clean, simple interface that lets you get on with DJing without any unnecessary distractions.
As well as being one of the best DJ software with its rock-solid stability, it also comes packed with a host of new features like multi-channel audio support, easy to use Sampler and Sequencer, improved BeaT grid display, Pitch 'n Time DJ expansion pack and so much more.
This DJ software is highly recommended for professional DJs who specialise in performing at live gigs.
Which DJ software is free and great for beginners?
The top 3 DJ software brands, namely Native Instruments, Pioneer, and Serato, all offer free tiers of their products respectively Traktor DJ 2, rekordbox, and Serato Lite.
Which is the best DJ software for windows?
These days, top-end DJ applications are available across the two major computing platforms, namely Mac and Windows, including Traktor, Serato, and rekordbox.
What Does DJ Software Do?
DJ software allows you to mix and scratch music on your computer. It's a piece of software that runs on a computer (either PC or Mac) that allows you to mix music in real time (as if you were actually mixing vinyl) and add different effects to the song. The great thing about DJing with software instead of actual vinyl is that it's much easier and more portable. All you need is a laptop and some speakers, and you're good to go.
Furthermore, DJ software is much cheaper than buying actual vinyl records, which cost about $12 each. If you have a large collection of songs on your computer, then you can already start mixing.
What is the best DJ software?
Ultimately, there's no definitive answer to the question 'what is the best software to mix music?'. If you're serious about finding the best of the best, it's worth downloading each of the tools listed above and giving them a try. Fortunately, Ableton Live, Virtual DJ, rekordbox, Serato and Traktor all offer a choice between free DJ software and paid versions.
If you're hoping to pursue DJing as a career, the best DJ software (for free), is probably Serato as it's widely considered the industry-standard and is compatible with almost all hardware. However, the free trial of Serato DJ Pro only lasts for 14 days, after which you'll have to either pay or switch to a basic plan.
The DJ Software Checklist
Number of channels
Operating System Support
Customer Support
Included FX
Hardware compatibility
Integration with digital services
User Experience (UX)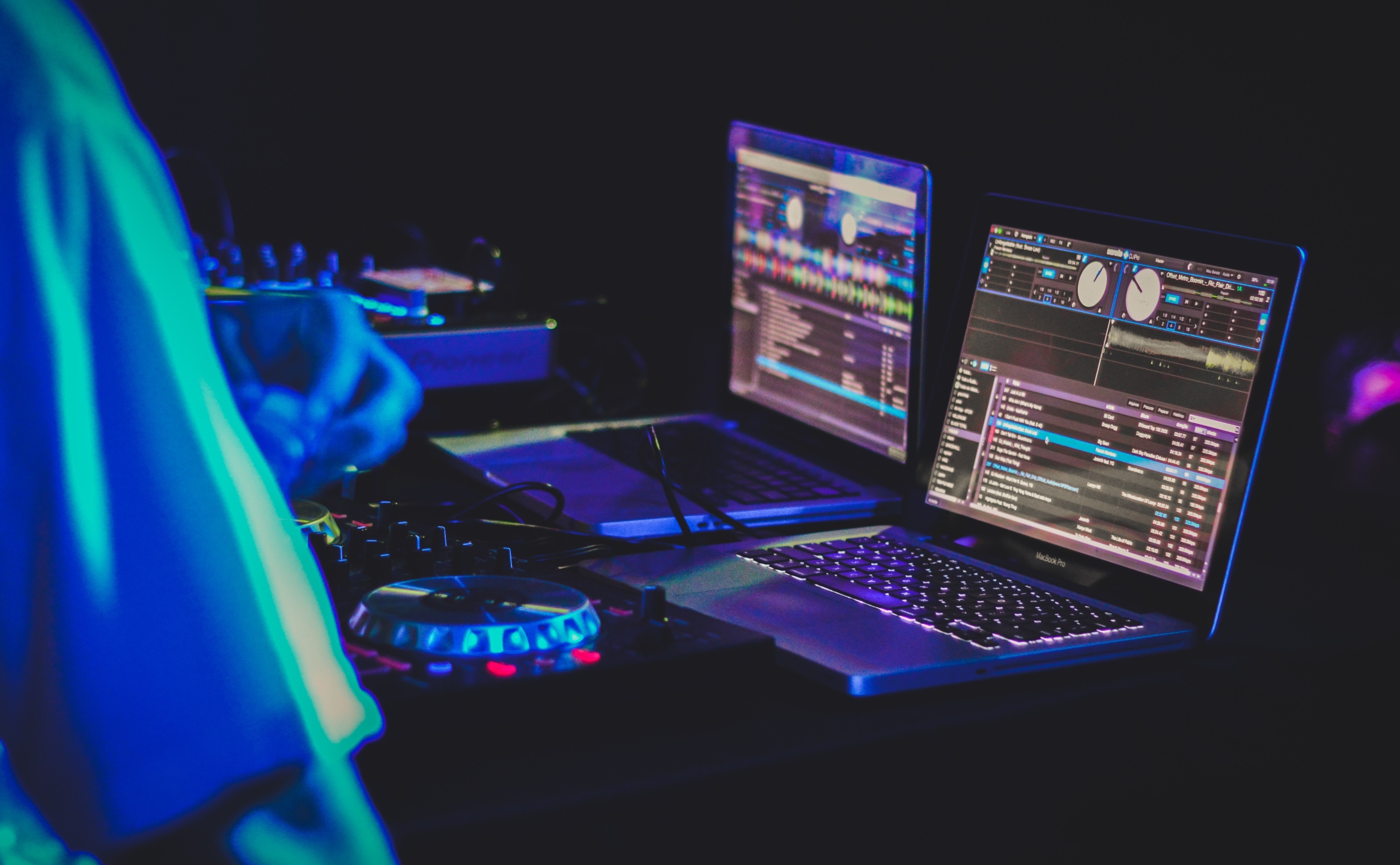 When looking for the right gear, jot down your goals, look at where you want to go with it, then work backwards into the features and benefits to need.
Be mindful that, as generous as some of the free offers are from the major providers, be aware that they might not be the platform for you, so taking advantage of the range available, and getting a feel for their different design languages will help you quickly gauge which brand line fits you best.