How to network in the music industry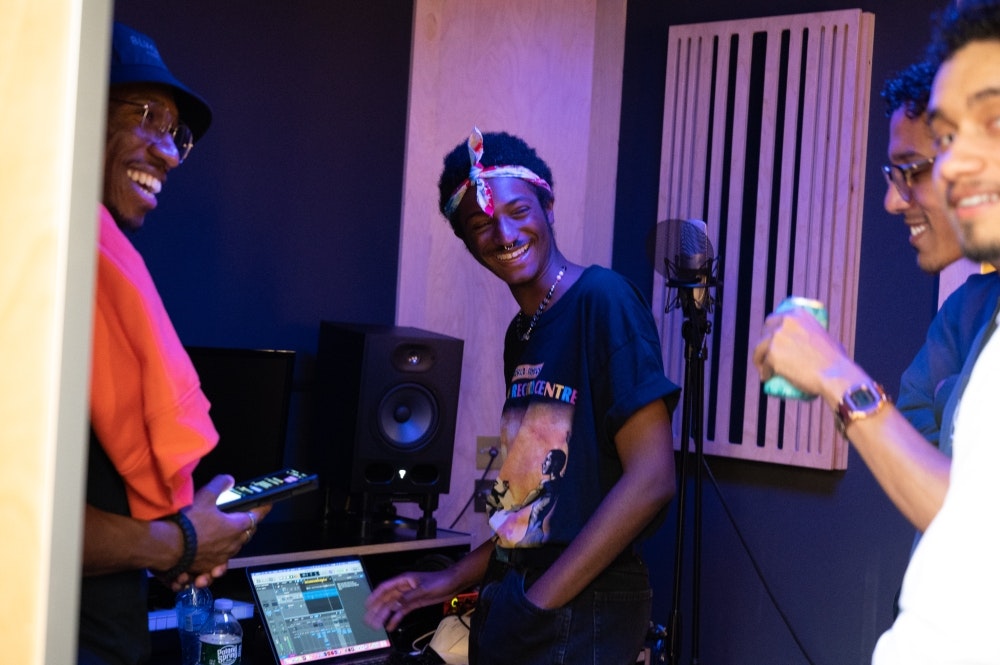 Master the art of networking in the music industry with our expert tips. Learn how to start networking online, in-person, at events and day-to-day.
If you want to build a fanbase for your music, it's important to network with people who can give your music a platform – journalists, managers, promoters, radio hosts and so on. However, networking isn't just about meeting people who will further your career, it's about becoming part of a music community and making like-minded friends too.
Once you start creating connections with other artists, it becomes easier to develop your own brand as a musician than if you were to try going it alone. You'll begin to receive invaluable feedback and advice, and you'll likely start to enjoy the (sometimes frustrating) journey more.
In the following guide, we highlight the different benefits of networking in the music industry and how you can get started so you can see these benefits for yourself.
How important is networking?
Having a good network is essential for all creatives, and music is a particularly small and social industry. Everyone knows everyone; once you begin to get to know industry figures, you'll quickly get to know more and more of them.
A lot of opportunities come from word-of-mouth so don't underestimate the power of making friends wherever you go – a new friend could help you get a DJ gig, sign your band or land you a remix through their connections.
The bottom line is that having a good network will lead to your name being said in rooms that you're not in, and your network will begin to grow itself.
Before Networking
Identify your goal and target audience
Identifying your target audience is usually the first step for any musician trying to build a network.
Who is your music aimed at? Who could help you reach your next goal? Considering questions such as these will help you to decide on the right approach – will they respond better to email or a direct message on social media? Which tracks are they more likely to respond to, based on what they've supported previously? Personalise your outreach with specific targets in mind.
Build your personal brand
As a musician you should have already created a brand identity for yourself. When it comes to networking, it's about knowing what points of your brand identity to highlight at the right times.
If you're in a space with creatives such as photographers and videographers for example, showcasing the visuals for your latest single could be a great conversation starter. Plus, getting to know artists from other disciplines could lead to interesting collaborations (or some free press shots if you're lucky).
Prepare Materials
Not all networking approaches require you to prepare materials beforehand, but if you meet a potential manager, label or a journalist who seems interested in you, it's good to have something to show them beyond your Instagram profile.
Make an EPK (electronic press kit) containing your bio, music, photos, stats, gig listings and your contact details.
Once you've got a good EPK, you can follow up with interesting people you've met and give them a fuller flavour of what you're like as an artist.
Keep Up With Industry News and Trends
Being in the know about the music industry is the best way to know who you want to network with.
It's not hard to keep up with the hottest news and trends with social media dominating how music is received by audiences. Take the time to scroll through what's trending on Twitter or tune into your favourite music blogs from time to time to see what your fanbase are thinking. The more you know, the better you can navigate your networking journey.
How To Network In The Music Industry
Connect On Social Media
In 2023, it's essential that you know how to promote music on social media but social media is a powerful networking tool too.
Networking on social media is the easiest and most affordable way to reach out to new contacts. The majority of music industry professionals are active on social media in some way. With one quick direct message, you could create a connection that could land you your next gig or an event invitation.
Attend Industry Events
Think about what you would do if you got an invitation to Jay Z's iconic Roc Nation Brunch. Attending industry events is a brilliant way to connect with other musicians, producers and engineers all in the same space.
At industry events, you have the opportunity to show off your style, personality and most importantly, your authenticity. People want to collaborate with genuine artists so be yourself.
Participate In Music Initiatives
Getting involved in music-related initiatives is an organic way to meet new people and build your fanbase at the same time.
Applying for artist opportunities with music communities such as Pirate or engaging with music festivals you can apply to play at, could fast track your career.
Volunteer
Volunteering for music organisations such as Help Musicians can not only assist you in building a stable network, but it can teach you the inner workings of the music industry that you may not have known about. It's also a great way to give back to the industry that you're trying to break into.
How to network online
Be active on popular social media platforms such as Instagram, TikTok, Twitter and Facebook.
Have a good visual portfolio on platforms such as Youtube that you can share quickly with connections.
Use email marketing platforms such as Mailchimp to keep your current network up to date on what you're up to.
Engage with the work of other artists and industry professionals by sharing or commenting.
Social Media Networking platforms for musicians
Instagram: Use hashtags, post regularly, and interact with fans by responding to comments and DMs.
Facebook: Create a fan page and keep it updated with news and events, use Facebook groups to connect with fans and other musicians in your genre.
Twitter: Use Twitter to share behind-the-scenes content, engage with fans and other musicians, and participate in music-related Twitter chats.
YouTube: Optimize your videos for search, collaborate with other musicians or creators, and use YouTube's analytics to track your audience engagement.
SoundCloud: Use SoundCloud to share your music and build a following, interact with fans and other musicians by commenting on their tracks and sharing their work.
TikTok: Create engaging content that highlights your music and personality, use trending hashtags to reach a wider audience, and collaborate with other TikTok creators.
Bandcamp: Use Bandcamp to sell digital and physical music directly to fans, offer exclusive content and merchandise, and connect with fans and other artists through Bandcamp's messaging feature.
LinkedIn: Create a professional profile that highlights your skills and experience as a musician, use LinkedIn to network with industry professionals, and join music-related LinkedIn groups to stay up-to-date on industry news and opportunities.
Networking Tips For In-Person Events
Dress for the occasion. If the event requires smart or casual then that's what you should deliver in a way that showcases your personality.
Be prepared to take notes where you can. You will be having conversations with multiple people and it can be difficult to remember everyone that you want to connect with off the top of your head.
Be confident in speaking about your music and what inspires the artist that you are. Industry professionals want to see and hear the passion that you have for what you do.
Don't be scared to be the first one to approach someone else. In-person can be nerve wrecking for even your most established artists, so taking a leap of faith and starting a conversation can make you and the person you're speaking to more comfortable to engage in the event even more.
Seeking Mentorship
Emerging artists can start building their network whilst learning more about the music industry through mentorship. There are many industry professionals that are more than happy to share knowledge with new artists that can help them boost their careers.
How To Build Successful Connections
Always ask for some form of contact details when you meet new people that you think would add value to your network.
Utilise networking platforms such as Unsigned Guide and SoundCloud to build relationships with other musicians. Keeping up with the Pirate blog is also a great way to stay in the know about all things music.
Be prepared to answer questions about yourself and your work with confidence. Don't be shy about sharing your achievements both as a musician and an individual.
Get to know where your network is most active. If it's on social media then dedicate time to connecting with professionals online. If it's in-person events where your network is most present then making the effort to attend events where possible will give you the results you want to see.
Overcoming challenges when networking
Once you're in the swing of networking it becomes a very natural process. However, it doesn't mean that it doesn't come with its challenges.
It is key to remember that not all networking will land you the opportunities that you want. Staying consistent even when faced with rejection and other setbacks builds resilience as well as experience.
Expanding your network can be a time consuming process. Be ready to make the time to attend networking events and follow-up with contacts that you connect with to solidify relationships.
Many can find networking an awkward experience which can sometimes lead to awkward situations. Maintaining a professional manner when interacting with other musicians and creatives can help you avoid difficult conversations.
Being confident as a musician is what will attract people to you and your music. Showcase your personality as you network so people can see your authenticity.
Expanding your network may seem daunting at first but it's surely worth it. Everyone you meet along your journey as a musician – from other artists at your local music recording studio to industry hot shots at festivals and gigs – has the potential to help you increase engagement, connect you with the right people that can provide new opportunities, and create the fan base you need to make your music shine.
With these tips and tricks you'll start to see your network grow in no time.