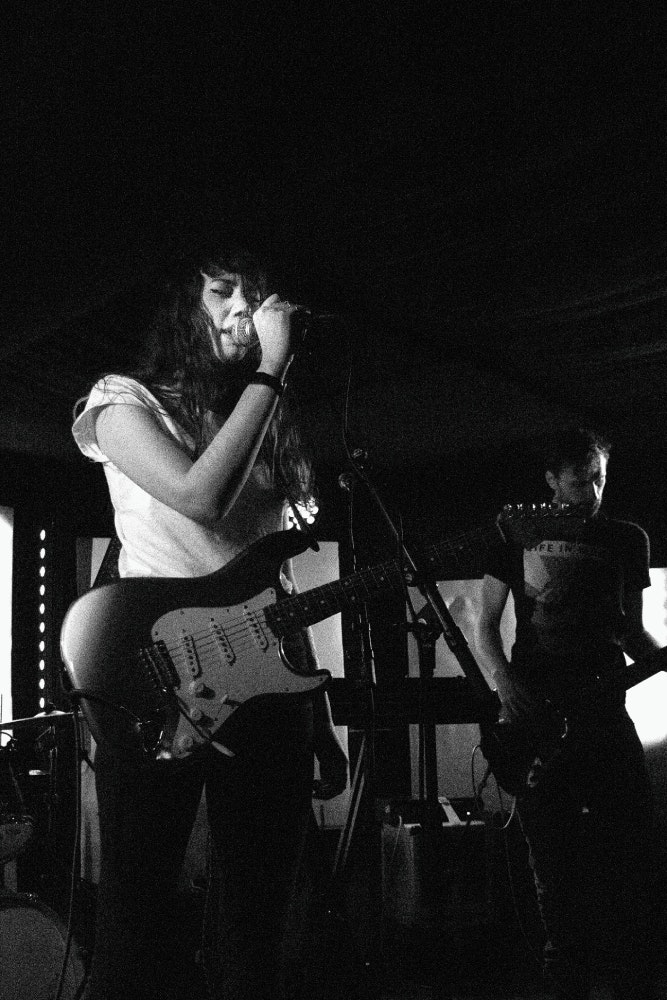 SINGING
ABOUT THE TEACHER
Rock front woman with extensive experience in teaching performance and contemporary genres e.g rock, pop, r&b, blues. 10 years experience with students from complete beginners to anxious singers all the way to professionals. Trinity rock and pop exams up to grade 8 100% pass rate.

Sarah loves to make sure all of her students enjoy learning to sing, helping them to sing in tune, and improving vocal control and strength. She believes that enjoying learning is one of the key aspects to making good progress as a singer. She personalises every lesson to suit your learning ability, whether you are completely new to singing, have some experience or are a professional looking to brush up on your skills.
HOURLY RATE: £45
TEACHING: Online & In-person
PREFERRED LOCATION: Pirate Bristol
LEVELS: Beginner to Advanced
TEACHING SINCE: +10 years experience
DBS CERTIFIED: None
LANGUAGES: English
ABOUT THE LESSON
During our lessons together we will learn vocal technique based on the Estill Method and a range of repertoire that suits you. Often I accompany students on the guitar but also use backing tracks to give you tools to practice at home. As a performer and songwriter myself I have also worked with students on their own material and with singer-songwriters to develop their performance skills.

I work with students on whatever they choose whether that be Pop, Rock, Musical Theatre, Folk etc. Whether you're starting completely from scratch, you sing in a band, preparing for an audition, preparing for a performance, want to enter grades or are wanting direction on where to go with your singing I are here for you and will do my best to help you achieve your goals, whatever they may be as a singer.
TESTIMONIALS
"If anyone is interested in singing lessons in Bath or Bristol give this lady a shout! Sarah has been teaching me for just under a year and going from a complete non-singer to actually singing lead vocals IN PUBLIC and passing singing exams all in under a year has been an amazing achievement for me! She is awesome"
"I have seen a tremendous improvement in my vocal ability and control. I would definitely recommend her"
"I have thoroughly enjoyed my singing lessons with Sarah and would not hesitate to recommend her teaching. If you're looking for the opportunity to have fun singing a mixture of material while learning an abundance of technique then Sarah is the singing teacher for you"
"Sarah is great at identifying what you need to improve on and supporting you along the way. She has an incredible extensive knowledge of music in all styles which would make her a great teacher for anyone in any particular genre or ambition. She is very personable, friendly, makes you feel comfortable. My singing and general understanding of music improved massively due to Sara... I'd strongly recommend her lessons to anyone due to being able to tailor and adapt the lessons to any specific need!"
"Sarah has taught me singing for 6 years and really transformed my voice within the first few weeks of lessons. Sarah also provides a very comfortable and friendly learning environment but also pushed me to reach my full potential, and her knowledge allowed the lessons to consist of a variety of different genres and skills. I passed my Grade 8 and got into drama school. I'd highly recommend Sarah to anyone looking to improve their vocal technique."
YOUR TEACHER'S SOUND
Listen to Sarah to decide if their private music lessons are right for you.
Our music tutors are professional artists themselves. Listen to their music and find a mentor whose sound and style resonate with you for the best possible learning experience.
Plus, teachers in your desired musical field can provide valuable insights and tips for launching or advancing your own music career. Hit play.
---
Please note: Pirate Certified Trainers and Pirate Certified Training Centers are private entities or enterprises and neither employees nor agents of Pirate Ltd. They are not administered by Pirate Ltd. The trainers and centers are solely responsible for their own course offerings and curricula. Pirate takes no responsibility or liability for the actions of the trainers or centers.
Click here to view the full 'PIRATE Teachers' Disclaimers.