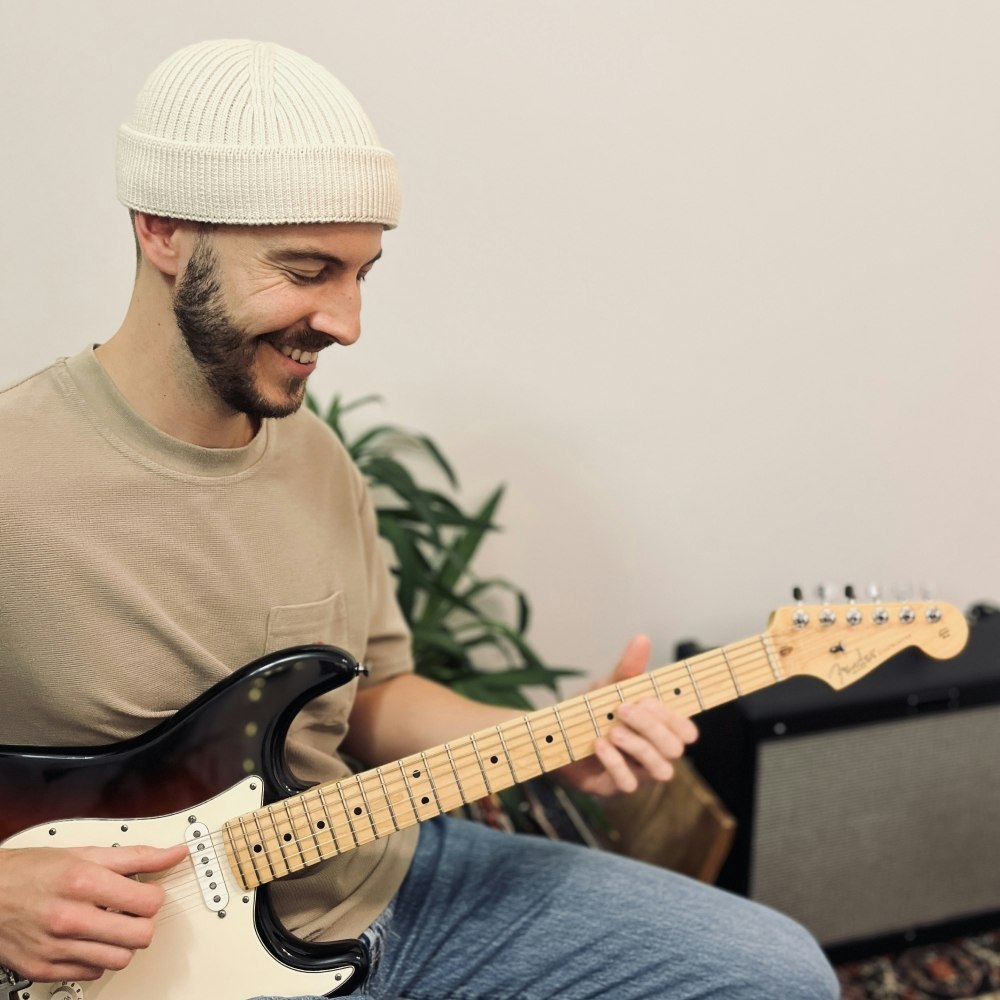 ACOUSTIC & ELECTRIC GUITAR
ABOUT THE TEACHER
Hey! I'm Al Wreaves, an experienced guitar teacher of 15 years, session musician, artist/producer with 30+ million streams, record label owner and musical mentor. I teach guitar at all levels and in all genres - get in touch if you need some help with your playing or need any musical guidance! Thanks, Al
HOURLY RATE: £50
TEACHING: Online & In-person
PREFERRED LOCATION: Pirate Croydon
LEVELS: Beginner to Advanced
TEACHING SINCE: +15 years experience
DBS CERTIFIED: None
LANGUAGES: English
OTHER LINKS: Al Wreaves Guitar Lessons - Instagram | Spotify

ABOUT THE LESSON
Al Wreaves Guitar Lessons is the ultimate destination for aspiring guitarists seeking expert guidance and comprehensive training. Led by renowned session guitarist Al Wreaves, our lessons provide a transformative experience tailored to each student. With a vast teaching experience and a successful career in the music industry, Al has mentored hundreds of students & artists, empowering them to reach their musical goals.

Lessons cover a wide range of topics, including building a vast repertoire of songs from memory, mastering chord and scale application, improvisation, writing and arranging guitar parts, songwriting, music industry advice, and artist mentorship. Al's extensive discography from his band "fika" and collaborations with some of London's greatest artists have earned him over 30 million streams, making him a versatile and sought-after musician.

Each student receives personalised attention, allowing them to progress at their own pace while focusing on their specific interests and goals. Al's firsthand experience in the industry and running his own record label provides invaluable insights and guidance to navigate the music business successfully.

Whether you're a beginner or an experienced guitarist, Al offers a transformative learning experience that unlocks your full musical potential. Join a community of dedicated students and embark on a journey of musical growth and creativity with Al Wreaves as your guide!
TESTIMONIALS
"Al is not just an excellent teacher but a great guy. If my experience is anything to go by, he communicates well, adapts to what his students want to achieve, and then helps them on their way with friendly and insightful explanations and advice. I'd wholeheartedly recommend him for anybody, beginner or advanced, looking to become a great guitar player"
Tom Newham, Current Student
"Al is a friendly and passionate teacher who really takes into account what you want to achieve and your personal taste in music. I started lessons as a guitar novice and now have the confidence to play at gigs and open mic nights. My lessons were relaxed and Al made me feel at ease, even when I was making a lot of mistakes. He also challenged me so I learnt as much as I could. Couldn't recommend him enough!"
Felicity Burgis, Former Student
"Al is a fantastic teacher, always really patient and enthusiastic. Always happy to go over anything multiple times and help with anything outside of our lessons if needed. Would definitely recommend to anyone looking to start lessons!"
Laura Moffitt, Current Student
"Al teaches the guitar the way it should be - practical music and theory introduced in a fun and interesting way!"
"Al is a very laid back and experienced guitar teacher. He gives some structure to the classes, but at the same time lets you choose the songs you want to play and directs the lessons towards your goals. I was a complete beginner and I feel like I have improved so much since starting lessons with Al. I would certainly recommend having lessons with him."
Ana Lisboa, Current Student
"Al is a great guitar teacher. Patient with me and fantastic at making the difficult seem easier. He is superb at identifying what motivates me and then adapting his teaching to ensure it is at the heart of his approach. I couldn't recommend him highly enough."
Gavin McGaw, Current Student
"I have been receiving lessons from Al for about 5 months and within 4 weeks i was able to pick up my guitar confidently to play chords and songs. Al is extremely professional and I would recommend him to others as I have progressed so much in such a short space of time. :)"
Michael Rock, Current Student
"Al is an incredible guitar teacher and is extremely enthusiastic, patient and encouraging. He offers a wealth of experience to suit absolute beginners such as myself, as well as more seasoned guitar players. I have learned so much in such a short time frame and would highly recommend Al to anyone who wishes to learn guitar at their own pace in a relaxed, friendly environment."
Sammie Soravia, Current Student
YOUR TEACHER'S SOUND
Listen to Al to decide if their private music lessons are the right fit for you.
Our music tutors are professional artists themselves. Listen to their music and find a mentor whose sound and style resonate with you for the best possible learning experience.
Plus, teachers in your desired musical field can provide valuable insights and tips for launching or advancing your own music career. Hit play.
Check out his band fika on Spotify.
---
Please note: Pirate Certified Trainers and Pirate Certified Training Centers are private entities or enterprises and neither employees nor agents of Pirate Ltd. They are not administered by Pirate Ltd. The trainers and centers are solely responsible for their own course offerings and curricula. Pirate takes no responsibility or liability for the actions of the trainers or centers.
Click here to view the full 'PIRATE Teachers' Disclaimers.