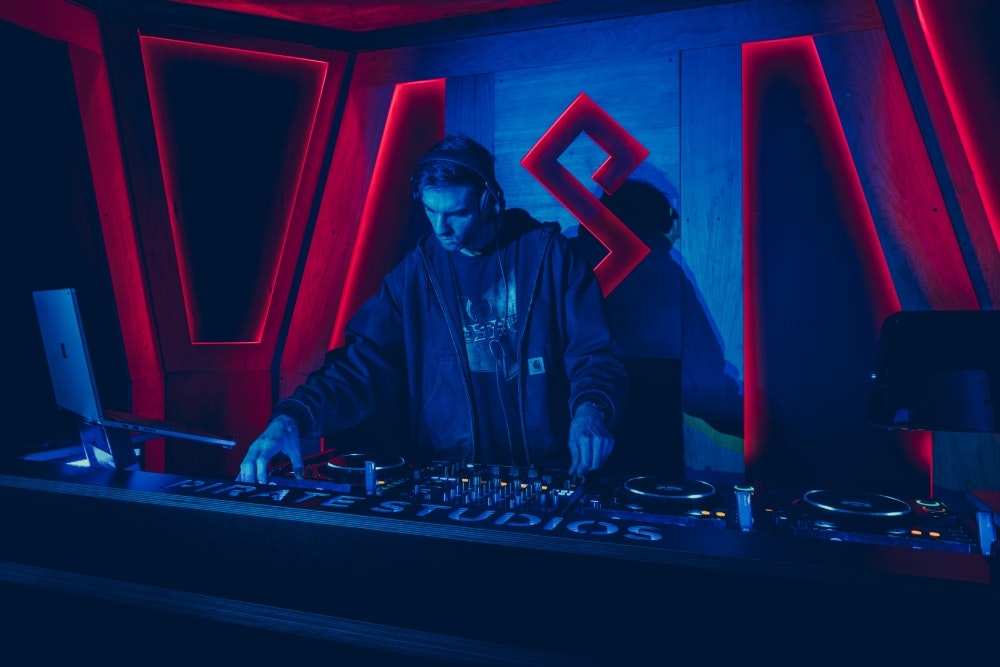 DJ
ABOUT THE TEACHER
Alec is a London based DJ, Producer & Tutor from Sydney, Australia. Inspired by underground sounds, he specialises in teaching students to mix Drum & Bass, while also catering to all other electronic music genres. Alec began DJing over 10 years ago and has been tutoring for the past 2 years. In this time, he has developed an extensive knowledge of DJing, allowing him to break down concepts in great detail, yet present them in a way that is easy to understand. Alec is passionate about helping music lovers eliminate the confusion associated with learning to DJ, so they can start achieving their goals as soon as possible.
HOURLY RATE: £25
TEACHING: Online & In-person
PREFERRED LOCATINS: Pirate Earlsfield (Primary), Camden, Dalston, Hackney, Notting Hill, Tottenham
SPECIALITIES: Rekordbox (Primary), Virtual DJ, Traktor, Serato
LEVELS: Beginner to Intermediate
TEACHING SINCE: +2 years experience
DBS CERTIFIED: Yes
LANGUAGES: English
COMPANY LINKS: Kaiyo Sonics

ABOUT THE LESSON
Students can expect practical demonstrations and thorough explanations of the essential concepts of DJing, along with hands-on practice to help build a strong foundation of skills. Sessions are generally quite open and tailored to each student's individual needs, allowing any questions to be answered while working towards achieving your goals, whether that's beginners looking to cover all bases, or intermediate DJs wanting to focus on specific skills.
Topics covered include: Equipment Setup | DJ Software | Where to Find Music | Track Structure | Phrasing | Beatmatching | Mixing | Harmonic Mixing | Creative Mixing | 3 Deck Mixing | Looping | FX | Preparing Sets | Recording Mixes.
Available Times:
Mon-Fri – 6:00pm-11pm
Sat-Sun – 10am-11pm
TESTIMONIALS
"Alec has created a very organised tutoring planning and is extremely knowledgeable. He not only takes the time to help you understand what you should be doing yet also why - this really helped me internalise all the main concepts and components of DJing. I will continue to have classes with Alec during the coming weeks and definitely look forward to it!"
"Alec is a very helpful and knowledgeable teacher. He creates a relaxed and informative environment for his session and ensures he explains new concepts thoroughly. As beginners going into the session we learned a lot about track structuring, DJing equipment and got a good initial feel for DJing on the whole which we are going to continue pursuing in the future. Thanks again for the lesson!"
"Skilled DJ and awesome teacher, Alec tailors my lessons to fit my needs, thoughtfully knowing what will make a difference. He makes learning fun, and I'm enjoying seeing myself improve. I couldn't recommend Alec highly enough."
"Had an amazing class, learned a lot about track structure and how to structure sets. Also went over some music theory and figured out dj software settings. Thank you, looking forward to future classes!"
"Alec is patient and genuinely invested in your learning. He gives all his time and energy to explain concepts that can be particularly confusing to someone completely new to Djing. He is highly knowledgable and you can see his love and passion for music within his lessons. I felt like he met me where I was (a complete beginner) and helped me to build my confidence to start mixing songs together. I have a lot more to learn and experiment with but with Alec's support and feedback it's helped me learn and understand what I am doing, and given me motivation to continue. I highly recommend Alec as a tutor, you will not be disappointed."
"Alec is an amazing tutor. He took on a chalange to teach my 6year old daughter! He succeded! We thank you for making us such proud parents!!!!"
YOUR TEACHER'S SOUND
Listen to Alec to determine if their private DJ courses are the right fit for you.
Our DJ tutors are professional artists themselves. Listen to their mixes and find a mentor whose sound and style resonate with you for the ultimate learning experience.
Plus, teachers in your desired musical field can provide valuable insights and tips for launching or advancing your own DJing career. Hit play.
---
Please note: Pirate Certified Trainers and Pirate Certified Training Centers are private entities or enterprises and neither employees nor agents of Pirate Ltd. They are not administered by Pirate Ltd. The trainers and centers are solely responsible for their own course offerings and curricula. Pirate takes no responsibility or liability for the actions of the trainers or centers.
Click here to view the full 'PIRATE Teachers' Disclaimers.