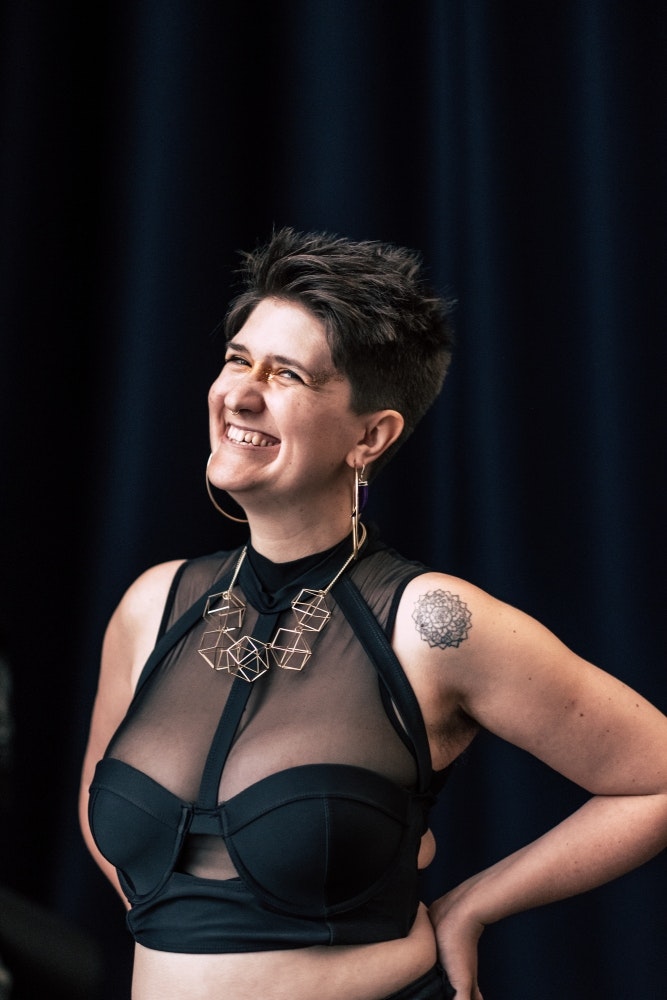 DJ
ABOUT THE TEACHER
Bungzo, a Bristol-based DJ, is known for their passion for energetic beats and bass infused with diverse influences and queer themes celebrating freedom and sexuality. They are a non-binary and queer artist whose versatile music ranges from 70 to 180 BPM, covering genres like baile funk, uk funky, global bass, footwork, jungle, d&b, and jungletek.
Bungzo's journey as a DJ started with Mix Nights under Saffron Records and has since played with the female and non-binary DJ crew Booty Bass. They have gained recognition through residencies at Trinity Centre, performances at renowned clubs in Bristol, and appearances at festivals like Glastonbury and Shambala. Recordings of their sets can be found on DJ Mag and Keep Hush.
HOURLY RATE: £30 - £50
TEACHING: In-person
PREFERRED LOCATION: Pirate Bristol
SPECIALITIES: Rekordbox, Ableton
LEVELS: Beginner
TEACHING SINCE: +5 years experience
DBS CERTIFIED: Yes
LANGUAGES: English
ABOUT THE LESSON
Technical Skills
Fundamentals: Beatmatching, mixing, and blending techniques.
Equipment: Setup and operation of turntables, mixers, and controllers.
Software: Proficiency in DJ software and digital platforms.

Music Selection and Curation
Genre Exploration: Discovering various music genres and subgenres.
Crowd Dynamics: Understanding audience preferences and engagement.
Set Construction: Building cohesive and engaging DJ sets.

Performance and Presentation
Confidence Building: Developing stage presence and DJing confidence.
Audience Interaction: Reading and engaging with the crowd.
DJ Identity: Creating a unique and memorable DJ persona.

Professionalism and Business Skills
Self-Promotion: Marketing oneself as a DJ.
Gig Opportunities: Pursuing gigs, residencies, and festival performances.
Networking: Building connections within the music industry.

Personal and Artistic Growth
Creativity and Expression: Embracing personal artistic style through DJing.
Music History and Culture: Gaining insights into musical influences.
Passion Development: Fostering a deep love for music, learning and DJing.
TESTIMONIALS
"I knew nothing when I turned up to a lesson with Bungzo but in a few weeks I felt confident making some simple sets and mixing some of my favourite tunes together. They have a great energy and make learning super fun and accessible."
YOUR TEACHER'S SOUND
Listen to Ash Bligh-Wall to determine if their private DJ courses are the right fit for you.
Our DJ tutors are professional artists themselves. Listen to their mixes and find a mentor whose sound and style resonate with you for the ultimate learning experience.
Plus, teachers in your desired musical field can provide valuable insights and tips for launching or advancing your own DJing career. Hit play.
---
Please note: Pirate Certified Trainers and Pirate Certified Training Centers are private entities or enterprises and neither employees nor agents of Pirate Ltd. They are not administered by Pirate Ltd. The trainers and centers are solely responsible for their own course offerings and curricula. Pirate takes no responsibility or liability for the actions of the trainers or centers.
Click here to view the full 'PIRATE Teachers' Disclaimers.