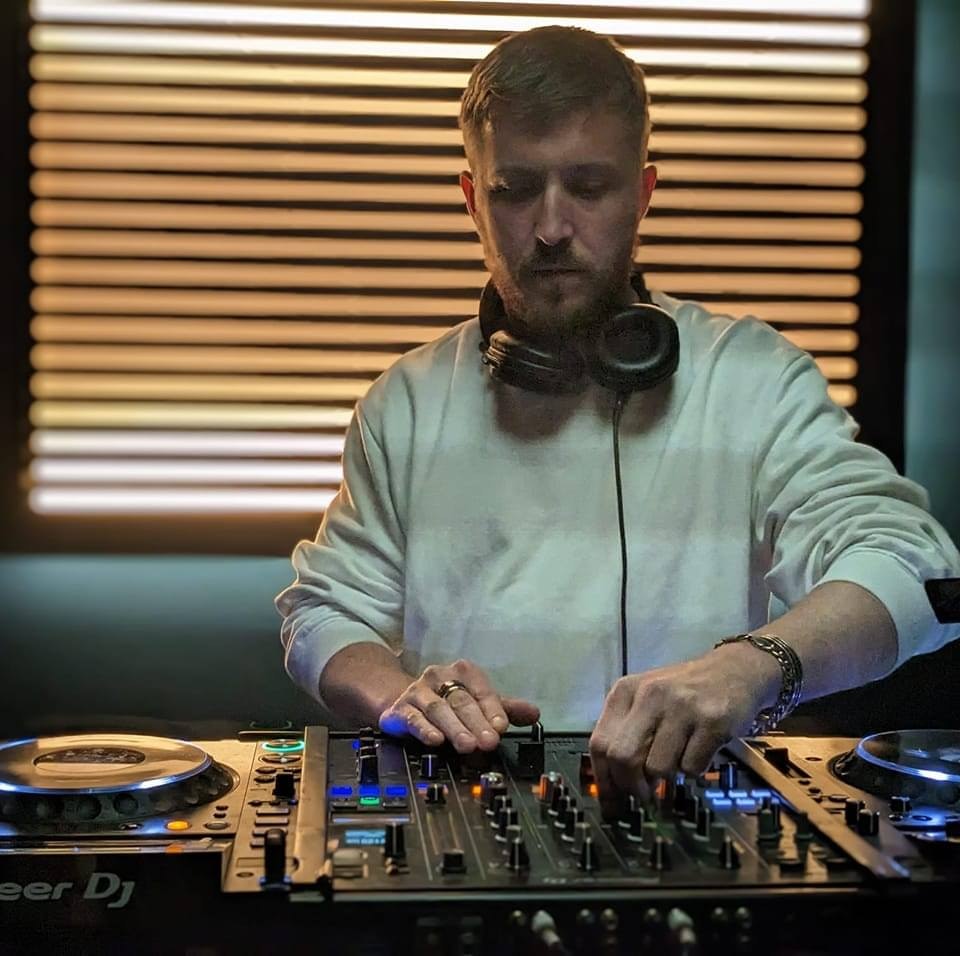 DJ, MUSIC PRODUCTION
ABOUT THE TEACHER
Jack has been an integral part of the Manchester music scene since 2004 having been a DJ and promoter of Micron, one of the cities longest running and most celebrated House and Techno collectives. As a producer he has been releasing music since 2010 under several aliases, producing everything from house, techno to hip hop. He founded Decloak Music in 2014 as a platform to help up and coming artist learn the skills to become producers and has mentored hundreds of artists over the years, some of which are now the hottest names in their niche. Now living, playing and teaching in Berlin, he continues to put his time and effort into others wanting to master the craft.
HOURLY RATE: €25
TEACHING: Online & In-person
PREFERRED LOCATIONS: Pirate Berlin Prenzlauer Berg, Pirate Berlin Tempelhof
SPECIALITIES: Ableton Live, Ableton Push, MIDI Programming, Mixing & Mastering, Synthesis & Sound Design, DJ Mixing (Vinyl & Digital)
LEVELS: Beginner, Intermediate, Advanced
TEACHING SINCE: +8 years experience
DBS CERTIFIED: None
LANGUAGES: English
OTHER LINKS: Decloak Music

ABOUT THE LESSON
Jack offers personalized one-to-one music production and Ableton Live courses for all experience levels, catering to individuals' unique musical tastes and learning styles. Students can choose to learn online, or in person at his studios in Berlin, in a schedule that suits your life and learning style. Lessons are tailored around the music genre the you wish to create, making the content 100% relevant to your goals, whether for hobby or professional purposes.

Jack has a proven track record in music production and tutoring, with almost 20 years of Ableton Live experience and a history of satisfied clients. The course options are customizable with control over timeframe, lesson frequency, and course content, and flexible teaching styles are tailored to individual needs, allowing for efficient and effective learning. Jack guarantees real results, with clients experiencing accelerated learning curves and faster progress in mastering the basics all the way through to advanced production techniques.

Jack's course options include the Ableton Live Electronic Music Masterclass, a set of 30 one-to-one sessions covering beat making, sound design, synthesis, audio processing, live performance and remixing using Live. Alternatively, students can choose a more focused approach with individual sessions of Ableton Live Tuition, building your own course with modules that are relevant to your current ability level.

Jack has also been teaching all formats of DJing since 2009 and all one to one lessons can be held in any of the Pirate Studios locations in Berlin.
Beginner Course:

The Ableton beginner course is designed for those who are new to music production or have limited experience with Ableton Live software. Throughout this course, you will learn the fundamentals of Ableton Live, providing you with a solid foundation to start creating your own music. The course covers various aspects, including:

1. Introduction to Ableton Live: You will become familiar with the software interface, understanding the different views, and navigating the session and arrangement view.

2. Basic Music Theory: Gain an understanding of essential music theory concepts, such as scales, chords, and melodies, to create harmonically pleasing compositions.

3. MIDI and Audio: Learn how to use MIDI instruments and virtual synthesizers to create melodies, as well as record and manipulate audio to incorporate your own sounds into your productions.

4. Beat Making and Drum Programming: Explore the tools and techniques to create compelling drum patterns and beats, using Ableton Live's built-in drum racks and samplers.

5. Arrangement and Song Structure: Discover how to structure your tracks, create dynamic transitions, and build a cohesive arrangement to bring your ideas to life.

6. Effects and Processing: Explore the wide range of audio effects and processing tools available in Ableton Live to enhance your sounds and add depth to your tracks.

Intermediate Course:

The Ableton intermediate course is designed for those who have a solid understanding of the basics of Ableton Live and want to take their music production skills to the next level. In this course, you will delve deeper into the advanced features and techniques of Ableton Live. The course covers the following areas:

1. Advanced MIDI and Audio Editing: Learn advanced editing techniques for MIDI and audio, including slicing, warping, quantization, and audio manipulation.

2. Advanced Synthesis and Sound Design: Dive into the world of sound design by exploring advanced synthesis techniques, creating your own unique sounds, and manipulating parameters using Ableton's instruments and effects.

3. Sampling and Sampling Techniques: Learn how to sample audio from various sources, manipulate samples, and create unique textures and arrangements using Ableton Live's sampling features.

4. Mixing and Mastering: Gain a comprehensive understanding of mixing techniques, including EQ, compression, panning, and spatial effects, to achieve a balanced and professional sound. Additionally, explore the fundamentals of mastering to prepare your tracks for distribution.

5. Advanced Automation and Modulation: Discover how to use automation and modulation to bring movement and dynamics to your tracks, including automating parameters, using LFOs, and creating complex modulations.

6. Performance and Live Set Creation: Explore the tools and techniques for live performance using Ableton Live, including setting up a live set, mapping controls, and utilizing performance features such as clip launching and MIDI controllers.

By the end of the intermediate course, you will have a solid understanding of the advanced features of Ableton Live, enabling you to produce professional-quality music and take your creativity to new heights.
TESTIMONIALS
"Jack's the best around. He's taken me from never touching ableton to having tracks singed in 6 month. Guys a genius."
Josh Reeves (Diffuse Reality, Influenced Records, and more...)
"Started from 0 experience in Ableton with Jack. He got me going quicker than ever expected. Very knowledgable about every aspect of the program and techniques to use to make your preferred style of music. Couldn't recommend Decloak more if your looking to get started in music production or taking your music to the next step. Great service"
"Been with Jack since April this year and at the time i was completely new to making music. Ive enjoyed learning all the steps and techniques of ableton and i'm now confident making full tracks from start to finish. Would highly recommend to anyone interested in producing."
Tom Healey, Canticle Records
"Dropped in for a session with Jack today as I was a bit rusty and looking for a bit of a kickstart getting back into things. Really intuitive session and insight into workflow which I'll be taking into my own projects moving forward. Would definitely recommend and I'll be booking in more sessions as soon as I can."
Ben Morling, Distinct Records
"Jack helped me get onto the production ladder. His attention to myself as an artist brought my ability upto speed to get our first record out. Highly recommend!"
"Highly recommended for anyone looking to get into music production with ableton, very clued up with the software and also with the mix and master service"
"Had my first 4 hours session at decloak last week and this was probably the best course ive been on every thing was easily explained and made sense to me , Jack is great to work with really knows his stuff I'd recommend Any 1 to him from now on and I'm looking forward to more tuition as soon as possible"
Adam Nahalawicz, Aesthetic Digital
"I am an experienced Ableton user, however Jack's in-depth knowledge of this software is really deep. Also, he is familiar with a range of musical styles. I produce dub techno, electronica and techno music. After my lessons with Jack, I had picked up great tips and hacks to achieve the sounds that I been struggling to create. Jack is a brilliant teacher and his enthusiasm and creative energy is infectious. Highly recommend!"
Slownoise, Cold Tear Records
YOUR TEACHER'S SOUND
Listen to Jack to decide if their private music lessons are the right fit for you.
Our music tutors are professional artists themselves. Listen to their music and find a mentor whose sound and style resonate with you for the best possible learning experience.
Plus, teachers in your desired musical field can provide valuable insights and tips for launching or advancing your own music career. Hit play.
Check out the rest of their soundcloud here.
---
Please note: Pirate Certified Trainers and Pirate Certified Training Centers are private entities or enterprises and neither employees nor agents of Pirate Ltd. They are not administered by Pirate Ltd. The trainers and centers are solely responsible for their own course offerings and curricula. Pirate takes no responsibility or liability for the actions of the trainers or centers.
Click here to view the full 'PIRATE Teachers' Disclaimers.