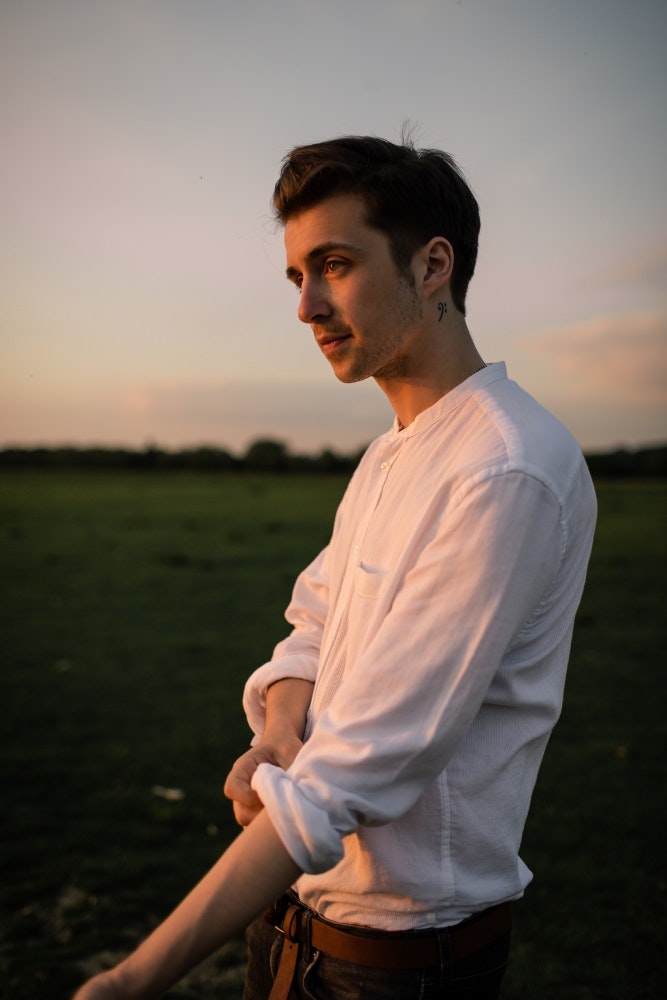 GUITAR, PIANO, MUSIC PRODUCTION
ABOUT THE TEACHER
I have been tutoring for the past 6 years, and have helped develop and guide pupils of all skill levels and ages. I have taken clients through traditional grading systems (both ABRSM and Rockschool) and also taught people who are interested in learning an instrument vocationally.
Over these years I have helped pupils develop proficiency in piano, guitar, songwriting, production, as well as offering advice on booking tours, playlisting, music business, and helping develop a sense of musical identity. My approach to each client is unique, but I primarily focus on encouraging artistic expression and open communication in my sessions. I value the ability to give others the opportunity to create, and I like to treat my lessons as a safe space for ideas, for singing, for performing, and for chatting about all things musical.
HOURLY RATE: £60
TEACHING: Online & In-person
PREFERRED LOCATIONS: PIRATE Reading (July, early September, late November), PIRATE Silver Lake (mid-September), PIRATE Hamburg (early December)
LEVELS: Beginner to Advanced
TEACHING SINCE: 6 years experience
DBS CERTIFIED: Yes
LANGUAGES: English
ABOUT THE LESSON
There is a strong grounding in theory in the tuition I provide, and I am very much interested in giving people the knowledge of 'how' and 'why' music works. I provide a much more personal teaching style than many others, and care more about forming a strong sense of self within my pupils.
There will, naturally, be scales/exercises/pieces/songs that we will tackle every week, but in addition to this I feel as though I can provide a much more in-depth look at today's industry, thanks to my experiences in it, and my ongoing successes as a session musician/artist. I am a multi-instrumentalist, singer-songwriter, and recording artist who has received over 20,000,000 streams worldwide and performed at over 1,000 shows in 10 countries. I have been featured in publications such as The Huffington Post, BBC, 3FM, and have performed alongside artists such as the multi-platinum selling Matt Simons, Richard Walters (Grey's Anatomy, CSI, Bones), and Judy Blank.
TESTIMONIALS
"James is proving to be an outstanding tutor to our son, Chris, who thoroughly enjoys his lessons. Chris feels that he benefits enormously from James vast range of skills and talents. Chris has had excellent tutoring, guidance and support from James for guitar, keyboard and singing, as well as help with understanding some complex music software. He also feels inspired by Jame's personal drive and achievements in the industry. We highly recommend James."
"James is an exceptionally talented musician and is an inspirational teacher. He is very calm and takes all our struggles in his stride. He is great will kids and adults alike as he teaches both my teenage daughters and me - he is able to pitch the lesson at the appropriate level for each of us. I cannot recommend James highly enough."
Hayley, Parent of students
"James is a very inspirational tutor. He has made a huge difference to my ability and development as a guitarist and a musician. James has been clear on our longer goals and his style is to provide instruction and guidance along the journey! Highly recommended."
"James has been a brilliant tutor for Josie our 8 year old who is just beginning to learn the piano. We have found James very reliable and is very personable, Josie is keen to practice after his lessons. He is also hoping to inspire our 10 year old son to develop his passion for the guitar next term by engaging him in learning songs that would be more current for him to play. I would definitely recommend him to a friend."
Caroline, Parent of student
YOUR TEACHER'S SOUND
Find a music teacher you're a fan of.
Listen to James to decide if their private music lessons are the right fit for you.
Our music tutors are professional artists themselves. Listen to their music and find a mentor whose sound and style resonate with you for the best possible learning experience.
Plus, teachers in your desired musical field can provide valuable insights and tips for launching or advancing your own music career. Hit play.
Check out the rest of his Spotify here.
---
Please note: Pirate Certified Trainers and Pirate Certified Training Centers are private entities or enterprises and neither employees nor agents of Pirate Ltd. They are not administered by Pirate Ltd. The trainers and centers are solely responsible for their own course offerings and curricula. Pirate takes no responsibility or liability for the actions of the trainers or centers.
Click here to view the full 'PIRATE Teachers' Disclaimers.