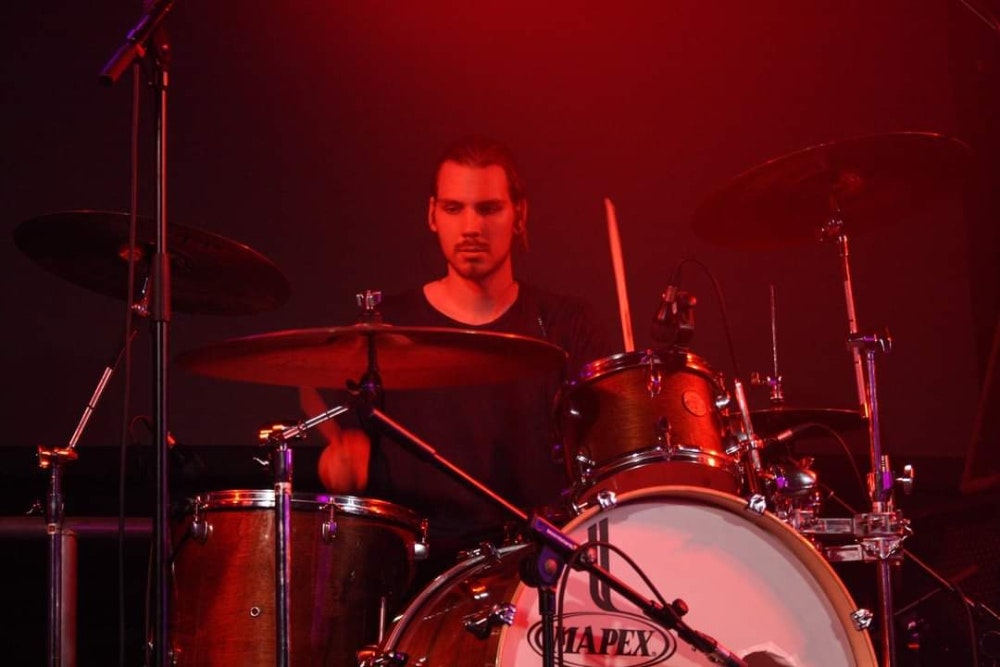 DRUMS
ABOUT THE TEACHER:
Levente is a skilled drummer with a decade of experience in captivating audiences across many genres, around the UK. From pop melodies to hard-hitting rock anthems, Levente has established himself as a versatile drummer in the performance industry. His dynamic performances fuse technical prowess with an undeniable stage presence and soulful expression with every beat.
Whether playing original compositions or delivering crowd-pleasing covers, Levente consistently delivers unforgettable musical experiences. With a musical journey spanning a decade, his dedication and passion shine through, as he continues to push his boundaries.
HOURLY RATE: £20
TEACHING: In-Person
PREFERRED LOCATIONS: Pirate Bradford, Pirate Leeds, Pirate Manchester Cheetham, Pirate Manchester Salford
LEVELS: Beginner to Advanced
TEACHING SINCE: +10 years
DBS CERTIFIED: Yes
LANGUAGES: English, Hungarian
ABOUT THE LESSON
Students can expect their specific needs met with the lessons including a discussion (meet and greet for the first timers) of the goals and expectations for the current lesson, as well as establishing long term goals. Warm up exercises, stretching and technical practices. Basic hand and foot warm-up exercises to improve coordination and dexterity. Introduction to essential drum rudiments (e.g., single stroke roll, double stroke roll, paradiddles), that can develop into complex rudiments.
Demonstration and practice exercises to develop control, precision and groove development. Exploring various drumming styles (pop, rock, funk, etc.) and learning foundational grooves and patterns of those. Emphasising the importance of timing, dynamics, and feel in all genres. Introducing drum fills and their role in song transitions, Practicing different fill variations and incorporating them into grooves. Song analysis and application of popular songs to understand drum parts and structure.
Developing a keen ear by listening to different drummers and styles, exploring dynamics, accents, ghost notes, and other musical nuances. Encouraging creativity through improvisation exercises and developing soloing techniques and incorporating them into performances. Reviewing the progress made during the lesson, providing constructive feedback and suggestions for improvement. Assigning practice exercises and setting goals for the next lesson.
TESTIMONIALS
"Levente is a very helpful tutor and person. He is patient with teaching you and I don't feel rushed or stressed during his lessons. He has made learning drums easy; I would highly recommend to anyone."
Richard Ancans, Current Student
"Levente is an amazing teacher he is very patient and very kind. He is inspirational and passionate about drumming and music in general with a lot of knowledge, I really enjoy lessons with him"
Kitti Havasi, Current Student
"I started lessons with him as an intermediate drummer, Levente helped me develop my technique further and expand my library of rudiments which helped me reach the next level of playing"
YOUR TEACHER'S SOUND
Listen to Levente to decide if their private music lessons are the right fit for you.
Our music tutors are professional artists themselves. Listen to their music and find a mentor whose sound and style resonate with you for the best possible learning experience.
Plus, teachers in your desired musical field can provide valuable insights and tips for launching or advancing your own music career. Hit play.
Check out the rest of his music on soundcloud
---
Please note: Pirate Certified Trainers and Pirate Certified Training Centers are private entities or enterprises and neither employees nor agents of Pirate Ltd. They are not administered by Pirate Ltd. The trainers and centers are solely responsible for their own course offerings and curricula. Pirate takes no responsibility or liability for the actions of the trainers or centers.
Click here to view the full 'PIRATE Teachers' Disclaimers.