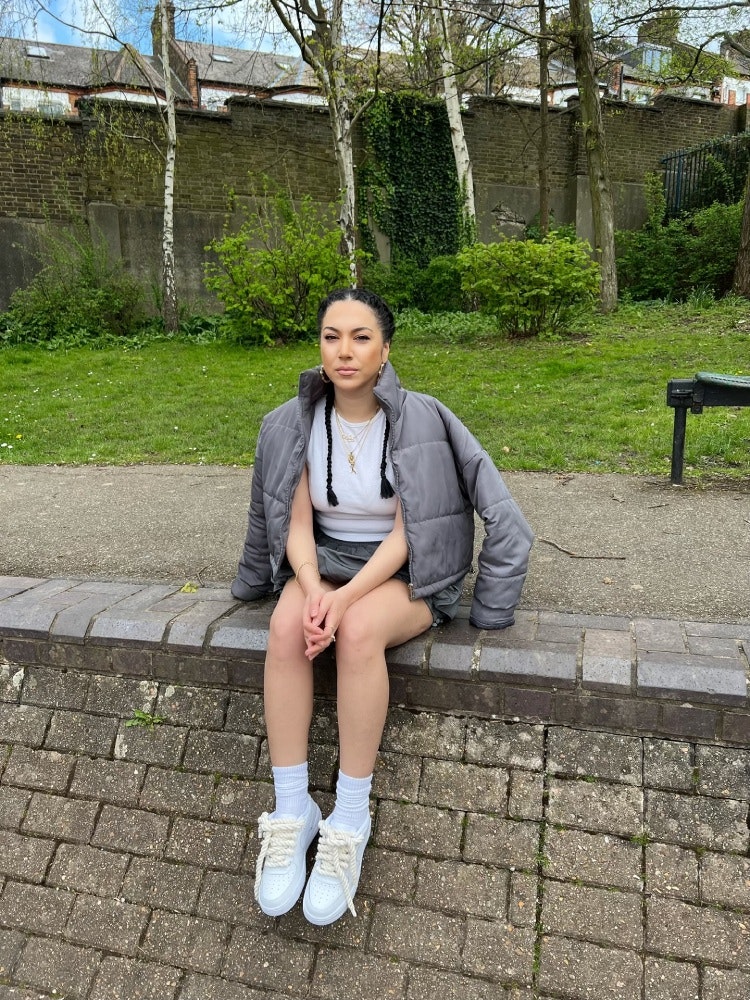 DJ, RAP
ABOUT THE TEACHER
Shay is a London-based artist and educator specialising in rap workshops, DJing, radio presenting and podcasting. She is actively involved in developing artists through her two youth companies. As a touring rapper and DJ, Shay also hosts a radio show on Reprezent radio.
Shay D is a pioneering rapper, DJ, podcaster, promoter & youth project manager facilitating artist development workshops. Anchored on BBC News, Shay lead the first ever all female Hip Hop tour in the UK, bringing women together in 2019 & 2021, selling out her London headline show.

HOURLY RATE: £50
TEACHING: Online & In-person
PREFERRED LOCATIONS: Pirate London Camden, Pirate London Dalston, Pirate London Earlsfield, Pirate London Greenwich, Pirate London Hackney, Pirate London Notting Hill, Pirate London Tottenham, Pirate London Wembley
LEVELS: Beginner to Intermediate
TEACHING SINCE: +10 years experience
DBS CERTIFIED: Yes
LANGUAGES: English
OTHER LINKS: BREAKIN CONVENTION

ABOUT THE LESSON
Shay D can teach the basics of DJing from USB including beat matching & mixing. Shay can run lyric writing workshops with delivery and recording for beginners beyond so you feel comfortable with the understanding of the foundations of rap. Shay can also mentor you towards goals, get some advice on building your career and creating a plan and campaign. Shay D also can help with planning and putting together a radio show or podcast including segments, features, interview techniques and recording.
MORE ABOUT THE TEACHER
She effortlessly crosses genres, from Grime to Hip Hop to Spoken Word, with her fiery delivery and unapologetic lyricism, infamous for her high energy performances. Her time on Reprezent radio seasoned her as a natural presenter & she quickly took on DJing, gaining guest mixes on National Radio.

Shay D runs club nights and events for the past 7 years, was on radio for 4 years, DJs regularly, has her own podcast with Levis's, raps, tours and runs artist development projects for young people.
TESTIMONIALS
"I'm so happy that I met you, honestly changed my life for real like you don't get it, I'm so thankful for you"
"Just wanted to say how grateful I am for your support to L* she first engaged with your workshops and you have been a brilliant mentor guiding and inspiring her. You have really helped her to boost her confidence and determination. Thank you so much."
LT, 16, Greenwich - Mother of student
YOUR TEACHER'S SOUND
Listen to Shay to determine if their private courses are the right fit for you.
Our DJ tutors are professional artists themselves. Listen to their mixes and find a mentor whose sound and style resonate with you for the ultimate learning experience.
Plus, teachers in your desired musical field can provide valuable insights and tips for launching or advancing your own DJing career. Hit play.
---
Please note: Pirate Certified Trainers and Pirate Certified Training Centers are private entities or enterprises and neither employees nor agents of Pirate Ltd. They are not administered by Pirate Ltd. The trainers and centers are solely responsible for their own course offerings and curricula. Pirate takes no responsibility or liability for the actions of the trainers or centers.
Click here to view the full 'PIRATE Teachers' Disclaimers.